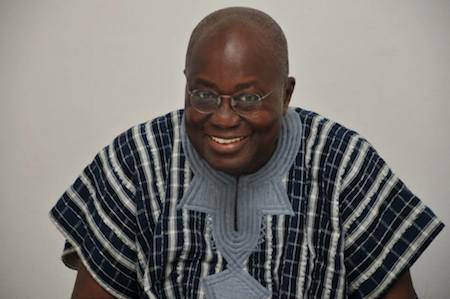 Simple, unassuming and soft-spoken, Mr Ken Ofori-Attah exhibited his depth of knowledge at the Africa Initiative for Governance (AIG), an initiative of Mr Aigboje Aig-Imoukhuede where we both sat on the Advisory Panel chaired by former President Olusegun Obasanjo. 
It is therefore a delight to learn that he has been appointed the Minister of Finance in Ghana by President Akufo-Addo.
With a Bachelor of Arts in Economics from Columbia University and an MBA from the Yale University School of Management, Ofori-Attah, who co-founded Databank in Ghana and is also on the boards of commercial banks in Gambia and Liberia, comes highly recommended for his assignment. 
I wish him all the best as he serves his country in such an important capacity. But it is also strategic for what Aig-Imoukhuede is trying to achieve with his AIG initiative for both Nigeria and Ghana.
In June last year, the former Access Bank Managing Director signed a five-year partnership with the Blavatnik School of Government (BSG) at the University of Oxford to make available on an annual basis five Scholarships and a Fellowship to outstanding Nigerians and Ghanaians to pursue the Master of Public Policy degree. 
Former INEC Chairman, Professor Attahiru Jega who is currently in residence at Oxford was our first pick for the Fellowship while the first set of Scholars will soon be announced.
I was privileged to be on the panel that interviewed about 15 brilliant young men and women in December before we eventually shortlisted ten from which Oxford University can admit five, following their own process. 
The expectation is that such AIG Scholars and Fellows would, on graduation, return to their home country (Nigeria or Ghana) "informed by knowledge and understanding gained through their research into regional and global best practices to help shape and influence policy decisions".
Yet, as laudable as the idea is, the fact that some Nigerian professionals who were equally exposed to good education both at home and abroad are now building silos not to store grains but to keep illicit cash running into billions of Naira is depressing. 
But that should not deter Aig-Imoukhuede and other public-spirited individuals who may want to deploy their resources to encourage young men and women with passion to serve in the public arena. 
It is still a noble calling.
Against The Run of Play
As the countdown to the April release of my book, "Against The Run of Play: How an incumbent president was defeated in Nigeria" continues, interested bookshops and sales outlets should direct all their inquiries by email to This email address is being protected from spambots. You need JavaScript enabled to view it. or call 08077364217. 
Meanwhile, I have also uploaded on my web portal, olusegunadeniyi.com, materials from the 2003 series of The Verdict for the pleasure of my readers.
The Verdict By Olusegun Adeniyi, Email: This email address is being protected from spambots. You need JavaScript enabled to view it.