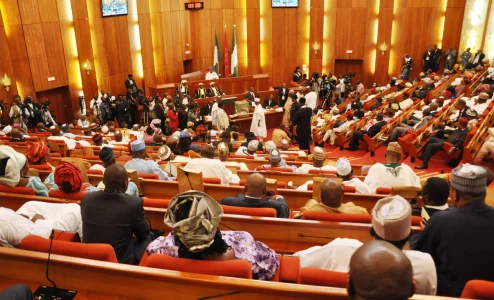 The Senate on Wednesday in Abuja confirmed Mr Anthony Ayine as new Auditor-General of the Federation in spite of several petitions against him.
The Senate on Wednesday in Abuja has confirmed the appointment of Anthony Ayine as Auditor-General of the federation.
His appointment was confirmed by a voice vote despite some petitions against his nominations.
His nomination had been rejected by the workers union in the Office of the Auditor General of the Federation who had held a protest.
Also, during plenary on Thursday, Binta Garba, senator representing Yobe north, kicked against it by saying he was on level 14, and needed to be on level 17 to qualify as the auditor-general.
Garba also alleged that Ayine was related to Winifred Oyo-Ita, head of service of the federation, and that this negated the principal of federal character.
However, despite the opposition, the deputy Senate President Ike Ekweremadu who was presiding over the plenary put it to a voice vote, and Ayine was confirmed.
Ayine who hails from Cross Rivers State will replace Samuel Ukura who was also appointed from outside the federal service.
© Copyright 2016 www.elombah.com; send eyewitness accounts/reports/articles to This email address is being protected from spambots. You need JavaScript enabled to view it.; follow us on twitter handle @Elombah; like our Facebook page: "Elombah.com"