Details

Category: GENERAL
Published on Tuesday, 17 July 2012 18:40
Written by Elombah.com
...The damming emails also reveal the scale of the defence infiltration in the case.
So far DC John McDonald (45) is the only serving officer who has been arrested and bailed.  DI Walters, Knuckey and Hunter also arrested are all on police bail.
RISC Management Limited was the private detective agency hired by Speechly Bircham Solicitors to provide Ibori's legal team with assistance with the ongoing police investigations.  Documents now show that the private detectives were in fact working closely with the police helping them build a case against Ibori and others.  
The sensational emails uncovered reveal the degree of the inappropriate relationships as between the private detectives and the serving police officers.  
They conclusively establish that Keith Hunter has lied to British MPs. Having repeatedly and categorically denied in written statements submitted to Parliament any communication with the Police by RISC during the Ibori investigation, these emails irrefutably demonstrate that Hunter has deceived British Parliament - the very heart of the British integrity.  
The following comments have been extracted from the suppressed emails in which Cliff Knuckey of RISC Management Limited some of which had been copied to Hunter. 
Excerpts read:- 
"I know Gary Walters and he is "totally out of his depth" in this investigation" 
"Knowing Mr Gardiner [a senior police detective] has an unhealthy habit of being over economic with innuendo; rumour; and misguided interpretation…. Some of Mr Ibori's answers …could be manipulated…" 
"I had a telephone conversation with DCM late last week.." 
"I will meet with DCM next week to find out what is happening" 
"DCM and his colleagues will be on a very large fishing expedition for information.." 
"DCM no longer has the ability to make a decision to charge.." 
"I know DCM is in the UK all next week"
"Peter Clark will take the lead role in interviewing you with DC Macdonald being present.." 
RISC operatives knew full details on the police investigation. They knew the whereabouts of the police officers and could contact them at any point in time. They appear to have been in regular telephone conversations, they knew who the interviewing officers were how the interviews were going to be conducted - all matters which the police officers were not authorised to divulge.  
One of the most damming emails reads: 
"I have fixed a meeting with DCM on Monday and will undoubtedly get an understanding of what the current difficulties are being faced by the police." 
"DCM" is the same DC [John] McDonald, the lead case officer who initiated the Ibori investigation in 2005 and has been pursing the case for 7 years.  
This email was sent the day after a RISC operative, Cliff Knuckey had handed over £5,000 to DC McDonald after a 7 hour lavish wining and dining session. 
McDonald as a serving police officer was not authorised nor permitted to divulge details surrounding police investigations. 
The Crown Prosecution Service prosecuting were under a legal duty to provide the defence teams with all documents they had, however, according to defence lawyers none of the emails which contain the highly incriminating evidence of illegal conduct have ever been provided. These failings may well may amount to further grounds of gross misconduct and a wider conspiracy to pervert the course of justice.   
New Scotland Yard is refusing to confirm or deny whether any other officers in its corruption unit are currently being investigated. Rumours are rife as other officers; DC Irons and DC Greenwood are believed to have known about the corrupt payments in May 2008 and are believed to have conspired with McDonald to suppress the documents or participated.  
The anti-corruption police investigation is being widely and closely watched as attempts of another Met police "cover up" similar to the original phone hacking scandal is expected."
OUR EARLIER REPORT
Ibori: How Cliff Knuckey, Keith Hunter and DC John McDonald colluded to suppress Illegal payments to police officers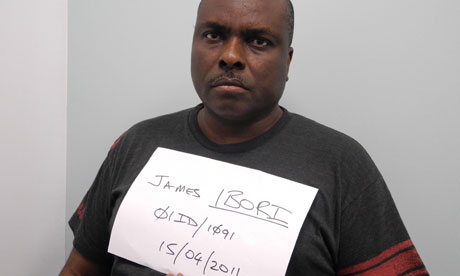 IBORI - Documents obtained show how UK police officers DC McDonald, DC Greenwood and DC Irons colluded with Cliff Knuckey and Keith Hunter to suppress illegal cash payments to police officers in 2008- This is another significant story to break on Elombah.com showing how UK Police officers investigating James Ibori colluded with Risc Management Limited to cover up the bribes from becoming exposed in 2008.
Copies of these documents exclusively obtained by Elombah.com and shown here for the first time, reveal the staggering lengths to which the corrupt police officers went to in attempting to cover-up the illicit pay offs. 
The documents indicates that at least two officers in the Ibori investigation, DC Ben Irons and DC Nicholas Greenwood and possibly others knew of the illegal payments in May 2008.  Such were their suspicions they obtained court orders for the production of the financial records from Risc and Speechly Bircham in respect of the payments. 
Elombah.com can exclusively report that "there is a distinct possibility" that at least two more officers in the anti-corruption Unit involved with the Ibori investigations are likely to be implicated. 
Recall that last month we reported that three former Scotland Yard police officers and a serving detective were arrested as part of an investigation into allegations that members of the force's anti-corruption unit were paid thousands of pounds in bribes from James Ibori.
The Metropolitan police have since confirmed that a 45-year-old male detective, understood to be DC John McDonald was arrested on suspicion of receiving payments for information while two former police officers, Gary Walters and Keith Hunter were arrested during raids on suspicion of bribery of a police officer. The third former police officer, Cliff Knuckey was also arrested on suspicion of bribery of a police officer. 
The bribery allegations formally surfaced during a Parliamentary hearing on the role of private detectives. During evidence from lawyer Mike Schwarz from solicitors Bindmans, MPs were told of documents which allege that private investigation firm, Risc Management Limited, was involved in "wining and dining and paying" officers working on the James Ibori case.
These latest damming revelations will be yet another self inflicted blow at the heart of the Ibori investigation team. The officers have already been criticised by British ministers dismayed with the claims.  The documents show how Hunter/Knuckey used their influence over Walters and McDonald to suppress the incriminating invoices from ever surfacing.
It is now becoming apparent that the reason for these orders was that a number of the officers had become aware of the illegal cash payments. It appears they were disgruntled at the payments not being shared fairly and wanted to know just how much money had actually been received by McDonald and Walters.
The Police Cover-Up 
Documents obtained by this reporter and shown here illustrates how the corrupt officers wanted to know just how much money had been paid by Ibori to colleagues obtained the production orders which gave them immediate access to Ibori's financial records held by his London solicitors, Speechly Bircham and Risc Management Limited.