Details

Category: GENERAL
Published on Saturday, 28 July 2012 23:19
Written by Elombah.com
As the prosecution of oil marketers alleged to have defrauded the Federal Government of N304 billion in the oil subsidy scam commenced last week at the Ikeja judicial division of Lagos State High Court, many are wondering when it will be the turn of Mr Ifeanyi Ubah, the would-be next governor of Anambra state.
 Ubah's Capital oil is one of the 25 oil-marketing and trading companies (OM&Ts) that were recommended for criminal investigations by the Presidential Committee on Verification and Reconciliation of Subsidy Payments, headed by the Managing Director/Chief Executive Officer of Access Bank Plc, Mr. Aigboje Aig-Imoukhuede.
Capital Oil Plc is said to have fraudulently cornered N1.2billion from the fuel subsidy scam, although sources say Ubah  stole over 30 Billion Naira through subsidy. Capital Oil & Gas Industry Limited is also recommended to be criminally investigated for N9billion according to the govt technical panel on subsidy.
It was alleged that Capital Oil Plc managed to bribe their way out of indictment by the now discredited Farouk Lawan panel report on fuel subsidy, but could not escape the eagle eye of the Aig-Imoukhuede technical committee. EFCC is also said to be currently on their case, the subsidy report having been reffered to the anti-graft body for a thorough investigation.
However, Elombah.com has been reliably informed that of more concern to 41 year old Nnewi born billionaire is that Capital oil's liability is more than his liquidity. As seen below, a Nigerian court garnished his account for owing 3.1billion Naira to Britannia-U since 2011. Ubah is reported to be indebted to many banks to the tune of 70 Billion Naira.
See Thisday newspaper July 23rd, pages 9 and 12 c, also attached for details.
Ifeanyi Ubah's name featured prominently in 2009 as one of the major loan defaulters who brought Nigerian banks to their knees.
Ubah is still struggling to settle most of the loans running into billions of Naira owed banks like Union Bank of Nigeria Plc, Zenith bank Plc and Ecobank Plc. Last year Brittainia-U Nigeria Limited sued him for issuing a N4 Billion dud cheque.
Ubah also wants to become the next Governor of Anambra State while being massively indebted to the tune of 100 Billion Naira. It was reported that Ifeanyi Ubah, recently gave 250 million Naira, to the embattled APGA Chairman, Chief Victor Umeh.
Before September 2011, many had never heard of Ifeanyi Ubah, but that changed when adverts covering about 100 newspaper pages heralding the celebration of his 40th birthday took over the front pages of major newspapers in the country.
According to Lanre Alfred in his "Society Happenings" Column in THISDAY, Ifeanyi Ubah's celebration had tongues wagging at the amount of publicity it generated.
The birthday which was celebrated on Saturday 3rd of September 2011 was said to have "broken all tenets of modesty and brought superfluity to walk on all four".
Lanre Alfred wrote that "it was one of those rare moments when a Nigerian, (and) not an event or product, occupied the front pages of a few of the Nigeria's foremost newspapers in paid advertorials in celebration of his birthday".
He went on to write that "as if that was not enough, the boss of Capital Oil and Gas would go on to adorn not less than 100 pages in the newspapers, which were taken up by countless well-wishers placing congratulatory adverts while other soft-sell journals also feasted on this unusual display of extravagance".
His company, Capital Oil and Gas Industries is said to have the biggest and the most modern state-of-the-art depot in Nigeria. With 28 trucks loading bays, Capital Oil and Gas Industry Ltd is the only indigenous downstream player capable of pumping out 55million litres of petroleum products per day.
The Anambra Oil magnet wants to replace Gov. Peter Obi as the Governor of Anambra State. 
He had been telling his friends that he was ready to spend whatever it will take to achieve his ambition for which he had set aside the initial N20 Billion and he had been working seriously towards that. To get the support of the Anambra people, he has floated a foundation through which he is supporting the poor, building churches, subsidising kerosene, helping the widow and all manner of philanthropy.
Last year he was widely reported to have gone into partnership with the NNPC, to sell kerosene at government subsidized rate. Photos advertising him selling kerosene with Anambra governor, Peter obi in the commercial city of Onitsha was given wide coverage.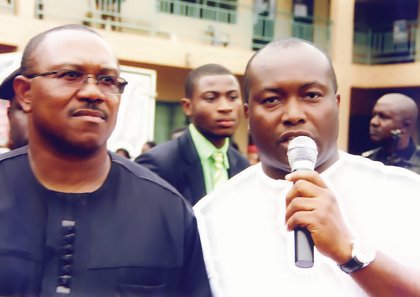 Gov Peter Obi of Anambra state (L) and Mr. Ifeanyi Ubah (R), MD, Capital Oil at the flag off of Kero Direct, the mobile dispensing of kerosene to checkmate distribution challenges
Ubah is an Anambra born Oil and petroleum products dealer, who was reportedly contracted to supply millions of litres of kerosene. It is said of him to owe the largest private petroleum products jetty in Lagos, Nigeria. 
www.elombah.com
The Nigerian National Petroleum Corporation (NNPC) Retail Limited in conjunction with Capital Oil and Gas Industries extended direct sale of kerosene to Kaduna and Imo States under their Kero Direct initiative aimed at tackling the current scarcity of the product across the country.
The scheme was launched in Kaduna, Imo and Anambra states.
The KeroDirect scheme entails the direct sale of kerosene to consumers at the rate of N50 per litre via ultra modern mobile dispensing with the NNPC supplying the products while Capital Oil provides the trucks.
When the scheme was launched in Kaduna, the convoy of kerosene trucks was on parade at a field inside the old site of the Nigerian Defence Academy with thousands of civilians and military personnel in attendance.
Governor Ibrahim Yakowa of Kaduna State thanked the NNPC and Capital Oil for the initiative and pledged the commitment of his administration to working with operators of the scheme in ensuring it is extended to other parts of the state.
The KeroDirect scheme was also launched in Anambra and Imo states at the weekend of August 8th, 2011, but today, as the future of Capital Oil and Gas remains bleak, many wonder what has become of the much publicised KeroDirect scheme.
www.elombah.com