Details

Category: World News
Published on Friday, 04 March 2011 23:36
Written by Adams Makinwa
Hits: 3453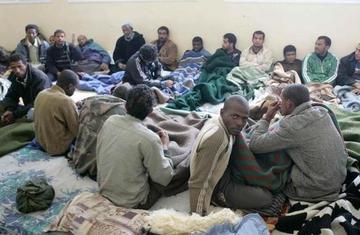 7, 125, Nigerians In Tripoli Airport And 5,315 Trapped In Benghazi Panics, As Saif Gaddafi Issues 5 Days Ultimatum To Foreigners, While Six Dies, One Missing And One Survival, When Libyan Soldiers Opened Fire On A Bus, Heading To Tripoli From Benghazi. 
In the wake of crises in the mid-east, none has posed more danger to Nigerians like the on going onslaught and massacre in Libya. Statistics put together by our organization through, Mr. Ben Igbokwe, and Mr. Solomon Okoduwa, both Nigerians at the Tripoli airport shows the figure of Nigerians stranded
 in Tripoli, women 1000, babies, 170, youths 5, 720, men, 235 giving a total of 7,125 Nigerians at Tripoli airport alone.
Also, another Nigerian in Benghazi, Mr. Samson Aja, gave the latest figure of Nigerians in Benghazi as, children 306, women 2, 502, men 2, 507, giving a total of 5, 315  Nigerians in Benghazi. 
In the same vein, 6, Nigerians were reported to have died today on their way to Tripoli from Benghazi. we gathered from the only survival, that on their way to Tripoli on a bus they came across Libyan soldiers who ordered the driver to return to where he was coming from, but the driver refused, only for the soldiers to open fire on the bus and six Nigerians were killed instantly while the where about of one is unknown as the only survival managed to join others at the Tripoli airport.
Following the announcement by saif Gaddafi, in a speech today that foreigners have 5 days to live the country, Nigerians stranded are calling on Nigerian government to expedite evacuation. These Nigerians also complained of starvation of food and water, Mrs. Toyin Arimade a native of Abeokuta in Tripoli said a bucket of water is sold at the airport for $4 dollars and they can't afford it, she also said that, for weeks, they have been sleeping on the floor of the airport including pregnant and nursing mothers.
Mr. Samson Aja, who happens to be the leader of the Nigeria camp in Benghazi, said that they are stranded and frustrated as some Nigerians has started moving towards the border between Egypt and Libya. When asked the possibilities of evacuation in Benghazi since the airport is not functional, he said the two options are, if the government can come with a ship just like the Turkish government did in evacuating 3,000 of her citizens in Benghazi, or initiate border evacuation through the Libya/ Egypt border, he also lamented the lack of food, water and medical attention from any quarter.
This neglect and lackadaisical attitude by the Nigerian government over the plight of Nigerians in Diaspora is totally on acceptable and a gross violation of section (19) a in the 1999 constitution of the federal republic of Nigeria. Also, following the ongoing evacuation exercise in Libya, most countries are massively evacuating their citizens, not only that, they also have representatives of their high commission, assuring those awaiting evacuation, of government's intervention, which in a way, calm the nerves of their citizens. This we believe the office of the Nigeria ambassador should do, but the ambassador abandoned Nigerians, against foreign objective, and flew with his family, not even the security men at the embassy were remembered by their boss.
We want to challenge the Nigerian government and its agencies responsible for evacuating these stranded Nigerians, the Ministry of Foreign Affairs and National Emergency Agency (NEMA) to come out and tell Nigerians why Nigeria can not use ships and Cargo planes in evacuating Nigerians in Libya up till now, despite huge budget this ministries gets, and considering the number of lives at threat if something urgent is not done. We want to believe that both Odein Ajumogobia, Minister of Foreign affair and Mallam Mohammed Sani Sidi, DG NEMA, are ineptitude in discharging their responsibilities, we demand that they tender resignation and give way for competent persons that can represent the interest of Nigerians in Diaspora when the need arises.
DCCCAN, join Campaign for the Rights of Nigerians in Diaspora (CRND), in demanding the immediate and massive evacuation of Nigerians in Libya now, by the Nigeria government. 
You can reach the following Nigerians in Libya on the following numbers:
Mr. Solomon okoduwa (Tripoli) +218923369805 or +218917266997
Mr. Ben Igbokwe (Tripoli) +218914110562
Mr. Samsom Aja (Benghazi) +218917644076
Adams Makinwa
Secretary DCCCAN/Nigeria
www.eternalfriendministries.co.uk E-mail:
This email address is being protected from spambots. You need JavaScript enabled to view it.
, Tel: 08091286657 or +447404373520