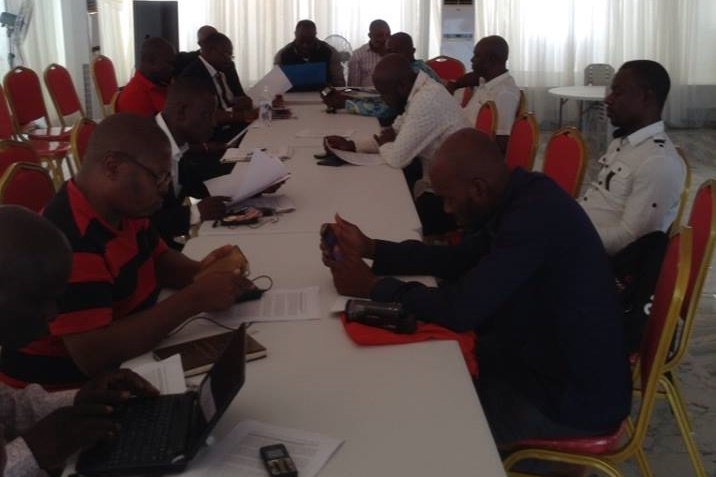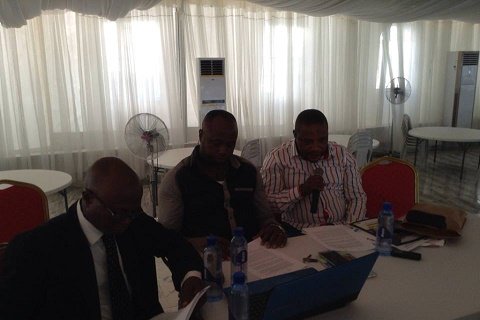 A PRESS BRIEFING ON:  68TH ANNIVERSARY OF THE UNIVERSAL DECLARATION OF HUMAN RIGHTS 2016
Silent Genocide In Nigeria: 101,500 Defenseless Citizens Killed Outside The Law Since 1999 (17yrs) With 47,500 In Five Years And 9,700 Under Buhari Administration
This month marks the 68th Anniversary of the Universal Declaration of Human Rights (UDHR), as set aside by the United Nations. Originally, 10th of December of every year is set aside globally as a UDHR Day. The UDHR is a bill of rights for all mankind, proclaimed by the UN General Assembly on 10th of December 1948 and designed for current world population of over seven billion people and their institutions and 193-member States of the UN as well as some 45 local and international trusteeship and occupied territories around the world.
This year's UDHR event taking place here is unique in that it is the first time the SBCHROs under the coordination of International Society for Civil Liberties and the Rule of Law, is marking it with a press briefing for the purpose of presenting to all Nigerians and members of the international community the state of unlawful or criminal killings in Nigeria since the country returned to civil rule in June 1999; with the bulk of research and information concerning this coming from Intersociety. We are deeply grateful to Intersociety for allowing us to tap and share with it its rich facts and information resource.
As a matter of fact, Ladies and Gentlemen of the Media, Nigeria's human rights records have soured and deteriorated steadily over the years, earning their worse status under the present Buhari Administration. Below is the apt summary of the Nigeria's human rights problems, according to the US Department of State Reports on the State of Human Rights in Nigeria including its reports of 2009 and 2015:
"Deplorable human rights in Nigeria  included the abridgement of citizens' right to change their government; politically motivated and extra-judicial killings by security forces, including summary executions, vigilante killings, abductions by militant groups, torture, rape and other cruel, in-human or degrading treatment of prisoners, detainees and criminal suspects; hash and life-threatening detention center conditions; arbitrary arrest and prolonged pre-trial detention, denial of fair public trial, executive influence on judiciary and judicial corruption; infringement of privacy rights; restrictions on freedom of speech, press, assembly, religion, and movement; official corruption and impunity; domestic violence and discrimination against women; the killing of women suspected of witchcraft; female genital mutilation; child abuse and child sexual exploitation; societal violence; ethnic regional and religious discrimination, trafficking in persons for the purpose of prostitution and forced labour; discrimination against persons with disabilities; discrimination based on sexual orientation and gender identity; and child labour".
In the consideration of the patterns and trends of these rights abuses, it is found that their perpetration comes from State and non State actors. While rights abuses such as political assassination and election killings have recorded a decrease since 2011, State actor heinous rights abuses like State murders or killings have gone spiral from their lower ebb between June 2007 and June 2015.
The high political terror, militarization and militarism policies of the Buhari Administration have also led to emergence of at least 18 armed opposition groups and upsurge in the inflow of illicit Small Arms and Light Weapons (SALWs) in non State actor hands; rising to all time high of 5million in 2016 on average of a SALW per 40 citizens (Intersociety 2016).
101, 500 Killed Outside The Law In 17yrs: Killing outside the law is the act of taking a citizen's life using processes and procedures not recognized by law (i.e. 1999 Constitution, regional and international rights conventions and laws) and it includes citizens taking into detention custodies alive but killed while being held, road killings associated with extortion and minor infractions, killing of unarmed and defenceless citizens engaging in church vigil and streets protest and processions; election day killings, military invasion and massacre of unarmed and defenceless villagers;  raiding and killing by security forces of unarmed and defenceless citizens in their homes, churches, mosques and markets; any form of killing of civilians or non combatants by armed opposition groups in war and peace times; killings arising from inter-communal and religious violence particularly as they concern uninvolved or innocent and defenceless citizens; and culpable or inexcusable homicides.
Earlier Statistics: On 11th of December 2011, our coordinating partner-Intersociety found in its report (Nigeria In A State Of War: How 54,000 Citizens Were Killed Outside The Law Since 1999); drawn from its extensive investigation and other open and closed sources that not less than 54,000 Nigerian citizens were killed outside the law between June 1999 and December 2011. The breakdown showed that vigilante killings accounted for not less than 11,500 deaths between 1998 and 2002; including not less than 5,000 in Anambra State and 3500 in Abia State via OTA and Bakassi Boys and 1500 in Lagos via O'odua People's Vigilante Group as well as 3500 similar deaths recorded between 2002 and 2011 in the hands of thousands of butchery vigilante groups particularly in the Southeast Zone.
The Odi and Zakibiam military pogroms of 1999 and 2001 accounted for not less than 3500; Ethno-Religious and Sectarian butcheries 16,000; Boko Haram 3000; election killings 2000; Inter-Communal killings 300; political assassination 220; and police custodial killings 17,000; totalling 54,000-57,000 deaths in 12 years or since 1999. In the report then, domestic homicides and killings by Fulani Terrorist group were not captured. In Intersociety's recent updates, domestic and street homicides by common violent citizens are not included.
The findings of December 2011 under reference heavily relied on unofficial or independent sources with few corroborative facts from official sources. Independent sources used included reports of local and international rights investigative and research organizations like Amnesty International, Human Rights Watch, NOPRIN, OSIWA and the US Department of State on Human Rights; as well as reports of leading local and international media organizations.  
It is on incontestable record that official crime statistics in Nigeria are not only unreliable but also scanty. They are also bedevilled with dark figures of crime syndrome (i.e. a large percentage of crimes so committed are either not recorded or suppressed by official crimes recording institutions).For full details of the report by Intersociety, see the link below: http://saharareporters.com/2011/12/11/nigeria-state-war-how-over-54000-nigerians-died-outside-law-1999.