143 new COVID19 cases confirmed in 18 Nigerian states
The Nigeria Centre for Disease Control (NCDC) has confirmed 143 new cases of COVID19 in Nigeria showing a steady decline on new cases in the country.
In the latest report, Plateau, Kaduna and Lagos held sway, producing 75 out of the 143 cases confirmed.
Meanwhile, 1,013 Covid19 deaths have been reported, while 41,638 patients have been discharged.
Find below the 143 new cases according to states:
Plateau-35
Kaduna-21
Lagos-19
FCT-13
Ebonyi-9
Adamawa-7
Enugu-7
Katsina-7
Edo-6
Kwara-5
Osun-3
Anambra-2
Kano-2
Niger-2
Ogun-2
Benue-1
Borno-1
Sokoto-1
Summary
54,008 confirmed
41,638 discharged
1,013 deaths
See banner below: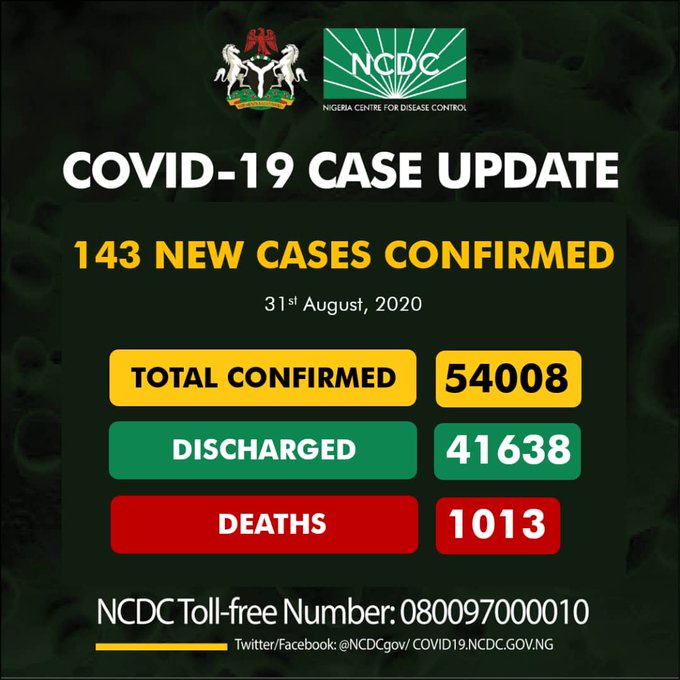 A breakdown of cases by state can be found below:
Confirmed Cases by State
| States Affected | No. of Cases (Lab Confirmed) | No. of Cases (on admission) | No. Discharged | No. of Deaths |
| --- | --- | --- | --- | --- |
| Lagos | 18,138 | 2,705 | 15,231 | 202 |
| FCT | 5,169 | 3,583 | 1,536 | 50 |
| Oyo | 3,118 | 1,127 | 1,954 | 37 |
| Edo | 2,584 | 159 | 2,325 | 100 |
| Plateau | 2,533 | 1,109 | 1,395 | 29 |
| Kaduna | 2,141 | 138 | 1,991 | 12 |
| Rivers | 2,141 | 113 | 1,971 | 57 |
| Delta | 1,744 | 157 | 1,540 | 47 |
| Kano | 1,727 | 136 | 1,537 | 54 |
| Ogun | 1,648 | 107 | 1,515 | 26 |
| Ondo | 1,539 | 128 | 1,380 | 31 |
| Enugu | 1,162 | 234 | 907 | 21 |
| Ebonyi | 993 | 35 | 931 | 27 |
| Kwara | 966 | 157 | 784 | 25 |
| Katsina | 796 | 315 | 457 | 24 |
| Osun | 782 | 31 | 734 | 17 |
| Abia | 771 | 66 | 697 | 8 |
| Borno | 741 | 34 | 671 | 36 |
| Gombe | 723 | 64 | 636 | 23 |
| Bauchi | 667 | 72 | 581 | 14 |
| Imo | 527 | 323 | 193 | 11 |
| Benue | 453 | 228 | 216 | 9 |
| Nasarawa | 434 | 124 | 298 | 12 |
| Bayelsa | 391 | 22 | 348 | 21 |
| Jigawa | 322 | 3 | 308 | 11 |
| Akwa Ibom | 278 | 38 | 232 | 8 |
| Ekiti | 262 | 55 | 203 | 4 |
| Niger | 243 | 15 | 216 | 12 |
| Adamawa | 228 | 33 | 180 | 15 |
| Anambra | 216 | 30 | 168 | 18 |
| Sokoto | 159 | 3 | 140 | 16 |
| Kebbi | 93 | 3 | 82 | 8 |
| Taraba | 87 | 9 | 73 | 5 |
| Cross River | 82 | 1 | 73 | 8 |
| Zamfara | 78 | 0 | 73 | 5 |
| Yobe | 67 | 0 | 59 | 8 |
| Kogi | 5 | 0 | 3 | 2 |
Highlights
The 143 new cases are reported from 18 states- Plateau (35), Kaduna (21), Lagos (19), FCT (13), Ebonyi (9), Adamawa (7), Enugu (7), Katsina (7), Edo (6), Kwara (5), Osun (3), Anambra (2), Kano (2), Niger (2), Ogun (2), Benue (1), Borno (1), Sokoto (1)
A multi-sectoral national emergency operations centre (EOC), activated at Level 3, continues to coordinate the national response activities
On the 31st of August 2020, 143 new confirmed cases and 0 deaths were recorded in Nigeria
Till date, 54008 cases have been confirmed, 41638 cases have been discharged and 1013 deaths have been recorded in 36 states and the Federal Capital Territory