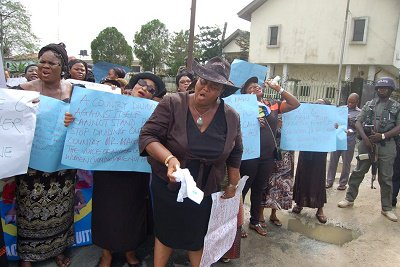 Protesters for and on behalf of former First lady of Nigeria, Dame Patience Jonathan, on Thursday, besieged the premises of the South-South Zonal headquarters of the Economic and Financial Crimes Commission [EFCC] in Port Harcourt.
Attending to the protesters, EFCC assured the public of its fairness and readiness to attend to all issues referred to it without any delay. 
This assurance was given by the South-South Zonal Head of Public Affairs of the Commission, Mr. Oladele Oyewale while receiving the women protesters who thronged the Office.
The women, numbering about 100, stormed the EFCC's office chanting various songs and carrying different placards and banners with inscriptions bearing their grievances.
The main thrust of their grievances was that the ''EFCC should release the $15 million Patience Jonathan's money without delay''. 
Some inscriptions on the banners are: 
– "Please, EFCC, the malady of Mrs Patience Jonathan is of great concern to us, come to our aid in Allah's name"; 
– "Leave our mother alone"; 
– "Mr Chairman Sir, (EFCC) pls fight corruption with love"; 
– "Leave Ex-president wife alone"; 
– "Magu, unfreeze Mrs Patience Jonathan Account", among others.
Leader of the protesters, High Chief Rita N. Onwunali Adandigbo, said that her group, Voice of Niger Delta Women, supported the corruption agenda of President Muhammadu Buhari .
South-South Zonal Head of Public Affairs of the Commission, Mr. Oladele Oyewale addressing the women
However, they were in the EFCC to express its worry over the "deteriorating health situation of Mrs Patience Jonathan owing to the non-release of her money by the EFCC". 
Responding, Oyewale assured the group that their grievances would be looked into promptly and objectively. 
"We will report your grievances to the Ag. Executive chairman, Mr. Ibrahim Magu and he will carefully look into it. 
"We will report everything you have said to him and actions will be taken accordingly" he said.
© Copyright 2016 www.elombah.com; Send eyewitness accounts/reports/articles to publisher@elombah.com; follow us on twitter handle @Elombah; like our Facebook page: "Elombah.com"