Two suspects disguised as Policemen with official Police  vehicles were, on Friday, nabbed by security operatives after a failed attempt to kidnap the Chairman of Irepodun/Ifelodun Local Government, Chief  Dapo Olagunju, in Ekiti State.
According to sources, the suspects were sent by one Deji Adesokan (a.k.a. Jaru)
The incident comes on the eve of the state governorship election slated to hold on Saturday, July 14.
The suspects reportedly invaded the residence of Chief Olagunju with Police Hilux Van.
Some angry youths chased the "policemen" and they abandoned the two Hilux vans.
The two fake policemen were taken to Igede Ekiti Police station where they were interrogated.
One of them reportedly confessed that they were sent by Jaru, the chief thug to APC governorship candidate, Dr. Kayode Fayemi.
The two Hilux Vans they abandoned were also taken to Igede Ekiti Police station.
Below are the faces of the two fake Policemen sent to abduct Olagunju in the early hour of today: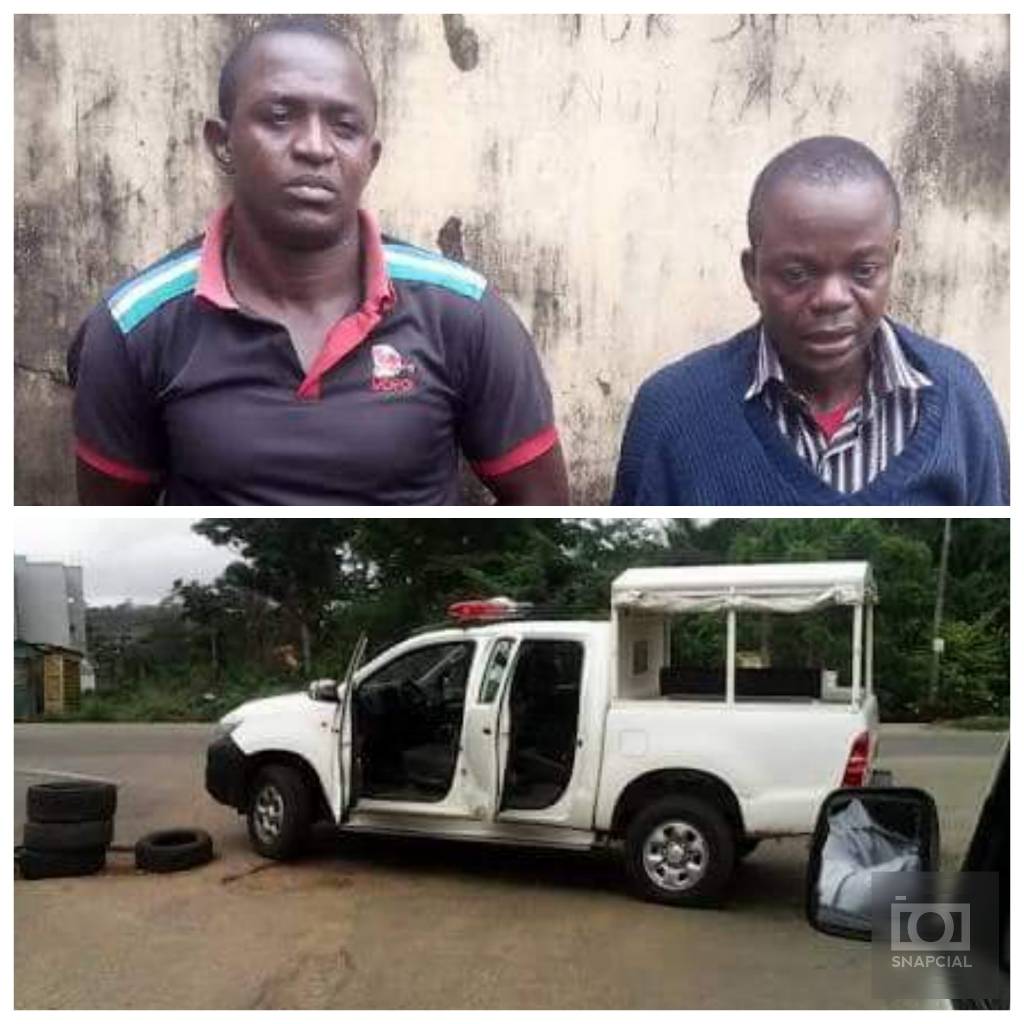 In another development, a notorious gang leader known as Tony Kabaka has reportedly been brought to Ekiti by the All Progressives Congress [APC] National Chairman, Adams Oshiomole ahead of the governorship election.
Kabaka has been seen in Ekiti driving a White Lexus Jeep with government registered plate number – Edo 02N-69ED – and HILUX with his group, who are dressed in Police uniform.
According to coordinator of Kolapo Olusola Campaign Organisation, Mr. Lere Olayinka Aresa, Tony Kabaka has been used in Edo in most APC elections.
Below is the White Lexus Jeep with government registered plate number allegedly being used by Kabaka to kill and maim people:
Meanwhile, the Kolapo Olusola Campaign Organisation [KOCO] said that it has stopped the use of all campaigning adverts in compliance with the Electoral Act.
KOCO Director General, Hon. Bisi Kolawole warned that any media organisation (print or broadcast) that runs campaign advertisement for Prof. Kolapo Olusola Eleka, the Peoples Democratic Party [PDP] candidate in the Ekiti election, does so at its own risk.