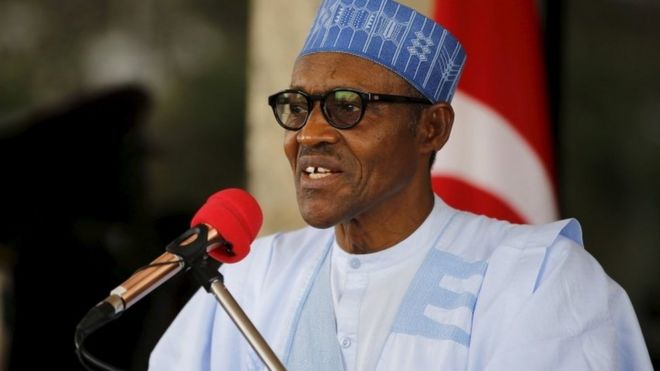 Nigeria's state oil company failed to hand over nearly $25bn (£17.5bn) it owed to the government in the five years from January 2011 to the end of 2015, a statutory revenue monitoring organisation says.
ABOVE: President Muhammadu Buhari came to power last year partly on a pledge to tackle corruption.
The announcement by the Revenue Mobilization Allocation and Fiscal Commission, (RMAFC) comes a week after Nigeria's auditor general said $16bn went missing in 2014 alone.
That figure was disputed by the Nigerian National Petroleum Corporation.
READ ALSO Scandal: NNPC failed to remit N4.9tn not N3.1tn Says RMAFC
The NNPC is obliged by law to hand over its revenue to the government, and the oil money makes up a significant chunk of government income.
The government is currently grappling with a growing budget deficit, partly triggered by the recent decline in the price of oil.
The Revenue Commission on Monday said the Nigerian National Petroleum Corporation (NNPC)'s total indebtedness to the federation account is N4.9 trillion between 2011 and 2015.
It confirmed the recent Auditor General's report which had indicted the corporation of not remitting N3.2 trillion into the federation account in 2014.
The RMAFC said whereas the auditor general's report relied on the 2014 Annual Audit Report obtained from the records of the Federation Accounts Allocation Committee (FAAC)'s Technical Sub-Committee on Domestic Crude Oil Sales and reconciliation statement as contained in the NNPC's mandate to Central Bank of Nigeria (CBN) to arrive at the N3.2 trillion figure, records at its disposal indicated N4.9 trillion was the actual amount being owed the federation by NNPC as at 2015.
The RMAFC, in a statement issued and signed by its spokesman, Mr. Ibrahim Mohammed, a copy which was made available to THISDAY, said while the auditor general's report claimed that NNPC owed the sum of N3.2 trillion to the Federation Account in 2014 from domestic crude sale, the corporation owed N1.99 trillion only in 2014 from domestic crude sales.
It added that the figure quoted by the Auditor-General for the Federation (AuGF) must have included revenues from other sources.
With respect to an alleged payment of $235 million realised from the sale of Natural Gas into an undisclosed Escrow Accounts by the NNPC, the commission explained that the NNPC had, on behalf of the NLNG, entered into agreements with three International Oil Companies (IOCs) including Nigeria Agip Oil Company (NAOC), Shell Petroleum Development Company of Nigeria (SPDC), and Total E&P Nigeria Limited (TEPNG) under a Modified Carry Agreement (MCA) proceeds from which are deposited in Escrow Accounts for funding the various Gas projects under the LNNG.
It said the total amount transferred to the various accounts from 2012 to November 2015 was $1.615 billion.