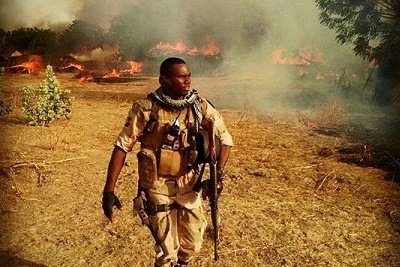 Please be informed the ongoing investigation on suspected Boko Haram terrorists collaborators and saboteurs in the fight against terrorism and insurgency has led to the arrest of 9 more persons over the last 24 hours.
That thus brings the number to 30, this comprise of 2 officers, 2 soldiers, 2 policemen and 24 civilians.
Many more suspects would be arrested and prosecuted based on evidences against them and level of culpability.
Previous statement:
ARREST OF BOKO HARAM TERRORISTS COLLABORATORS
As part of measures to stem the tide of livestock rustling which serves as another means of funding Boko Haram terrorists activities, Operation LAFIYA DOLE, in conjunction with other security agencies has taken measures to stop the criminality.
These measures have led to the arrest of some persons involved in aiding and abetting this heinous crime in the Theatre of Operation.
So far, 21 suspected persons have been arrested.
Preliminary investigation and profiling of the suspects has commenced.
Such actions by these unpatriotic elements are likely to jeopardize our collective efforts of clearing the remnants of Boko Haram terrorists in our country.
Although investigations are ongoing, it is important to state that this is a warning to all those collaborators that aid and abet terrorism in the north east generally and Borno State in particular, to desist forthwith.
The Nigerian Army and indeed Operation LAFIYA DOLE would not tolerate such acts of sabotage from anybody.
Meanwhile, the general public is hereby encouraged to report any known or suspected illegality with regards to Operation LAFIYA DOLE to the Security Agencies.
Colonel Sani Kukasheka Usman
Acting Director Army Public Relations