Abandoned projects litter Anambra state under Gov Obiano
A horde of abandoned projects are currently a common site in Anambra state under the oversight of Governor Willie Obiano. 
Our correspondent compiled them for the perusal of our readers, viz:
1. Reconstruction of Abube Square Nando- Afor – Igbariam (Additional Road Spur to Nkwo Nando Square)
2. Construction of Abba – Ifitedunu Road, Njikoka/Dunukofia LGA
3. Construction of Udeaja Junction- Affia Nkwo Market – Urezi Road, Ozubulu, Ekwusigo LGA
4. Reconstruction of Omor – Umumbo Road Ayamelum Local Government Area
5. Construction of Access Road to Civil Servants Housing Estate,Isiagu
6. Construction of Ozzu Umunachi Road
7. Construction of Ugwunwasike – Azu Ogbunike – Amawa – Osile – Ifite – Umueri – St Monica – College Road
8. Amansea – Ndiukwuenu – Okpeze- Amaeteiti- Awgbu Road Phase 1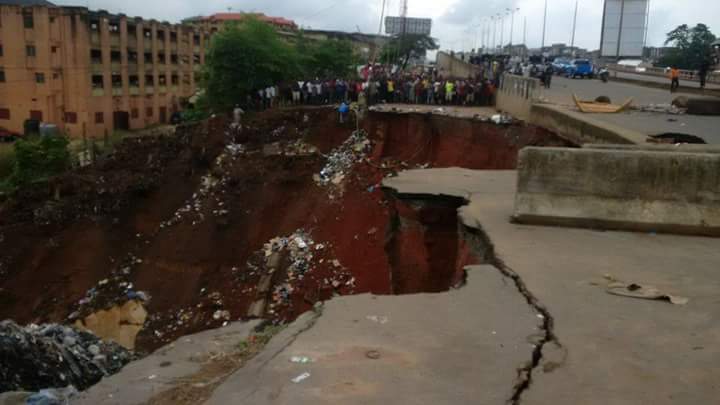 A section of Mkpor road almost cut off by erosion
9. Amansea – Ndiukwuenu – Okpeze- Amaeteiti- Awgbu Road and bridge
10. Reconstruction of Access Road to AUSCO farms Ltd Agu – Awka
11. Construction of Nteje- Umunya Road
12. Reconstruction of Enugu/ Anambra State Boundary- Agu Awka Road
13. Reconstruction of Amawbia to Amansea Federal Road
14. Construction of Jetty/ Roads within the Naval Base and Roads between Atani Roads.
15. Reconstruction of Anambra State Integrated Livestock Farm Nkwelle Ezunaka
16. Construction of Achina Oneh Agbudu Ogboji
17. Reconstruction of Goodwill Road, Okpuno Awka
18. Reconstruction of Aguluzigbo Roads
19. Construction of Nnamdi Azikiwe Teaching Hospital Neni- Adazi Ani Road
20. Bishop Okonkwo Road (Ichi) to Nkwo Edo Market and Emeka Okwuosa/Emeka Offor Road to St Michael Secondary School, Ozubulu/ NAUTH Road Junction
21. Construction of Ideani-Uke- Umuoji Road and Bridge
22. Construction of Access Roads at the Greenwood City, Awka
23. Reconstruction of Bida Road and Okwei Street Onitsha
24. Reconstruction of Umudioka to Ogbunike Cave Road with Spur to Girls Secondary School Umudioka (St. Kizito Girls Secondary)
25. Reconstruction of Ekwulobia Ezinifite Road
26. Reconstruction of Isuofia – Umuona – Nanka Road with Spur.
27. Reconstruction of Abube Square Nando – Afor Igbariam Road.
28. Construction of ABS Awka Road to Governors Lodge,Ring Road,Road Widening /Parking Lot
29. Atani – Ozubulu Roads Part 1 Km 0+000 -5+560
30. Nkwo Market Square.
There are more in Ihiala LGA.
Others are: 
1. Reconstruction of the ministry of lands three lane road to Esther Obiako road to Ifite.
2. Reconstruction of the Ifite road leading to UNIZIK main campus.
3. Abakiliki road connecting Ngozika estate, Awka
4. Ezenwa Street in Onitsha
5. Ekwulobia-Ezinifite-Ekwulumiri Road
6. Uzoh, Ezinifite – Ikenga-Igboukwu Road. Not even flag off
7. Ezira-Umuomaku Road