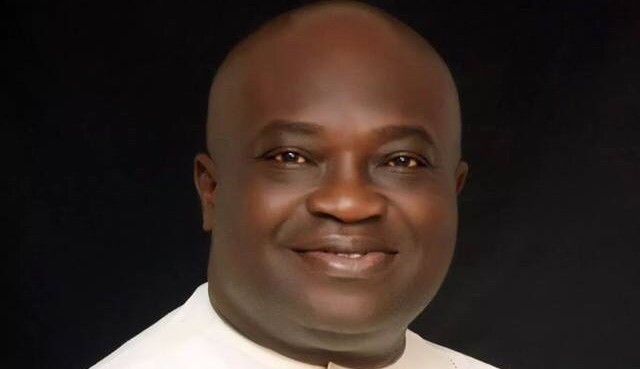 In line with the pledge of the Governor of Abia State, Dr. Okezie Ikpeazu [image above] to ensure that all Salaries and Pensions arrears in Abia State are offset by October 30, 2015, the Chairman of the Bailout Funds Management Committee, Mr. Obinna Oriaku has disclosed that all outstanding Salaries and Pensions in Abia State have been transmitted to banks for onward disbursement to their beneficiaries.
The breakdown of the monies so far disbursed is as follows:
S/No Detail No of Months Owed Remarks
1. LGA STAFF SALARIES 3 SENT TO THE BANK
2. LGEA (PRIMARY SCHOOL TEACHERS) 4        "
3. L.G PENSIONS 3        "
4. MINISTRIES, DEPT & AGENCIES 1        "
5. JUDICIARY WORKERS 1        "
6. HEALTH MANAGEMENT BOARD (HMB) 7        "
7. SEC. EDUCATION MGT BOARD (SEMB) 2        "
8. ABIA STATE UNIVERSITY TEACHING HOSPITAL (ABSUTH) 8        "
9. OUTSTANDING ALLOWANCES OWED PERMANENT SECRETARIES        "
10. ABIA STATE UNIVERSITY UTURU 8        "
11. ABIA STATE POLYTECHNIC ABA 6        "
12. COLEGE OF EDUCATION (TECH) AROCHUKWU 8        "
13. SCHOOL OF HEALTH TECHNOLOGY ABA 5        "
14. STATE PENSIONS 5        "
15. ENYIMBA FOOTBALL CLUB 1         "
16. ABIA WARRIORS FOOTBALL CLUB 1         "
 IMPORTANT DETAILS
•        The practice is to release subventions to Educational institutions which will in-turn handle their internal expenditure including salaries. Government wishes to commend the Educational Institutions that found ways to sustain their operations despite the non-release of their subventions over time and wishes to encourage them to continue to strive for excellence.
•        Government wishes to urge the National Union of Local Government Employees (NULGE) Abia State Chapter to cooperate with the on-going workers verification exercise as the current wage bill of Local Governments is unsustainable. The Monthly Wage Bill of Local Government Workers IN Abia State currently stands at N900M excluding salaries to teachers (ASUBEB) and Local Government Pensions. The average Monthly allocations to Local Governments currently stand at N1.5B. Clearly, the current system is unsustainable as it will entail government borrowing to pay salaries. Governor Okezie Ikpeazu will continue to show goodwill by paying the current wage bill but NULGE has to work with government for a verification exercise to manage the current Local Government workforce.
•        The Bailout Committee is still reviewing data for pre-April 2015 State Pensions and it will be released as soon as the verification is completed within a week.
•        The Bailout Committee will review arrears of leave and promotion allowances and also some pressing gratuity claims if all salary and Pensions claims have been offset and funds are still available.
•        Government wishes to commend workers for their patience so far and assure them that going forward, all efforts will be made to ensure that they are not owed any arrears of salary.
•        The Okezie Ikpeazu administration will endeavour to prudently and transparently manage all state resources at all times and urges Abians to continue to show support to the Government as it re-engineers the paradigms of governance and set Abia on an irreversible path of sustainable development.
Sam Hart
SSA to the Governor, Public Communications