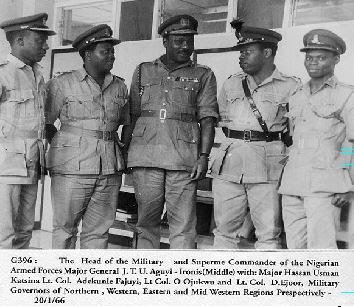 (Being Text of a Press Conference held in Lagos by "Handshake Across The Niger" Planning Committee on 15th November, 2017).
Gentlemen of the press, 
The Planning Committee of *Handshake Across the Niger* welcomes you to this media briefing to unveil the planned opening of a new vista in Igbo-Yoruba relationship within the Federal Republic of Nigeria as we remember the labour of our heroes past in reconstructing the narratives of our existence.
We speak of the eternal bond between former Head of State  Late Gen Johnson Aguiyi-Ironsi and  former Western Nigeria Governor, Late Col. Adekunle Fajuyi who were murdered in Government House in Ibadan by revenge-seeking mutineers on the night of July 29,1966. 
Over 50 years after the gruesome event, Igbo Think-Tank group Nzuko Umunna  under the auspices of Afenifere and Ohanaeze has decided to have a joint celebration of the the martyrs who have endured in the innermost recesses of their peoples and admirers.
It would be recalled that a bloody coup occurred in Nigeria on January 15,1966 in which the Prime Minister, Sir Tafawa Balewa and other top government functionaries were killed.
Aguiyi-Ironsi who did not take part in the coup – he actually attempted foiling it -inherited the pieces of a shattered country by virtue of being the most senior officer of the Armed Forces.
On July 29,1966 he was in Ibadan as guest of the Governor of Western Nigeria, Col Fajuyi when coupists seeking vengeance for the January event stormed Government House in Ibadan. Ironsi was in the ancient city to address natural rulers of the region which he already carried out.
Around 0030 hours, Lt Andrew Nwakwo, the Supreme Commander's (Ironsi's) Air Force ADC picked the ringing phone only to be told by Police Superintendent Joseph Adeola at the other end that the rumoured counter-coup had indeed started.
Ironsi and Fajuyi quickly sent out their aides to approach the gates which were already surrounded by enemy soldiers to determine the position of things. The duo did not have any idea that some of their aides were either moles or had switched loyalty.It was a decisive moment for the two gallant  officers as death came knocking.That was when the bond that passeth all understanding blossomed as they both affirmed a bond that now lives after them.
Fajuyi reportedly told his boss and guest: "I make bold to declare to you that..I am with you soul, spirit and body. And mark my words, whatever happens to you today, happens  to me. I am your true friend dear J.U.T like the dove to the pigeon, and by the grace of our good  God, so will I humbly yet proudly remain till the very end.
To this Ironsi replied: "Yes! Francis, I retain my absolute confidence in you. I have never for once doubted your integrity."
Fajuyi  did not put premium on his personal safety above  the life of his host. He stuck honorably with him as they were both marched by the coupists to a desolate village near Lalupon where they were killed and buried in a shallow grave. Over the years, these impressive beings have been celebrated separately in their places of origin with effusive praises. At the 20th anniversary of Ironsi on July 29, 1986, Chief Emeka Ojukwu said of the duo: "Both were the finest of their age, both served their country with absolute devotion and both died side-by-side victims of a country they loved and both will be remembered throughout history for selfless devotion to duty."
At the 35th remembrance of Fajuyi on July 30, 2001 in Ibadan, the Leader of Afenifere, Senator Abraham Adesanya said of them: "The bond between Fajuyi and Ironsi has shown and taught us that no matter our cultural differences, we can establish and nurture beneficial, purposeful and lasting union between ourselves and among our peoples". 
It has been difficult to celebrate one without mentioning the other, as they became one inseparable spirit in their last hours on earth.
The wrong narratives over the years have been the defining points of Igbo-Yoruba relationship while relegating this finest moment of uncommon bond.
It is now a new day as the best of Yoruba and Igbo gather in the East to celebrate Ironsi and Fajuyi and construct the East-West bridge of understanding viz:
Date: January 11,2018
Venue: Base Event Centre, Independence Layout , Enugu.
Time: 11 AM.
The event will hold under the joint chairmanship of former Chief of General Staff, Commodore Ebitu Ukiwe and the Olu of Ido-Ani Oba (Gen) Olufemi Olutoye. The Chairman of Southern Governors' Forum and Lagos State Governor, Mr Akinwumi Ambode; Chairman of South East Governors' Forum and Ebonyi State Governor, Chief David Umahi; Ironsi's home state (Abia) Governor, Dr. Okezie Ikpeazu; Fajuyi's home state (Ekiti) Governor, Dr Ayodele Fayose are Special Guests of Honor at the occasion.
The Ooni of Ife, His Imperial Majesty, Oba Adeyeye Ogunwusi and the Obi of Onitsha, His Imperial Majesty, Igwe Alfred Achebe will be Royal Fathers of the Day.
The biggest gathering of Igbo and Yoruba with their friends all over Nigeria will be entertained by Lady of Songs, Onyeka Onwenu and folk singer Jimi Solanke.
The Leader of Afenifere, Chief R. F. Fasoranti and President-General of Ohanaeze Ndigbo, Chief John Nwodo will receive guests at the Coal City.
We look forward to a big cebration of friendship, harmony, and inter-ethnic understanding in Enugu on January 11. 
We hope to begin a new paradigm of relationships among our groups as a worthy commendation to the whole country, as real development will continue to elude us in the atmosphere of suspicion, acrimony and mistrust.
Thank you for listening!
Yinka Odumakin, Senator Chris Anyanwu
(For the Planning Committee of Handshake Across The Niger)
— 
Would you like to be receiving ALL Elombah.com news links 'On The Go' on WhatsApp Or Telegram?  If yes, please provide us your Telephone number via publisher@elombah.com or sms/inbox +2349050382526 and you are ready to go!
© Copyright 2017 www.elombah.com; unless otherwise indicated, all images are courtesy of Twitter; send eyewitness accounts/reports/articles to publisher@elombah.com; follow us on twitter @Elombah; like our Facebook page: Elombah.com; join us on WhatsApp HERE
For adverts & inquiries, call +447460770987, +2349050382526