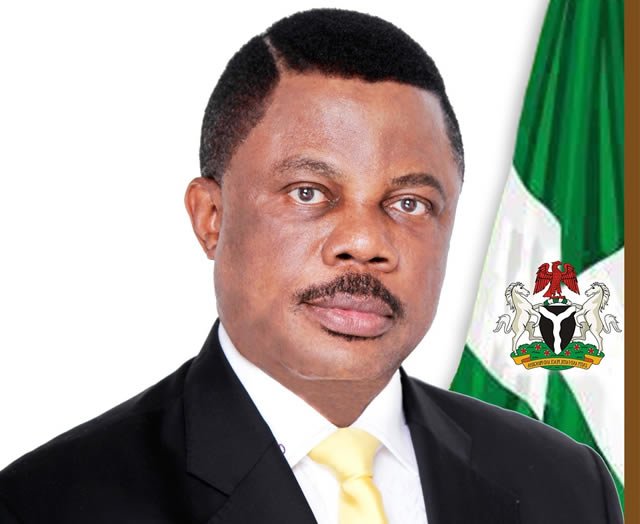 This piece was sent to elombah.com for publication by someone who claimed to be Dr. Chike Obidigbo. 
We published nonetheless while anticipating that Dr. Obidigbo will either accept or reject it.
Read on as the writer dissects the just-concluded Anambra State governorship election which took place on Saturday, November 18, 2017:
—–
ANALYSIS OF ANAMBRA STATE GOVERNORSHIP ELECTION
The Anambra 2017 election has come and gone. I tried my best, but at some point it became obvious to me that I would not realise my ambition, so I advised and encouraged myself to act my true self. I took a dignified bow. 
My only political ambition was to create a new wealth base for Anambra. I know what to do and how best to do it. I wanted to give something of great value to my society. I wanted to create jobs on a massive scale for our suffering youths and to put valuable bread on the tables of many families. 
I lost the opportunity, but my head didn't touch the sand. I saw so much,  knew so much, learnt so much and of course, lost so much. But to the disappointment of many I did not kiss the dust. 
I have since congratulated my brother Willie Obiano. I congratulated him, not only for winning the election but additionally, for successfully deploying the most massive and intimidating election campaign propaganda, unseen elsewhere, not even in presidential elections. 
The style is quite novel but highly efficient and effective. The propaganda team easily turned all black into white. They aggressively rattled our brain out of reason, and easily manipulated and took complete control our gullible and feeble minds. 
Nobody bothered again to see how the election was electronically manipulated.  And of course nobody bothered with the fact that our common treasury was completely emptied only to make Obiano retain his seat. 
Those who were behind the propaganda machinery were good and indeed very merciless in their onslaught. I am convinced that Victor Ume, Obiano's campaign manager was not part of the team. It was beyond him.  
He is not endowed with such massive brain power. He is merely a man of muscle and physical presence. 
I know also that ten Ifeatu Obi-Okoyes and even ten thousand Chiedu Nkwontas, and all the misled youth writers put together still lacked the capacity to put up such deafening and so intimidating propaganda. 
I won't even advance my brother the governor near there for obvious reasons. Their effort was good indeed super, but then, lies told over and again becomes truth, especially when they go unchallenged, unopposed and unexposed. 
As a starter, Anambra state under Obiano has received Foreign Direct Investment (FDI) of about $8 billion. This amount is over N3trillioin, an amount Anambra state has never had on her budget paper since creation. 
The two parties that had the opportunity to debunk those faulty claims were more concerned chasing fighter jet with antiquated dane guns. Peter Obi, who ran the campaign for Obaze of PDP was busy marketing himself for his third term project and even beyond. 
What he lost in the swing thru Obiano, he wanted to gain in the roundabout through Obaze. God does not operate that way. Our dear Peter Obi erroneously believed that he has become so popular that even if he throws up dung Ndi Anambra will gladly inhale it and thereafter hail him. 
'Saint' Peter's usual self-delusion, with his lone ranging behaviour and Solomonic wisdom, have combined to make Peter the great 'oracle' indeed. Those assumed qualities will never allow Peter to make proper assessment of any situation. Not anymore. 
I am sure my friend Obaze, stood a better chance of winning that election without Peter's meddling with his araldite laden palm. Peter's life experience with the traders at Ngbuka Obosi will be a dirty experience he is bound to live to remember, no matter his usual pretentiousness. 
Peter was blinded by his avowed vendetta on Obiano that he left so many stones unturned. And the consequence is that Obiano got away with several make believe stories. 
On the part of APC, the leader is Dr Chris Ngige, his title name is Onwa, meaning the MOON. There had never been two moons on the firmament. And our own Onwa will ensure that it never happens, at least not in his time. If it's not coming to me, let it rotten. 
Several internal wrangling, politicking, bitterness, apathy, nonchalant attitude of both principal characters, coupled with extremely selfish, wicked and heavily brainwashed party officials contributed in no small measure to the downfall of the Party's candidate, Tony Nwoye. 
The young man fought a good fight. I give it to him. But stubbornness with lack of experience connived to rob him of victory. I will still find time to discuss other parties and their contestants, especially my friend Ezeemo, Chidoka, and my son Yul. 
After all said and done, there is urgent need for every Onye Anambra to start taking deeper interest in politics most especially my Anglican brethren and other non-Catholic adherents. 
The Roman Catholics have understood the game and they're still taking advantage of every political situation. To me there is nothing wrong with that. They worked for it over several years, deploying every manner of effective strategies. 
Other Denominations will emulate them. It is our common heritage. We should work for it and share in the proceeds. 
Finally, it's time that our youths must shun extreme selfishness and try to understand that it is their collective future that is being tossed about and messed up. They must learn to come together, work together, to take charge of their collective future.  
It is obvious, to those of us with sound knowledge and training that our economy has been running on the reverse gear. 
It will only take serious commitment and sound knowledge of the working of an economy, especially of a rural and virgin nature to bring it back on course for speedy recovery and growth. 
Such knowledge cannot reside within operators with service-industry background, especially banks of all kinds, not even the central bank. Banks do not create wealth. They are mere custodians of wealth. So our youths over to you. I will soon be back.
— 
Would you like to be receiving ALL Elombah.com news links 'On The Go' on WhatsApp Or Telegram?  If yes, please provide us your Telephone number via publisher@elombah.com or sms/inbox +2349050382526 and you are ready to go!
© Copyright 2017 www.elombah.com; unless otherwise indicated, all images are courtesy of Twitter; send eyewitness accounts/reports/articles to publisher@elombah.com; follow us on twitter @Elombah; like our Facebook page: Elombah.com; join us on WhatsApp HERE
For adverts & inquiries, call +447460770987, +2349050382526