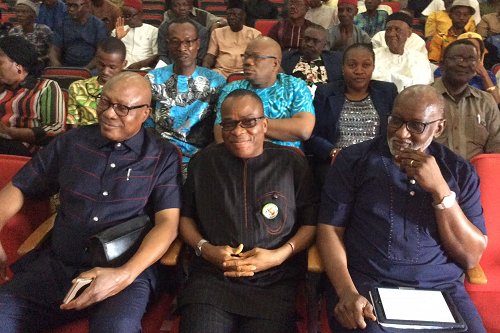 Ahead of the 18 November 2017 gubernatorial election, political stakeholders in Anambra State are committed to ensuring a seamless election that would provide credible, responsive and responsible leadership in the state.
For this reason, a non-partisan gathering of stakeholders named the Anambra Political Stakeholders forum, convened a political summit to deliberate on the way forward.  
The forum which draws its membership from all parts of the state, is comprised of notable personalities, including, former federal and state lawmakers, former commissioners, government functionaries, youth leaders, party chieftains, Presidents-General (PGs) of Town Unions, among other key stakeholders. 
The chairman of the Anambra Political Stakeholders' Forum, Dr. Okey Umeano, said in his remarks that the main aim of the forum amongst others, is to "install in Anambra state a responsive and responsible government and also to assist credible individuals who have political ambitions in any of the political parties in the country." 
The forum's objective seems to be in tandem with the evolving political mindset in Anambra state. As the gubernatorial election in Anambra State slated for November 18, 2017, draws nearer, once diverse public opinion seem to be converging on the validity of upholding the zoning formula in the state. 
Interestingly,  whereas certain aspirants from the south and central senatorial zones have entered the race, thus seeking to truncate the zoning formula and the tenure of Dr. Willie Obiano, the incumbent governor, no less than five aspirants from Anambra north have also entered the race.   
However, only three aspirants, Chike Obidigbo (North), Oseloka H. Obaze (North) and Godwin Ezeemo (South), attended the summit.  
Only Obaze and Obidigbo addressed the summit as Ezeemo left unexpectedly just before he was scheduled to speak.  
While delivering the second of the summit's two key papers titled, Zoning of Political Power, Federal Character, Equity and Justice in Anambra State: Interrogating Common Sense in a State of Confusion, Prof. Frank-Collins Nnamdi Okafor argued that zoning had become a necessary stopgap measure in Anambra State because of the convoluted nature of Anambra politics. 
He expressed worry that not abiding by the gentleman's arrangement could throw up a repeat of the ugly events of the not-too-distant past.
In his brief but pointed remarks, the leading People's Democratic Party (PDP) governorship aspirant, Mr. Oseloka H. Obaze said his candidacy presented Anambra state with a credible leadership alternative. 
Furthermore, Obaze said, "For the record, I have taken the position, that if elected the Executive Governor of Anambra state come November 18, 2017, I will keep faith and serve for only four years. 
"Thus Anambra North will conclude its term in 2022, as agreed."
Surveying the prevailing political terrain in Anambra and the future prospects, Obaze said the state can do better and needs to put its best foot forward. 
"I am a student of comparative politics and governance. So, when you say a nation is doing well; we must ask, can it do better? 
"When you say a state is working; I will ask, is there still room for development? 
"If you say it is not broken, so don't fix it; I ask, can the system be redesigned to achieve greater good for all, inclusivity and all-encompassing development? 
"There is a credible alternative to the incumbent leadership and we must capitalize on that and put Anambra on its best trajectory to make it best of all 36 states in Nigeria."
Obaze, who hails from Ogbaru Local Government Area, in Anambra North Senatorial Zone, agreed with the erudite scholar, saying:
"Prof. Okafor's magisterial and illuminating discourse on zoning has vindicated our stance on zoning.  
"Anambra state, and the nation at large, suffer from uneven distribution of returns of development and disparities in the interests of each component group, which necessitated a negotiated zoning arrangement to foster equity and inclusivity."
The Summit's communique issued at the conclusion of deliberations, and captioned "The Imperative of Good Governance & Equity" surmised:
"It has become obvious for us to embrace equity, justice and fair play in our body politics, in line with the constitutional provisions of the 1999 Constitution." 
The document appealed to political parties and key stakeholders to uphold the zoning arrangement in order to ensure peace and stability in Anambra politics, and to eliminate rancor and bitterness. 
Finally, the communique also underlined that "It has become necessary to urge and deliberately encourage our best brains, professionals and technocrats to show interest in party politics and electoral contests in Anambra State."
The political summit was chaired by Sen. Ben Obi who was represented by Chief Fred Oduah and was attended by three gubernatorial hopefuls; Dr. Chike Obidigbo, Mr. Oseloka H. Obaze and Mr. Godwin Ezeemo. 
It was also attended by Prof. Obiajulu Obikaeze who delivered a paper on "Democracy and Good Governance", Traditional Rulers, PGs of Town Unions, state leadership of Ohaneze Youth Wing among others. 
Invitees that were notably absent, were aspirants Dr. Andy Uba (APC)  Dr. Alex Obiogbolu (PDP) Dr. Tony Nwoye (APC), Engr. Barth Nwibe (APC) and Osita Chidoka (UPP). 
By Our Correspondent
—
Would you like to be receiving ALL Elombah.com news links 'On The Go' on WhatsApp?  If yes, please provide us your WhatsApp number via publisher@elombah.com or inbox +2349050382526 and you are ready to go!
© Copyright 2017 www.elombah.com; unless otherwise indicated, all images are courtesy of Twitter; send eyewitness accounts/reports/articles to publisher@elombah.com; follow us on twitter @Elombah; like our Facebook page: Elombah.com; join us on WhatsApp HERE
For advert placement call us on +447460770987, +2349050382526