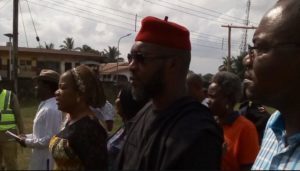 UPP Candidate Chidoka casts his vote
#AnambraElections – The Anambra governorship election witnessed impressive turnout of voters at most of the polling units, the News Agency of Nigeria (NAN) reports.
Election monitors in the three senatorial zones of the state, on Saturday reported that voters were seen in most of the polling units visited as early as 7.30 a.m. waiting to be attended to by the electoral officials.
News correspondents report that security officials were present in all the polling units visited.
[See Video below: Police PRO Speaks on the Peaceful Anambra elections today]
At Aguleri in Anambra East Local Government Area, the country home of Gov. Willie Obiano, the governor said he was happy with the massive turnout of voters.
Obiano urged the people yet to come out to do so, noting that effective participation by the people was the only way they could support the advancement of democracy.
Governor Willie Obiano Of Anambra state while going to cast his vote at Eri school in Aguleri, was spotted dancing to the tune of the chanting song from the electorates. 
The APC governorship candidate, Dr Tony Nwoye, also told newsmen that the turnout was high and impressive.
In Oyi, Orumba North and South, Awka South local government areas as well as Onitsha, NAN correspondents report that the turnout was high in the polling units visited.
However, the turnout in parts of Orumba north and south was poor because of late arrival of materials and officials of INEC.
At Aroma Junction, Agu Oka Polling Unit 004 in Awka South Local Government Area, Mr David Anyamele, a Local Election Observer, described the exercise as peaceful and smooth.
Anyamele, a member of Centre for Citizens with Disabilities, told NAN that he was impressed by the turnout of voters in most of the polling units he visited. But at Fagge Area of Onitsha, the turnout was not very impressive.
Igwe Nneamaka Achebe, the Obi of Onitsha, told NAN that the unimpressive turnout in Onitsha was because majority of people working and doing business in Onitsha were not residents of the area.
"Most of them live in Nkpor, Obosi, and Idemili areas, but only come to Onitsha to work and do business.
"The Obi in Council had earlier met and directed the town criers to go round the various communities and announce to the people to participate in the election,'' Achebe said.
He described the conduct of the Nov.18 governorship election as smooth, peaceful and fair.
Meanwhile, a member of the Nigerian Bar Association Election Working Group, said in Onitsha that the poll began on a good note.
The Coordinator of the group, Mr Adewale Ademola, said that the materials arrived and all the materials, including ballot boxes, card readers and results sheets were intact.
Ademola said the card readers were all in good working condition and that the election was smooth. (NAN)
Anambra decides: Police PRO Speaks on the Peaceful Anambra elections today