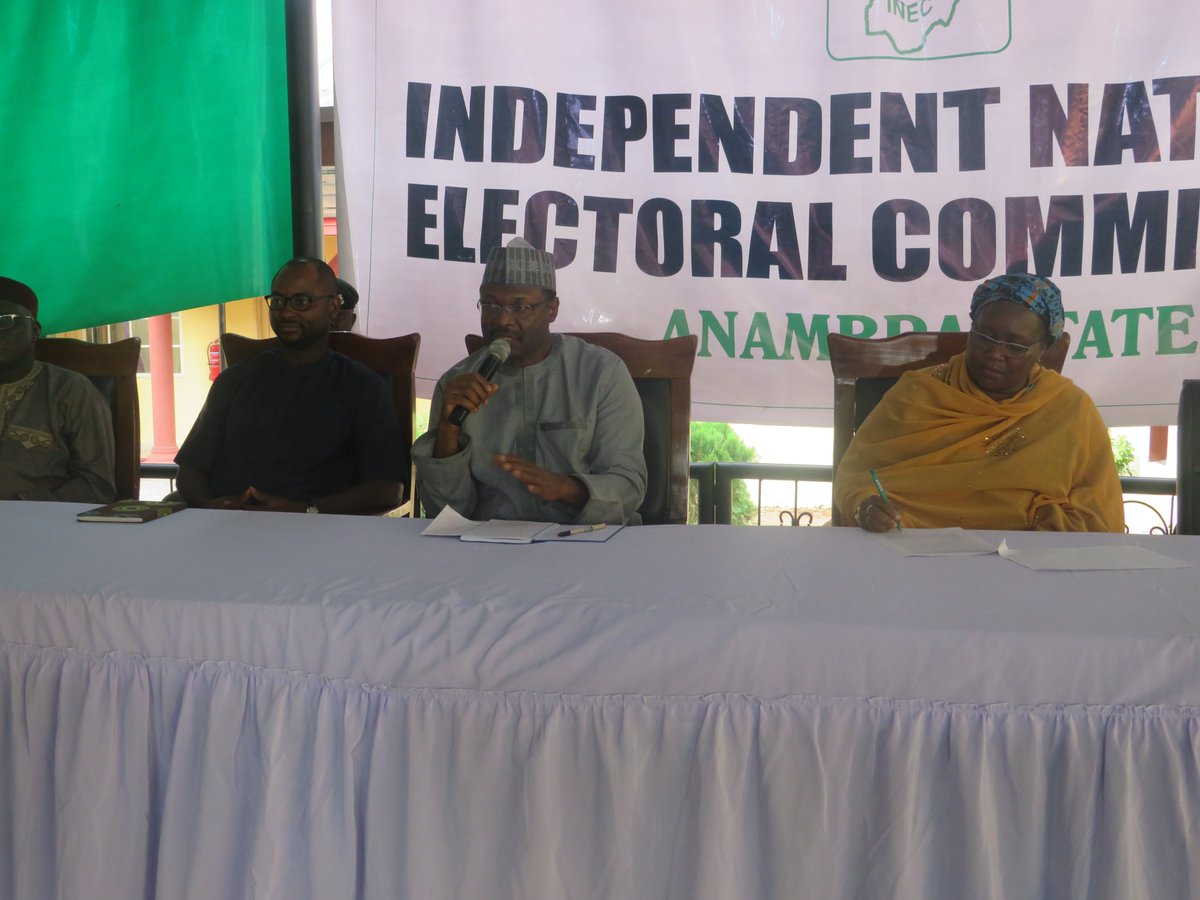 Final Letter To Anambra Governorship Poll Stakeholders: Making The All-Important Poll Secured, Popularly Participated, Conclusive, Free and Credible
We the leaders of Intersociety (Int'l Society for Civil Liberties & the Rule of Law) and SBCHROs (Southeast Based Coalition of Human Rights Organizations) respectfully write your public offices with respect to the above underlined important subject. Note that the letters have been successfully delivered to their recipients as dated.
Making Anambra 2017 Governorship Election secured, popularly participated, conclusive, free and credible is the collective concern and expectation of all Nigerians, our organizations and members of the international community. 
To achieve these goes far beyond media sensationalism and security show of force on the pages of newspaper and other mass media by poll security handlers especially the authorities of the Nigeria Police Force in the State led by CP Garuba Umar. 
It also goes beyond deployment of over 55,000 armed security personnel including "26,000 armed police personnel involving special mobile and anti terrorism squads, etc; 10,000 armed soldiers, 5, 000 armed naval personnel, 3,000 armed air force personnel and 11,000 armed personnel of the Nigerian Security & Civil Defense Force (NSCDF) and 3000 of its Dogs; as well as flooding of the State with war weapons such 15 armored personnel carriers, war aerial helicopters and war gunboats".
It must be clearly understood that this is just a staggered governorship election and not a war situation. As rights CSOs' leaders with advocacy and academic expertise in security and democracy matters, we are deeply worried over non tactical handling styles of critical civil matters such as "2017 Anambra Governorship matter" by heads of security agencies in the State especially the authorities of Anambra State Police Command led by CP Garuba Umaru.
Pronouncements over sensitive election security matters ought to be handled with tact and caution so as not to make the voting population vulnerable and apprehensive. 
Psychological demilitarization and forensic securitization (mute security and intelligence) should be the major thrust of such poll security pronouncements including media interviews and press releases. 
This is more so when the same Anambra voting population and the entire population are already facing consistent, intensive and extensive psychological threats from some non State actor social groups.
The end product of every popular election especially in developing countries such as Nigeria and Anambra State is not to escalate and proliferate the number of armed combatants and weapons deployed for poll security or engage in alarmist media noises and military/security show of strength or force in the pages of newspaper and other mass media; but ability of the election organizers and poll security providers to demilitarize the already psychologically militarized and apprehensive voting population. 
This is done by tactical and forensic poll securitization. 
One of the major failures of election conductors and poll security providers, till date, in Nigeria is absence of electronic voting and its simplified methodologies. 
Had Nigeria joined other global societies in the institutionalization of electronic voting side by side with manual voting; flooding of electoral arenas with war combatants and weapons as well as their media hypes would have been drastically reduced, if not totally out-fashioned.
Consequently, Sirs, we call upon all of you to jointly and respectively ensure as follows:
DUTIES BEFORE ANAMBRA REC & HIS CO-POLL HANDLERS
Ensure maximum safety of all sensitive and non sensitive electoral materials for the all-important Poll.
Monitor your entire subordinate staffs and key non staffs or ad hoc INEC officials especially INEC substantive staffs such as SPOs (Supervising Presiding Officers), APOs (Assistant Presiding Officers), POs (Presiding Officers 1, 2, 3, etc) as well as storekeepers and those in charge of ICT and operations.
Ensure that inks brought for the poll are not exchanged or replaced in whole or in part with fake INEC inks reportedly imported and smuggled or about to be smuggled into the Commission in Anambra by malicious and desperate candidates; designed to fade or erase and disappear from thumb-printed ballot papers few hours after being thumb-printed on ballot papers by voters so as to produce massive "invalid votes" against the targeted candidates during the ballot counting; especially in the affected candidates' strongholds.
Ensure that all INEC inks are test-run routinely and specifically few hours before their deployment to all the 4,608 polling booths in the State and in the presence of security agents and party agents.
Ensure simultaneous, speedy and timely delivery of sensitive and non sensitive poll materials and personnel to all the 4,608 polling booths in Anambra State.
Ensure the deployment of three functional and fully powered card readers to each of the State's 4,608 polling booths; to serve as effective "option B" where they fail in their area and period of use.
Ensure that the card reader handlers are well trained and properly oriented.
If possible, revert to "accreditation, vote and wait" policy for prospective voters with their specified timing; or if "simultaneous accreditation and voting" is the Commission's new mandatory  policy; then voters must be allowed to stay on till polling booth counting and announcement of result is completed.
Avoid unnecessary delays in the commencement of voting at polling booths so as to avoid generating tensions and causing of breach of peace.
Place out-right ban on sale and distribution of foods or sharing of cash around polling booths and ensure their full enforcement using manual and electronic security  arrangements such as use of security personnel and security cameras and non State actor mobile communications.
Etc. 
DUTIES BEFORE ANAMBRA CP AND HIS ARMY, SSS & NAVAL COUNTERPARTS
Issue a statement of commitment assuring Anambra population especially the voting population of neutrality and that security forces deployed to the State  are not for war or "operation python dance 111", but strictly for friendly election security.
Such statement of commitment should widely be run in the paper, online, audio and electronic visual media especially on local radio stations in the remaining days before the all-important Poll.
The statement should contain assurances of civility and civil conducts on the part of security personnel deployed to the State especially soldiers.
Effective mechanisms should be put in place including quick access phone lines to Anambra People especially voters to report cases of overzealousness or misconduct on the part of security personnel so deployed especially soldiers and special mobile and anti-terror police squads.
There shall be total ban on toll collection roadblocks on Anambra Roads. Checkpoints can only be sparsely put in place for non-indiscriminate security checks. 
The psychological insecurity already created and inculcated in the public psyches especially among voting population by security forces in Anambra State through unnecessary media hypes and show of force on media and over-securitization; shall be de-escalated, diminished and demystified.
There shall be total ban on checking of vehicular papers or particulars on Anambra Roads especially between Friday 17th and Monday November 20th 2017.
All security personnel and their foot commanders on election duty in Anambra State must be properly tagged and mandated to wear their tag numbers and names with ID cards conspicuously displayed on their chest regions.
All the 4,608 polling booths in the State must be properly, manually, electronically and aerially identified,  captured, monitored, accessed and policed; while intelligence should be left in the hands of SSS operatives and CID operatives (if any).
The 4, 608 polling booths shall be manned by NPF and NSCDF operatives, while members of the Nigerian Armed Forces including soldiers, naval and air force are restricted to emergency response securitization patrols and other arrangements.
Key political contractors, party financiers, serving State and Federal legislators, influential/violent community and market leaders and political appointees in the State shall be forensically identified and mapped so as to prevent them from posing security threats and influencing voters for their appointing, contracting or hired masters.
The number of their security guards shall be drastically trimmed or reduced and their manual and electronic access to Anambra State Joint Security Task Force (i.e. SARS, MOPOL, soldiers and naval personnel) totally restricted.
Specifically, urban and rural voters must be protected and allowed to vote independently without being threatened or induced by desperate political contractors and financiers or violent communal leaders, political appointees and others mentioned above.
The following communal flashpoints in the State; housing some of the said controversial or troublesome personalities must be properly checkmated. 
They are Nnewi South, Nnewi North, Ekwusigo including Ozubulu and Oraifite, Ihiala including Okija, Anaocha including Adazi-Ani and Nnanka, Dunukofia including Ukpor, Aguata, Oyi, and Awka North and South; likewise "Anambra rigging fields" of Omambala areas of Anambra State.   
The following major electoral stakeholders in the 2017 Anambra Governorship Poll must be protected, assisted and petted by all security operatives on election duty in the State especially on Election Day.
They are: voters with voters' cards, INEC substantive and ad hoc staffs, party agents and properly tagged election observers or monitors such as media and rights and pro democracy activists, religious leaders and medical personnel.
On no account must any of them be harassed or intimidated; or arrested or detained.
On no account, too, must a bearer of valid voter's card be harassed or unnecessarily questioned, or arrested by security agents. He or she must be assisted to locate his or her voting center in the event it becomes the case.
For: International Society for Civil Liberties & the Rule of Law (Intersociety)
Emeka Umeagbalasi (Criminologist & Graduate of Security Studies)
Board Chairman
Mobile Line: +2348174090052
Email: botchairman@intersociety-ng.org
Chinwe Umeche, Esq., LLB, BL
Head, Democracy & Good Governance Program
Mobile Line: +2347013238673
For: Southeast Based Coalition of Human Rights Organizations (SBCHROs)
Comrade Aloysius Attah (+2348035090548)
For: Civil Liberties Organization, Southeast Zone (Southeast CLO)
Comrade Peter Onyegiri (+2347036892777)
For: Centre for Human Rights & Peace Advocacy (CHRPA)
Comrade Samuel Njoku (+2348039444628)
For: Human Rights Organization of Nigeria (HRON)
Engineer Rufus Duru (+2348037513519)
For: Global Rights & Development International (GRDI)
Comrade Chike Umeh ( +2348064869601)
For: Society Advocacy Watch Project (SWAP)
Obianuju Joy Igboeli, Esq. (+2348180771506)
For: Anambra Human Rights Forum (ANHRF)
Comrade Alex Olisa (+2348034090410)
For: Southeast Good Governance Forum (SEGGF)
Jerry Chukwuokoro, PhD (+2348035372962)
For: International Solidarity for Peace & Human Rights Initiative (ISPHRI)
Mr. Tochukwu Ezeoke (+447748612933)
For: Igbo Ekunie Initiative (Pan Igbo Rights Advocacy Group)
Comrade Vincent Ezekwume (+2348171793911)
For: Civil Liberties Organization, Anambra State Branch (Anambra CLO)
Comrade Nelson Nnana Nwafor (+2348033383708)
For: Foundation for Environmental Rights, Advocacy & Development (FENRAD-Nigeria)
Comrade Ozor Ugonna Kingsley (+2348138898669)
For: Rural Engagement & Development Foundation (RED-Foundation)
Comrade Orji Andy Ndukwe (+2347033413515)
For: Society for Economic Rights & Social Justice (SERSj)
Comrade Nwokocha Anozie Innocent (+2348063771269)
For: Initiative for Ideal Development & Emancipatory Leadership in Nigeria (IDEAL-Nigeria) 
Comrade Chilos A.C. Godsent (+2347037997507)
For: Igbo National Council (INC)
Prince Chukwuemeka Onyeso (+2348187194207)
For: Forum for Promotion of National Ethos & Values (FPNEV)
COPY:
The Anambra Resident Electoral Commissioner
Anambra INEC Headquarters, State House of Assembly Road
Awka, Anambra State
The Commissioner of Police for Anambra State
Anambra State Police Headquarters
Awka, Anambra State
The State Director of SSS
Anambra SSS Directorate 
Amawbia, Anambra State
The Cantonment Commandant
Onitsha Military Cantonment
302 Artillery Regiment, Onitsha
The Commander, Onitsha (Ogbaru) Naval Post
The Nigerian Navy Post, Iyiowa Odekpe
Ogbaru, Anambra State
— 
Would you like to be receiving ALL Elombah.com news links 'On The Go' on WhatsApp Or Telegram?  If yes, please provide us your Telephone number via publisher@elombah.com or sms/inbox +2349050382526 and you are ready to go!
© Copyright 2017 www.elombah.com; unless otherwise indicated, all images are courtesy of Twitter; send eyewitness accounts/reports/articles to publisher@elombah.com; follow us on twitter @Elombah; like our Facebook page: Elombah.com; join us on WhatsApp HERE
For adverts & inquiries, call +447460770987, +2349050382526