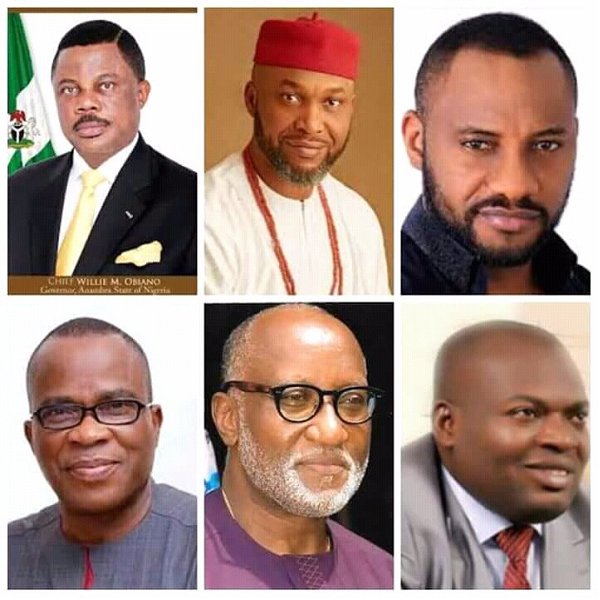 Dear Ndi Anambra, our state today is regarded as the beacon of hope in Igbo land hence the need for us all to ensure that whosoever shall emerge as our governor come this November shall not make us cry.
Anytime you hear any of our governorship candidates promising to do this or that for your community or in our state, kindly test his promises with the facts on ground. The projects being promised need funding.
I know for certain that none of the existing candidates has enough personal money to run our state. They will still rely on the state's finances to execute their promises.
A candidate who over-promises just to win, would be left with no other options than to owe workers and ignored contracted obligations so as to have utilize all available revenues to fulfill the "I will build this and I will build that" pre-election promises.
I know that Anambra State receives an average of N3 billion per month from the federally allocated revenues and N1.2 billion per month from the internally generated revenues, bringing the total available revenues to an average of N4.2 billion per month.
Depending on the performance of crude oil prices in the world market and the ability or the efficiency of the state to collect its taxes and levies, the total available revenues might be lower or higher than N4.2billon in some months.
Naturally, the salaries and wages of workers and political office holders which amount to N2.1 billion shall be deducted from the revenues leaving a balance of N2.1 billion to finance the other recurrent expenditures and the capital projects.
The total receipts into the Joint Local Government Account of N2.6 billion minus wage bills of N1.7 billion, Pension Commitments of N250 million leaves a paltry amount of N750 million monthly.
As a norm, albeit not constitutional, the successive governors augmented the amounts they used to executive capital projects with the funds belonging to the Local Governments. Peter Obi did it. Willie Obiano and all other governors in Nigeria are neck deep in this practice.
My fellow Anambra people, if the country's economic climate remains the same, current governor or his replacement shall have about N2.85 billion (N2.1b plus 750million) monthly to fulfill new promises and to sustain the execution of ongoing projects.
I have come to realize that Anambra people are one of the smartest people on earth and as such should shed our "e no concern me" toga and begin to analyze all the candidates based on their records and what they said they want to do.
Many of our teaming citizens don't have the benefit of empirical analysis of promises made to them by politicians. Some of them vote based on consanguinity or "what I stand to personally gain" not for good governance.
Is it not why some characters brandish their charity works as a qualification to rule as governor of a state of great men of intellect? This pitiable behavior makes our people believe that there is so much money for government to spend, that the present occupants are either corrupt or wicked.
We should be guided by our recent experience of unfulfilled electoral promises and the Igbo adage that "obughi ka aki ilu si ada n'nti ka osi ato!"
A good man with no hands-on experience is like a helpless Arsenal fan promising his wife the 2017 EPL trophy.
Only the experienced hand or a knowledgeable visionary can do the job.
All the candidates should be made to attend at least four televised debates to sell themselves to a live audience made up of all the traditional rulers, presidents and secretaries of all the 119 town unions in Anambra state.
If you can't explain it, you can't do it.
It has become pertinent that we should start interrogating all the candidates and make them to answer the following questions:
1. What are the basic challenges facing the Anambra state and what practical solutions backed with facts and figures does the candidate have to solve the problems?
2. Besides the desire or ambition to make a difference, which is not in short supply, what cognate experience in life does the candidate have in solving similar problems in the past? Nobody ever allows an ambitious nurse to perform a surgery on him or her. The governor of Anambra state must be someone of demonstrable experience in management and exposure.
3. What governance areas does the candidate think Peter Obi and Willie Obiano made mistakes and how would the person do it differently? The person should be able to prove the mistakes and adduce provable solutions.
4. Being that today's governance requires governor's good understanding of finance especially bilateral and multilateral financing, the candidate should demonstrate good understanding of public private project financing models to deal with infrastructure deficit in the state. Nobody can supervise what he barely understands. A learner can kill his passengers.
6. All the candidates must disclose the sources of their campaign funds or who their sponsors are to avert the Mbadinuju and Ngige saga. They should make public their personal balance sheets and profit and loss accounts; disclosing all their investment interests.
7. The candidates must demonstrate their reach and ability to attract investors to the state and their areas of priorities.
8. The detailed educational and professional history of each candidate must be made public for all to see as no one can give what he or she does not have.
9. All the candidates must be made to declare their stand on the unity or otherwise of the country and how they intend to relate with Nnamdi Kanu's IPOB.
We cannot be shouting for equity at the center and return home to shout that "zoning does not matter". All Anambra communities culturally practice "welu ka m welu" i.e. "take let me take mine". This gives every community a sense of belonging.
There is no need to prove that all the three senatorial zones in Anambra can boast of exceptionally gifted and experienced administrators. Even as that, there is no emergency to warrant a saviour in any other candidates outside the zone whose turn has not reached.
It follows that only the political parties who fielded candidates from Anambra North should be deemed respectful of the equity and fairness agreement by the elders and the Ohaneze Ndigbo which is in practice in all Igbo states. It was agreed that Anambra North should complete their 8-year tenure.
It is also good to let all the candidates from Anambra North know that any of them, other than the incumbent governor, who wins on November 18, can only do single term of four years. They all must sign a commitment to the rotation ideal.
My fear is that it is always easier to give a monkey water in a cup but very difficult to get the cup back.
The reneging of Jonathan on an Obasanjo brokered single tenure agreement between Jonathan and the northern establishment nearly consumed Nigeria. But, it consumed PDP as most northern members of the party including some high ranking EXCO members worked against their party's presidential candidate.
It is also very important for Ndi Anambra to be thorough and conscious in deciding who will become or remain our governor come November 18, 2017.
The stakes are too high for any well-cooked Anambra citizen to be aloof or unconcerned.
Let the discussions begin. 
—
Would you like to be receiving ALL Elombah.com news links 'On The Go' on WhatsApp?  If yes, please provide us your WhatsApp number via publisher@elombah.com or sms/inbox +2349050382526 and you are ready to go!
© Copyright 2017 www.elombah.com; unless otherwise indicated, all images are courtesy of Twitter; send eyewitness accounts/reports/articles to publisher@elombah.com; follow us on twitter @Elombah; like our Facebook page: Elombah.com; join us on WhatsApp HERE
For advert placement call us on +447460770987, +2349050382526