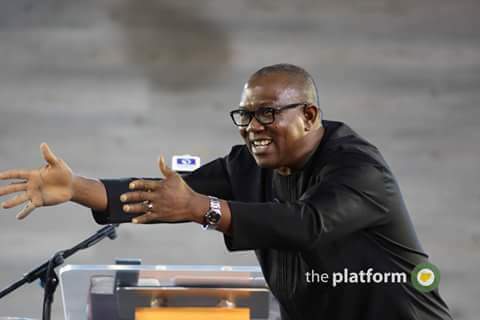 Mr Valentine Obienyem, the personal aide to former governor of Anambra State, Mr. Peter Obi, has shed some light into want prompted his principal to seek election into public office.
In a short memo he sent to Elombah.com, Mr Obienyem said that Mr Obi was appalled by the stream of violent activities and atrocities perpetrated by people in power under the guise of governance.
Some of the alleged atrocities include intrigues, squander mania, rape and rapine, Bakassi, and a host of others.
Obienyem said that things reached its crescendo when his principal could not stand them anymore and he, thus, sought for means to "turn these barbarisms into civilization."
 That, according to him, compelled him to seek election into public office. He wrote:
"Before Mr. Peter Obi, news emanating from the State was not palatable at all. It was always stories of intrigues, squander mania, rape and rapine. 
"Visions and memories of the State tormented all persons of goodwill; an involuntary gloom penetrated our souls, chilling their imaginations.
"The Bakassi group and their co-predators worsened the situation as they turned our dear State into a vast Golgotha of carnage, an arena for horror, where her children tore and destroyed one another with the clear conscience of nature. 
"Concerned like other decent people, Peter Obi developed an urge to turn these barbarisms into civilization and this was what compelled him to seek election into public office."
A great and remarkable sanity was restored in the state during and after the tenure of Mr Peter Obi.
UPDATE
STILL ON MR. PETER OBI
As the Governor, he had many challenges, but as customary with him, his usually calm and thoughtful temperament often saved him from unsavoury situations. 
Despite his convictions that the condition of Anambra required early decisions and quick implementation of policies, Obi, in the freshman year of his government, submitted himself to robust debate over the State's many problems. 
He started with a profound bow to planning by establishing the Ministry of Planning. 
He did not have to rush into new projects – mostly unplanned – when there were many projects started by his predecessor which needed to be completed.
As a board-room guru, he subjected his decisions to the Executive Council [EXCO] for proper debate and consideration. 
He did this because he was the captain of the ship and was in control. Till this day, his erstwhile Commissioners recall their exhilarating times with him.  
One of them is the highly-respected Dr.  Patrick Obi who revealed that the then Governor was often "Prolonging Council meetings, always returning to the question – Is this just? Is that useful? 
"He subjected each question to exact and elaborate analysis".
On Peter Obi's capacity for work, the cerebral & forthright Professor Chinyere Okunna says: 
"I have never seen him tired, I never found his mind lacking in inspiration, even when weary in body. 
"Never did a man more wholly devote himself to the work in hand, nor better devote his time to what he had to do".
—
Would you like to be receiving ALL Elombah.com news links 'On The Go' on WhatsApp?  If yes, please provide us your WhatsApp number via publisher@elombah.com or inbox +2349050382526 and you are ready to go!
© Copyright 2017 www.elombah.com; unless otherwise indicated, all images are courtesy of Twitter; send eyewitness accounts/reports/articles to publisher@elombah.com; follow us on twitter @Elombah; like our Facebook page: Elombah.com; join us on WhatsApp HERE
For advert placement call us on +447460770987, +2349050382526