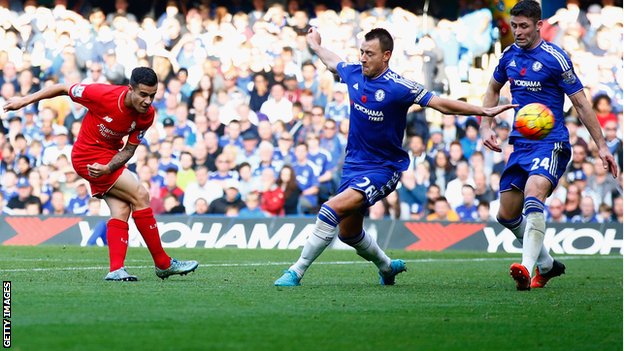 Chelsea 1    –      Liverpool 3
Ramires 4′   Coutinho 45′, 74′ Benteke 83′
Liverpool piled the pressure on Chelsea manager Jose Mourinho as Jurgen Klopp secured a hugely impressive first Premier League win since taking charge at Anfield.
Mourinho was recently given the backing of Chelsea's hierarchy after their poor start to the season – but whether their faith remains after this desperate defeat remains to be seen.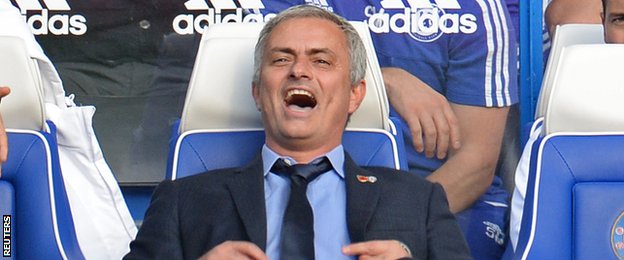 Mourinho: There are fights you cannot win….laughed in frustration when he thought Lucas should have been given a second yellow card with the score at 1-1
Chelsea made the perfect start when Ramires headed them into the lead after only three minutes but Liverpool's confidence was not dented and Philippe Coutinho equalised spectacularly in first-half stoppage time.
Coutinho put Liverpool ahead with a shot that deflected off John Terry with 16 minutes left before substitute Christian Benteke wrapped up a victory Klopp's side thoroughly deserved.
Is this the end for Mourinho? asked Phil McNulty, BBC Chief football writer
Mourinho has made it clear he will not resign – while Chelsea's board delivered very public backing to their manager in early October.
Since then, however, Chelsea have barely improved and this comprehensive defeat comes on top of the acrimonious loss at West Ham United last weekend and the Capital One Cup exit against Stoke City on penalties in midweek.
And Mourinho, normally so confident and upbeat, carried the air of a beaten man as he stood hands in pockets on the touchline in the closing seconds with defeat assured and Stamford Bridge emptying rapidly.
Mourinho appeared distracted by opposite number Jurgen Klopp's constant, animated dialogue with fourth official Lee Mason, seeming to question what would happen if he acted in a similar fashion.
As ever, all things rest with owner Roman Abramovich at Chelsea, and while Chelsea's supporters rallied to their manager's cause as his name echoed around Stamford Bridge, this was another lame and uninspired performance from a team delivering relegation form rather than looking up the table.
Now we must wait to see if this loss spells the end of Mourinho's second coming at Chelsea.