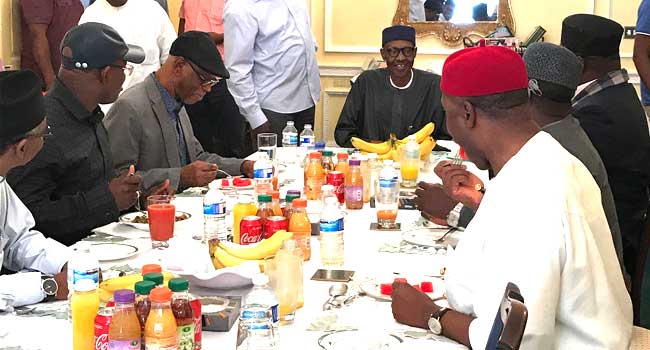 Those interested in the dustbin of Nigeria's history will one day find APC inside the rubble, among the putrefaction, just beside PDP, and bring out her carcass for examination.
Such students of the dustbin of history will likely conclude that APC's signature contribution to the Nigerian tragedy is not in the empirical failure to deliver on measurable electoral promises in virtually all areas of national life but in the deadening of the Nigerian mind.
A nation's mind is lost when the capacity for ironic sentience dies. And no group of Nigerians, at any moment in our chequered national history, has contributed more to the assassination of irony than the confederacy of parochial interests in the leadership of APC.
If blindness to irony stopped within the ranks of APC's leadership, if it was limited to Governors, Senators, Reps, and other political figures within her ranks, I wouldn't be so worried. 
It would be their funeral. I am not in the habit of shedding tears for members of Nigeria's political elite over their intellectual impecuniosity.
My worry lies in how the leadership of APC has democratized blindness to irony, especially among their followers so effectively. 
If irony hits you like a Dangote truck and you are unable to recognize it as a citizen, you wear that condition of ignorance like a badge of honour and hit social media for celebration in this APC era.
Chief John Odigie Oyegun fired the first bullet to assassinate irony. APC had just won the election. She was still in that period of grace when the people could excuse anything. 
Euphoria was still in the air. One message of change that APC could send early and effectively in order to write her name in gold was in the retirement of campaign funds.
The notion of retiring campaign funds is a complete stranger in Nigeria. We have at least two adult generations who have never heard of it because it has simply never been practiced. No Nigerian has ever retired campaign funds. 
After elections, you privatize the leftover funds, campaign vehicles, and other resources. You keep everything for yourself and distribute some to your cronies. 
This, of course, is a crime routinely committed by every Nigerian who has ever run for public office: there is no separation between their bank accounts and campaign contributions.
President Buhari, especially, most especially, had a moral and ethical obligation to inaugurate a monumental paradigm shift in our polity by being the first politician to ever retire his campaign funds, especially after making such a show of seeking a loan for the nomination form. 
He lost that golden opportunity to inscribe his name in gold – as he has frittered away every other opportunity since his election. To this day, President Buhari's campaign funds have not been retired.
Enter Chief Odigie Oyegun with an early press interview. APC, he assured the nation, was not the party that should retire campaign funds. The onus, he continued, was on PDP to retire her campaign funds. 
I gasped and nearly had a heart attack when I read such ignorant comments from the Chairman of the President's party. To this day, Chief Oyegun has not explained the sources of his sick political theory of campaign finance retirement to Nigerians. The irony was supremely lost on Chief Oyegun and APC. 
They had campaigned on a mantra of change but were telling Nigerians that the change ought to start with the party they had vanquished! Did PDP promise change? This was the beginning of a history of criminal blindness to irony that has led APC to the dustbin of history.
More tragedy was to come from APC. The party promised financial prudence and frugality. President Buhari held on to the most visible evidence of the long history of financial irresponsibility by the Nigerian Presidency – the harem of presidential jets. 
No change here! The irony was supremely lost on the changers!!
President Jonathan was a junketing President. He traveled the world so irresponsibly that Reuben Abati was forced to pen a funny piece on the gains of President Jonathan's foreign trips. However, Reuben could not possibly have believed the nonsensical claims he was making in that essay.
Did President Buhari change the paradigm of fruitless and irresponsible presidential trips? For where? He doubled down on it, determined to cover in a few months the air miles that Jonathan covered in five years. 
But for the unfortunate illness that has largely truncated his trips, President Buhari was approaching a point where he could very much have offered to build an airport for a country without an airport in order to be able to visit such a country. No change here. The irony was supremely lost on the changers.
Fast forward. Roll over two years of daily evidence of blindness to irony on the part of APC and you arrive at restructuring. Suddenly, APC has a committee led by my friend, Nasir El-Rufai, whose mandate is to help her understand restructuring and frame her position accordingly. 
APC's entire electoral manifesto is a promise of restructuring by other names. They called restructuring all sorts of names in various parts of that document but they cannot possibly pretend not to know that restructuring is what they promised. 
In some places, they called it devolution. In other places they used other names but it all still comes down to the fundamentals of restructuring: empowering the margins, de-centering the centre, putting an end to Nigeria's obnoxious financial feeding bottleism from the centre.