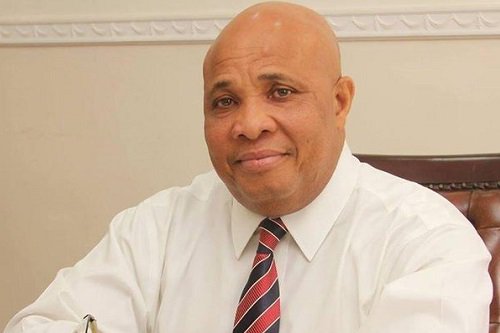 As it happened today (4/7/17) at the Court of Appeal, Enugu between Ochudo Martin Agbaso (APGA national chairman)  and Ozo Victor Oye sponsored by Governor Willie Obiano who is fighting Agbaso.
The following appeared for Oye:
1. Wole Olanipekun SAN ( A private jet was chartered for him) 
2. Emeka Etiaba SAN
3. P. N Ikweto SAN
4. O. J Nnadi SAN
5. Several other lawyers not yet SAN
OYE'S PRAYERS:
1. That he should be joined in the said suit. 
2. To obtain an injunction restraining INEC and police from recognizing Ochudo Martin Agbaso as the National Chairman of APGA. 
3. Several other mischievous prayers were made.
VERDICTS OF THE HONORABLE JURISTS
1. That Oye cannot be joined in the suit since Mike Alioke have not been served. The judges discovered their plot to mislead the court and turned down their request. 
2. The honorable jurists turned down their request to obtain an injunction to stop Chief Agbaso noting that the court is not father Christmas. 
3. All their prayers were outrightly turned down by the judges today. 
QUESTIONS:
1. What is the interest of the Nigerian Police Force and INEC in appealing a case that do not concern them? 
2. Who pays the number of SANs that represents these institutions who always cry of the paucity of fund in their institutions from carrying out their constitutional duties?  
3. When did these institutions start becoming partisan defending politician in court? 
4. Do the boards overseeing these institutions know that several billions of naira have been spent in paying for the services of these lawyers? 
This have indeed turned out to be the biblical voice of Jacob  and the hand of Esau. Nigerian and NDI Anambra in particular should watch it . Many questions begging for answers. 
CONCLUSION:
Wole Olanipekun SAN was visibly angry yesterday and left the court even before the case ended because he could not get what he was heavily paid for with taxpayers' money. 
His frustration knows no bound.  He ran back to the airport to catch up with the chartered flight still with taxpayers' money. 
Darkness can never overshadow light. A lot should be investigated in this desperate move to save Oye.
Would you like to be receiving ALL Elombah.com news links 'On The Go' on WhatsApp?  If yes, please provide us your WhatsApp number via publisher@elombah.com or inbox +2349050382526 and you are ready to go!
© Copyright 2017 www.elombah.com; unless otherwise indicated, all images are courtesy of Twitter; send eyewitness accounts/reports/articles to publisher@elombah.com; follow us on twitter @Elombah; like our Facebook page: Elombah.com; join us on WhatsApp HERE
For advert placement call us on +447460770987, +2349050382526