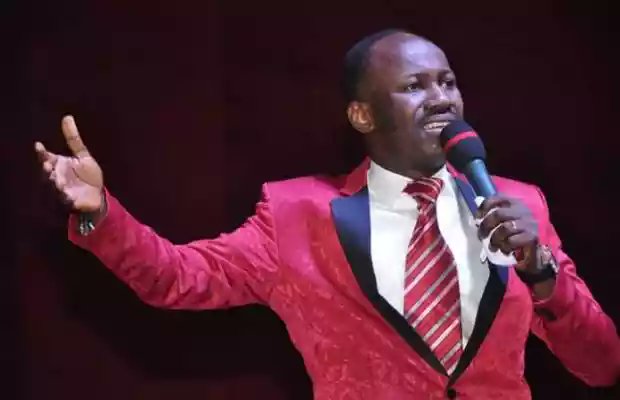 The National President of Youth Wing of Christians Association of Nigeria (YOWICAN), Engr Daniel Kadzai has during the 13th TEKAN Youth National Convention at RCCN church Ikam, Takum Local Government area of Taraba State, reiterated the efforts of the General overseer of the Omega fire ministry, Apostle Johnson Suleiman for being a strong voice in defending the Christian community in the country.
While delivering his speech, Kadzai said the fearless cleric has been speaking against mass killings of Christians in the northeast Nigeria ,assisting Christians across the country especially Christians Youths whenever the needs arises and they can equally go to any length to defend him against any form of threats to his life.
Daniel who sermonised his speech by telling the gathering that the Executive Governor of Taraba State, Arch Darius Dickson Ishaku has set up an example to his Christian counterparts by signing the anti grazing bill.
According to him the heinous mass murder by the Fulani herdsmen to many defenceless people in the entire country has traumatised them beyond imagination, reminding government at all levels to beef up security to curtail the rampant killings done by the armed herdsmen.
"In my opinion Arch Darius Dickson deserve second term and also urge him to be steadfast, we stand with you in our prayers.
"I equally urge him open his doors always to receive Christian Youths to share with them intimately not as Christian politicians who run away from us."Kadzai said
The 2017 Convention was tagged :"Church in Perilous Times", which is simply mean the generation that lacks piety or reverence for God.
He charged Christians especially the Youths to be mindful of the fact that the perilous times is subjecting them to be under severe threat of Spiritual and Socio-economic insecurity occasioned by religious and political extremists who are misleading redundant Nigerian Youths.
"The Youths are availing themselves to all sorts of negative agitations and engage in dangerous social and ungodly activities namely: Kidnapping, robbery, drug addition, prostitution, cultism, thuggery and all these have continued to threaten our Christians Faith." He stated
He continued to say that Christians Youths must be proactive and be in synergy with our Christian leaders to change this narrative, they must strive to lay aside every weight and sin which has continued to hamper them, running the race with endurance that is set before them.
"Our Christian brothers and sisters who the LORD has graced to be in the echelons of government and the economic ladder have also not come out the way they should to support matters of Christianity and the Christian Youth in Nigeria. This is in contrast with how very generous,  other personalities of their standing in society have identified with people and youths of their own faith.
"For Christianity to move forward in this part of the world, this narrative must have to change.
"We need to discover what God wants us to do which is His will for us, our country and our generation and be mindful to do it, knowing fully well that He who has called us will grant us the knowledge, desire, power to please Him and accomplish the task and reward us first while we are here on earth and when we have completed our calling and gone to be with him.
"As we seek to run the race that God has put before us, we are to keep our eyes steadily on Him, on Christ who is our Master, our Model and our Mentor.
"On the contrary, in our Generation today, it is a matter of serious concern that we are forced to live in situations where Godliness is threatened and justice is denied. Sadly, Christians (even Leaders) have become lovers of money, disobedient to authorities, very ungrateful, champions of  unholy alliances, unforgiving, slanderous, and not lovers of good. They have become lovers of treachery and pleasure rather than being lovers of God their creator and Master. It is no little wonder that we have lost our moralvalues and compass as the Church. The detrimental effects of this development is evident in what we see today in our society and the church.
"The greed of these powerful leaders and individuals  who are only concerned with accumulating wealth and exploiting resources has left many within the Christian community dispossessed, impoverished and confused. Like the proverbial sheep without a shepherd.
"When this becomes the norm, it comes into Conflict with God's ways and the will of God cannot be realized because he who intends to operate in the will of God must operate in righteousness.
"Such situations require a radical reversal and Christian Youths must take their destiny serious and be fully involved in the Rebirth of the Nigerian Church through aggressive  prayer, evangelism, fear and reverence to the Lord and rightful or righteous  living (which is righteousness), with Holy Spirit filled retreats and awareness campaigns. This must be deliberate. We must never be afraid to eschew and expose the evildoers and bad eggs within our midst.
"May the Lord cause His face to shine on you all and grant you Favour in Jesus Name. Amen!" He said
—
Would you like to be receiving ALL Elombah.com news links 'On The Go' on WhatsApp?  If yes, please provide us your WhatsApp number via publisher@elombah.com or sms/inbox +2349050382526 and you are ready to go!
© Copyright 2017 www.elombah.com; unless otherwise indicated, all images are courtesy of Twitter; send eyewitness accounts/reports/articles to publisher@elombah.com; follow us on twitter @Elombah; like our Facebook page: Elombah.com; join us on WhatsApp HERE
For adverts & inquiries, call +447460770987, +2349050382526