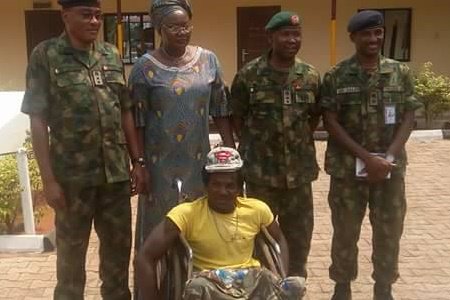 The Nigeria army has compensated the assaulted physically challenged man, Mr. Chijioke Raphael Uraku.
Mr. Chijioke Uraku was battered for allegedly wearing a camouflage shirt in Onitsha.
Elombah.com has, on Thursday, February 9, reported that the Nigerian army arrested the two soldiers caught on video maltreating a physically challenged person.
Army spokesman, Brigadier General Sani Kukasheka Usman who is the Director Nigeria Army Public Relation, while announcing this, said:
"We wish to inform the public that the incident took place on Tuesday 7th February 2017, at Onitsha, Anambra State.
"In line with our zero tolerance for acts of indiscipline and unprofessional conducts especially in relation to violation of human rights, we wish to further state that the soldiers involved have since been identified and apprehended.
"They have also been charged for assault by their Commanding Officer," the army spokesman added.
However, not done with mere arrest and prosecution, the army, at 302 Artillery Regiment/14 Field Engineer Regiment, Onitsha, choose to compensate the victim.
Cash and gift item were presented to the victim.
The attached photos show the new 302 commander, Col. Idongesit Uko Akpan and the deputy director public relations (82 div), Col. Sagir Musa with the assaulted cripple, Mr. Chijioke Raphael Uraku, a native of Ikwo, Ebonyi State, shortly after the world press conference. 
Abuchi onwumelu of fides newspaper, who covers the event, reports that 
Meanwhile, the soldiers who carried out the dastardly act have been arrested and subjected to severe punishment. 
© Copyright 2017 www.elombah.com; send eyewitness accounts/reports/articles to publisher@elombah.com; follow us on twitter handle @Elombah; like our Facebook page: "Elombah.com"; call us on +447460770987, +2349050382526