Army denies killing 6 soldiers, says it's "fake news"; Nigerians react
The Nigerian Army has denied reports that it secretly killed six soldiers, saying it is "fake news".
ElombahNews, earlier on Tuesday, reported that six Igbo Christian operatives of the Nigerian Army attached to the Armory Department of the Nigerian Army, Abacha Barracks in Abuja, have been secretly executed after a hasty secret trial.
A coalition of Civil Society Organisations (CSOs) based in the southeastern part of Nigeria disclosed this in a statement on Tuesday.
The coalition, in the statement, gave the names of the executed officers as Prince Ukwuoma, son of a traditional ruler; Ebube Isaiah, Amos Azubuike, Ekene Ebere, Moses Anyim and Godwin Uchendu.
It was gathered that the Chief of Army Staff, Retired Lt. Gen. Tukur Buratai ordered for the arrest of 12 soldiers guarding the armory.
The arrested officers included six Igbo soldiers, three Yoruba soldiers and three Fulani-Hausa Muslim soldiers.
The group expressed dismay that at the end only the six Igbo Christian soldiers were executed while "the latter soldiers were shielded and exonerated under questionable circumstances".
Reacting, the Army, taking to its Twitter handle, disclaimed the story as published by another online media, saying it is Fake News!!!
See banner below: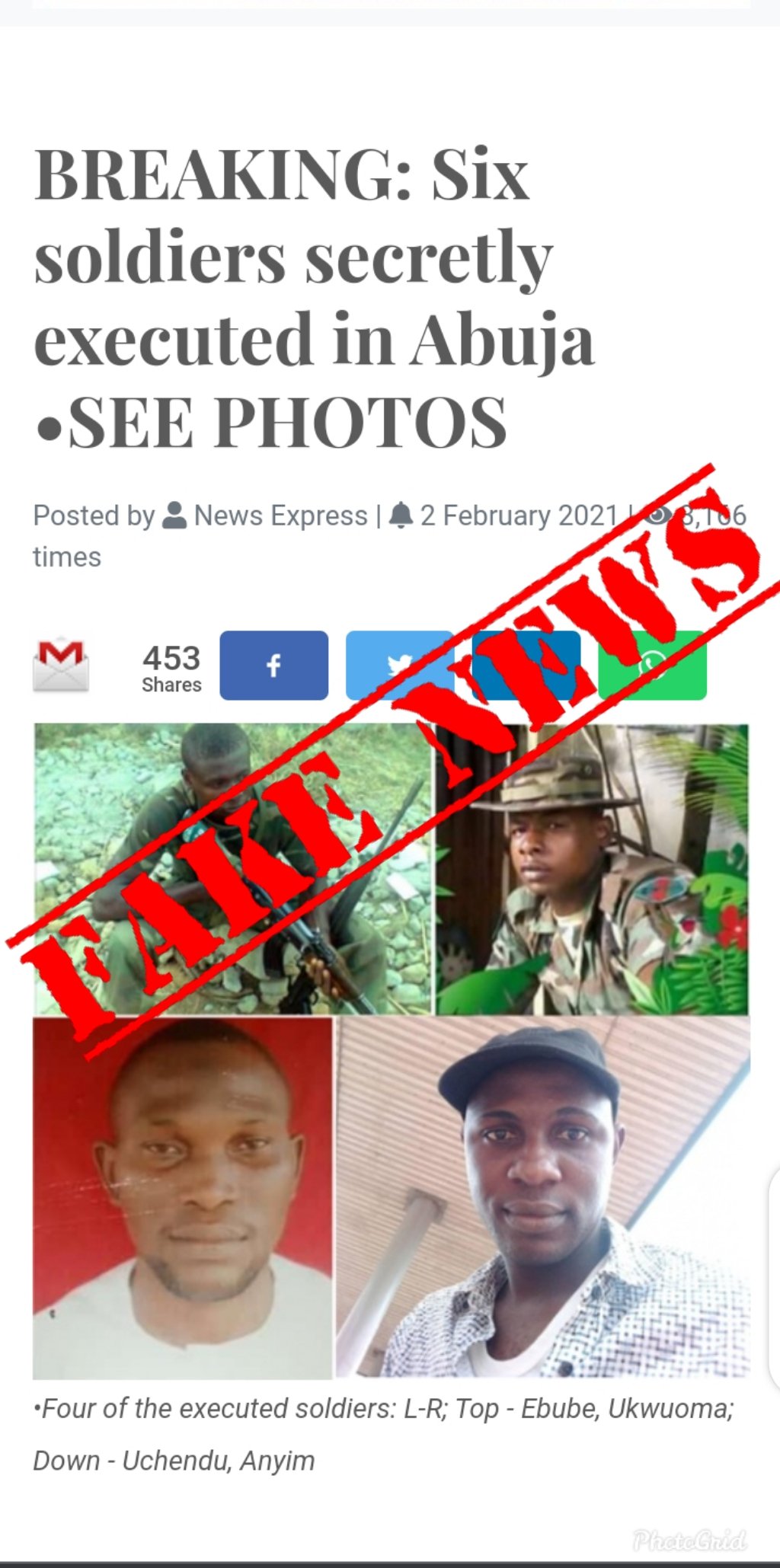 Nigerians react
Tim Elombah:
What makes it fake news?
Give the whereabouts of the 6 soldiers: Prince Ukwuoma, son of a traditional ruler; Ebube Isaiah, Amos Azubuike, Ekene Ebere, Moses Anyim and Godwin Uchendu.
Maazi Ezeoke
Same rubbish we read when the news broke that soldiers shot protesters at Lekki, this same handle came out to say it was fake news that soldiers were never at Lekki! Now we know better!
Jay Gabriel @JACOB_GAB:
If you continue to allow these people peddle such lies, the masses, who often are easy to lie to, will faithfully believe these lies, and wreck havoc ala endSARS
Peter @pscofield23:
That's if it's a lie, what if it is the other way round? this is Nigeria, we don't know who to believe anymore, if it is a fake news the Nigerian Army should prove it by having the said soldiers make a life video proven that they are alive
TechMan @TechMan:
D slain Igbo Christian soldiers; namely:Prince Ukwuoma,son of a traditional ruler;Ebube Isaiah,Amos Azubuike,Ekene Ebere,Moses Anyim n Godwin Uchendu were secretly executed under d instruction of nw Retired Lt Gen Tukur Yusuf Buratai,a day b4 he left office on Tues, 26thJan 2021
AGO @ErunOkim:
Nigerian Army, don't just come out and write fake news! Hold a press briefing with all six for the world to see, then sue the blog.
AAREE Adebisi Adeniyi @neyodeb777:
Dear Nigeria Army, pls don't just disclaim this but also find a way to make sure the perpetrator of this don't go free unless more fake news will follow
TJ @TheJust50269025:
Every thing is fake,i mean they are use to getting away with crime back then bcos no one dear talks.
C H O_C H O @ossaihillary1:
Give account of the six soldiers. I want to enrol and serve in the Nigerian army this year but the recent happenings are discouraging me. We have to protect and insure our service men.
St. Paul @stPaul51901553:
Not enough to do mere disclaimers. Seek out the perpetrators and have them face what they posted about the soldiers for lack of patriotism.
Chidi Ndumnego @ChidiNdumnego:
Let them do a proper rebuttal, produce the said soldiers and then sue the blog; false patriotism is for scoundrels.
FrankAwesome @FrankFranzikus:
Take legal actions against these media houses ….circulating false and harmful information like this is too bad.
Don C! MDNerd @DonC87675345:
Why not just debunk the news with evidence, like showing the soldiers alive, then sue. But of course, you rather we not believe the story that have been circulating for about 2 days now. Haven't the Nig. Army lied enough to you? How many of their FAKE NEWS stamp have come to be
Mr Peter @BA7_3AN:
Don't just tweet "Fake News". Investigate the people behind this tweet and deal with them.
WhoseFoolAreYou @myklazonline:
Investigate without showing proof of life first?