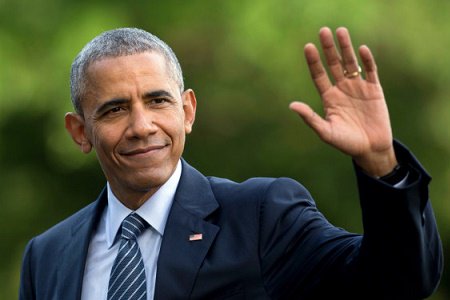 Barrack Obama, the 44th President of the United States and the first African American to hold the top American job, delivered his farewell address to Americans on January 10 from his adopted home state of Chicago. 
Speaking in front of a crowd of thousands in a speech  he entitled: 'It Has Been the Honour of My Life to Serve You', many in the crowd were said to have got emotional, including Obama himself who reportedly had to reach for his handkerchief a number of times. 
Obama is expected to hand over to Donald Trump on Friday, January 20.
 Obama's farewell speech appeared to have been treated as a non-event by the media in Africa, including the social media. 
This is in contrast to 2008 when his campaign for the US presidency and eventual triumph in the contest generated unbelievable sense of euphoria across the continent. 
So what really has happened?
It was obvious that there was no way Obama could have met the sky-high expectations of people in the continent. 
The author, Jideofor Adibe
In a continent where politics is largely patronage-driven, many who saw Obama as 'American African' because his father was Kenyan (rather than as an 'African American')  often complain loudly that Obama's presidency did not bring any tangible benefits to the continent compared to what the continent got from his predecessors. 
Some of his admirers, however, blame Obama's relative 'non-performance' to the constraints posed by the nature of American society: an American President is primarily elected to look after the interests of the country and foreign policies pursued by the President must feed into that primary objective. 
Obama's admirers will also argue that he was equally encumbered by the 'Birther conspiracy theory', which continued to hold that he was born in Africa (and thus not even qualified to be American President). 
Obama's supporters say that the 'birther movement' will use any tinge of favouritism to Africa to justify its theory. 
It is thought that suspicions about Obama's 'hidden agenda' by the 'Birther movement' contributed to his delaying his visit to Kenya, his father's country, until 2015 – some seven years after he became President of the United States.
Apart from discussions on whether Africans specifically benefitted from Obama's presidency or not, some Africans have other grounds for feeling alienated from his government – or at least feeling nonchalant about it:
During his visit to Accra in 2009, some Africans felt slighted that while he appeared to be sucking up to the Arab World and others, he appeared more interested in talking down or lecturing African leaders. 
For instance during the Accra visit  he was quoted as saying: 
"Now, it's easy to point fingers and to pin the blame of these problems on others. 
"Yes, a colonial map that made little sense helped to breed conflict. 
"The West has often approached Africa as a patron or a source of resources, rather than a partner. 
"But the West is not responsible for the destruction of the Zimbabwean economy over the last decade, or wars in which children are enlisted as combatants. 
"In my father's life, it was partly tribalism and patronage and nepotism in an independent Kenya that for a long stretch derailed his career.
"And we know that this kind of corruption is still a daily fact of life for far too many."
While some claimed that such statements were 'tough love' from Obama, there is no doubt that this rubbed many Africans on the wrong side. 
Additionally some citizens of the countries that were skipped during Obama's Africa visits, especially Nigerians, (we do not miss any opportunity to tell the world that we are the "giants of Africa", and that one in every five Black people in the world is a Nigerian), did not feel amused and began to delink from him. 
This was not helped by the administration's refusal to sell weapons to the country to fight Boko Haram. 
Additionally, Obama's legalization of gay marriage in the USA and threats to cut off aids to African countries that did not follow suit was seen by many Africans as not only a disrespect of their religious sensibility but also a pursuit of aggressive cultural imperialism. 
Some Africans equally blame the Obama administration's decision to intervene in Libya in early 2011 for creating the vacuum which opened a space for the fundamentalist group, the so-called Islamic State.   
Despite the above, how did the Obama administration try to engage the continent? 
Does the Obama administration have any signature imitative on Africa comparable to the enactment of the African Growth and Opportunity Act (AGOA) under President Bill Clinton, the creation of the United States Africa Command (AFRICOM) -the U.S. military headquarters for the continent – by President George W. Bush and also the latter's President's Emergency Plan for AIDS Relief (PEPFAR)?  
PEPFAR is generally credited with saving millions of lives on the continent. 
Remarkably Obama actually cut funding for PEPFAR- which led to critics accusing him of undermining the progress made against HIV/AIDS in the continent. 
Obama made four Africa visits spanning seven countries – probably the most by any sitting American President.