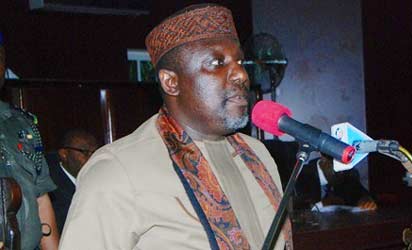 I certainly do not agree with most of Governor Okorocha's policy decisions and I have made no pretences about these disagreements. However, no matter how bad any leader is, he or she must have some good sides. Following a challenge from one of my ardent followers who accused me of enjoying a lucrative contract from the Peoples Democratic Party (PDP) to consistently pick holes with the policies of Governor Rochas Okorocha without seeing some good in his style of leadership, it becomes imperative to change this notion which I am made to understand is held by not a few of my audience.
I have never been under any kind of contract with the Peoples Democratic Party (PDP), neither do I have any contract with anyone within the PDP or any political Party for that matter, and I have also tried to the best of my ability to maintain a fair and balanced stance on issues relating to how my State, Imo and the country are governed, no matter who holds the steering wheel at a particular time.
According to one of my favourite authors and fellow playwright, Howard Zinn; ""TO BE HOPEFUL in bad times is not just foolishly romantic. It is based on the fact that human history is a history not only of cruelty, but also of compassion, sacrifice, courage, kindness.
What we choose to emphasize in this complex history will determine our lives. If we see only the worst, it destroys our capacity to do something. If we remember those times and places—and there are so many—where people have behaved magnificently, this gives us the energy to act, and at least the possibility of sending this spinning top of a world in a different direction.
And if we do act, in however small a way, we don't have to wait for some grand utopian future. The future is an infinite succession of presents, and to live now as we think human beings should live, in defiance of all that is bad around us, is itself a marvelous victory." The marvellous victory which Zinn talked about here for me is the ability to see the right sides of a government I have invested so much ink, not criticizing, but correcting. It is important to understand that activism, be it political, social, religious, etc is not the same and should not be confused with cynicism.
There is no better way to show political leadership than working for the good of society, not just in the present, but more importantly for the future. The understanding of this reality may explain why one of Governor Okorocha's favourite political quotes is James Freeman's; "Politicians think of the next election, a statesman thinks of the next generation". There is no better way to show that you think about the next generation than preparing those who are most likely going to lead in the future, today.
The Ogboko born Governor has obviously made painstaking efforts to ensure that younger hands are brought into government for the purpose of preparing them for the takeover of power. This, while other political leaders deceive the youths with the oft repeated and now boring anthem of youths being the leaders of tomorrow, Governor Okorocha does not just believe that if the youths must lead tomorrow, then, they must be mentored and properly equipped for the serious task of public leadership, he also practices it.
If political appointments are to be the only determiners, then there is hardly any Governor among the thirty six of them in the present or past dispensation who has shown more commitment to the development of the youths than Governor Rochas Okorocha of Imo State.
In his first term as Governor, he brought in vibrant youths from across Imo State, who hitherto had no serious political history and challenged them with very sensitive positions in the State Executive Council. This is at a time when most politicians still see the youths who are within that age bracket as being just good enough to fill in jobs as political thugs, local sycophants and more recently as social media vuvuzelas.
From Comrade Uche Nwosu who was appointed as the Commissioner for Lands, Survey and Urban Planning, Deacon Chike Okafor who was in charge of Finance, Engr. Alex Ogwazuo who took charge of the Ministry of Petroleum and Environment and later, Culture and Tourism, to Kenneth Emelu who was in charge of Youths and Sports, none of them had any serious political history before their appointments in 2011. Even Sir Jude Agbaso who doubled as the deputy Governor and Commissioner for Works had no previous political history. 
But Okorocha having worked with some of them for some time and seen in them qualities of good leadership, was convinced about appointing them into such sensitive positions, without the usual practice of consulting those who claim to be the political leaders and determiners in the various local government areas in the State.
At a time when it was fast becoming a political culture among the youths to go dancing from one pole to the other in desperate bids to please one political 'heavyweight' or the other before they can even be considered for the smallest political office or even as Personal Assistant to someone's Personal Assistant, Governor Okorocha broke a jinx by lifting these youths from nowhere and placing them in positions of influence, where they had the opportunity of working towards and for that future they desire for themselves and their generations.
At a time when it seems that the political leadership in the country have conspired to keep the youths away from places where decisions affecting their future and the progress or otherwise of the country are being taken, Governor Okorocha has shown a difference by standing up for the youths and giving them platforms to express themselves and grand opportunities to make it clear that they are ready to take over. 
There is no better way to empower the youths than to give them the opportunities to empower themselves. I know of some top politicians who make it a point of duty and proudly reference it that they are pay ludicrous stipends to some 'otimkpu' youths, without making any efforts to effectively empower these youths. There seems to be fear among this class of political leaders that these youths, when empowered may end up overtaking them. Okorocha has shown himself as not harbouring such primitive and devilish fear.
One argument some people I have broached this topic with keep putting forward is whether these youths have creditably disposed themselves with the offices they occupy. While I do not hold brief for any of these youths, and while I retain my personal reservations about some of them, I am convinced that a good number of them have shown good promises in discharging their duties.
Honourable Uche Nwosu whom I mark out as the captain of the Okorocha youth revolution and the most prominent face of the kind of future, Okorocha desires for Imo State has creditably disposed himself well as a good ambassador of the youths. In a clime, where people who rise to some enviable positions are usually inclined to breaking the ladder in order to stop others from getting up like they did, Uche Nwosu has maintained good records among majority of Imo youths as he has not only done well in his official positions within the government, but has also gone ahead to hunt for talented Imo youths from all sectors and areas of life whom he tries in his own little way and within his private and official capacity to bring into government, not to eat as many people including myself are wont to believe, but to work and add value to the works and visions of the government.
Nwosu who is a graduate of Urban and Regional Planning from the prestigious Imo State University, Owerri has left no one in doubt about his capacity to deliver on given assignments. Throughout the period he held sway as the Commissioner for Lands, Survey and Urban Planning, he  left few people in doubt about his knack for doing things well, and leaving wherever he goes to better than he met it. 
Though, some of the reforms he pursued in that ministry have got him bunches of enemies, with some people bandying all sorts of nefarious allegations against him. Those who are close to him claim that he was merely being blackmailed by those who benefited from a corrupt system which he worked hard to reform. There is no doubt that reformers are usually subjected to the most venomous attacks from those who benefited from the faulty status quo.
Humble, humane and urbane, Nwosu has had his days with controversies in the media, but you cannot take it away from him that he understands how to handle even the most trying travails. Those close to him credit him for being a team player who has a special ability to bring as many people as possible on board the service train, and this seems to be what works for him more than any other thing. The understanding that public service can never be a one man or one group affair is important to anyone who wants to succeed in public service.
For Deacon Chike Okafor who was drafted in from his banking job at Zenith Bank Plc to handle the financial affairs of the State, there is little doubt that his experiences at the bank came in handy during the three years he held sway as the State's exchequer. Public service comes with lots of controversies, and Chike didn't have a clean slate as there were many accusations and counter accusations, but what no one can truly take away from him is that he offered some of the best financial advices to the government and did his best to ensure that he left the State treasury in good health.
Today, as a member of the Nigerian House of Representatives, the Obowo born economist turned lawmaker is representing his people well and also holding his own as a lawmaker who must be taken seriously. Watching the level of influence he exerts in the Green Chamber, one will not believe that he is just a first termer in the House.
Some of us who like to accuse the Governor of running a government centred on his family and direct cronies may be faulted with the fact that people like Kingsley Uju, who is now the Deputy Chief of Staff to the Governor, Operations is not in any way related to the Governor. Kingsley Uju, like other youthful appointees of the present administration do not have any enviable history in political participation, but like others before him, the only thing that worked for him is his ability to convince the Imo first citizen that he can deliver.
There are many other youths who may have forever remained distant spectators to power in the State, had Governor Okorocha not become Governor, but who have seen themselves not just as part of the government, but as top leaders in Imo State. For instance, Peter Clinton Ihejiagwa is a young man who should at most be in his early thirties, but he has had the opportunity of serving as the Transition Committee Chairman of his LGA, for close to three years now. This is a young man who may not have been allowed easy access to the LGA secretariat had Okorocha not deemed it fit to challenge him with such top responsibility. 
Peter Clinton like many other youths in the Okorocha government is not in any way related to the Governor. Also Barrister Pascal Onwukaike has recently being nominated to serve as the TC Chairman of Nkwere LGA while many of those who are in the Imo State House of Assembly today under the APC platform are young men and women, most of whom are in their late thirties or early forties. Another thing that is impressive about these youths, who are piloting affairs in the present Imo government, is that, like most of us, they do not have aristocratic backgrounds.
It is clear that Okorocha is committed to handing over the political leadership of the State to the new generation of leaders, but he cannot succeed at doing this, if this new generation of leaders does not show enough commitment in helping the Imo Governor actualize this goal.  Those who have being offered the opportunity of serving the State at any level must rise up to the challenge and ensure that their records of service are sterling and without dents. It is only when those who have been offered this opportunity leave good marks that the youths will retain their strong push to take over government in the nearest future.
Ka Imo di mma ozo!
Onwuasoanya FCC Jones