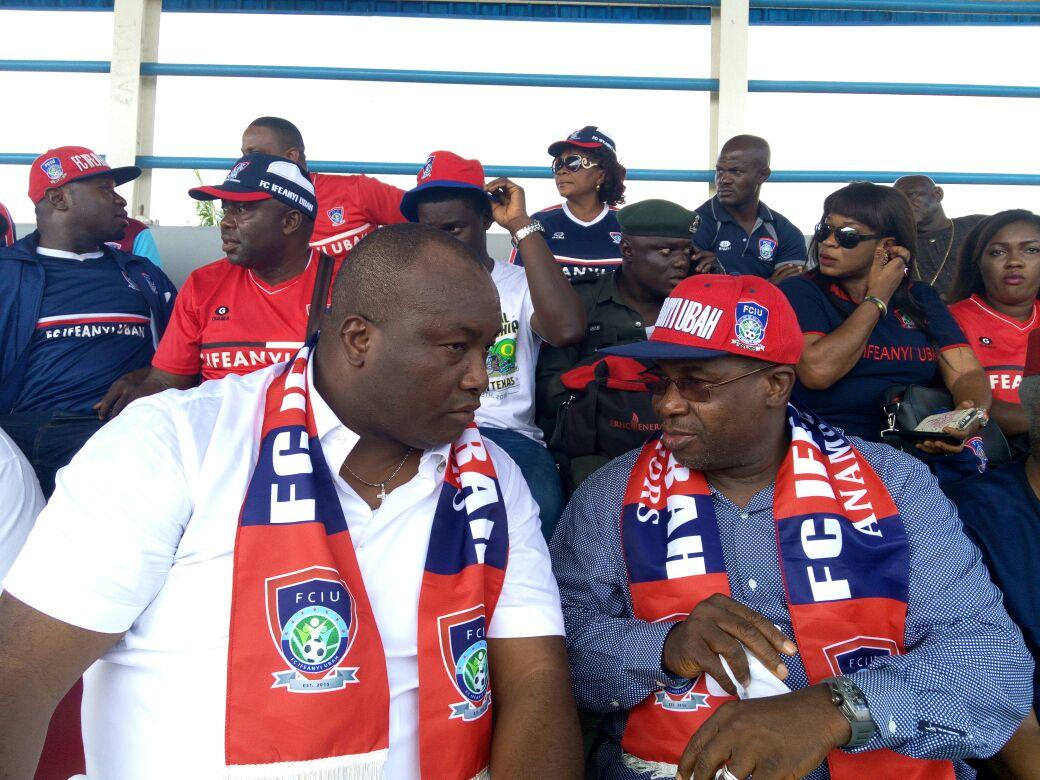 Despite the strong denial by Ifeanyi Ubah, chairman of capital Oil — one of the leading downstream players in the nation's petroleum industry– that his relationship with Emeka Offor, Nigeria's most controversial government contractor ever, has become frosty, we can authoritatively reveal that a major battle is about to break out between the two prominent businessmen from Anambra State.
At the heart of the problem between them is Ubah's strong conviction that Offor masterminded his arrest and detention from May 7 to June 22, 2017, by the State Security Service (SSS) over his business dealings with the Nigerian National Petroleum Corporation (NNPC).  
The SSS accused Ubah of stealing and selling N11billion worth of petroleum products stored on his tank farm in Apapa, Lagos, while Ubah responded by claiming that he was forced to do so because the corporation has not paid him N13bn he has been owed for years.
Ubah coughed out N2bn out of the N11 billion to the Federal Government before his release after six weeks in detention, according to Henry Nkem Obi, chief operating officer of the Petroleum Products Marketing Company (PPMC), who was testifying on July 12 before the House of Representatives Committee on Petroleum (Downstream) probing the disappearance of the petroleum products from the Capital Oil's storage facility.
While denying through a press statement signed by his special assistant on the media, Emeka Ikechukwu Onyia, that he is bitter with Offor for betraying him, Ubah reportedly claimed that Offor did not borrow N400m from him last year for the burial of his father who died in February, last year, but was buried nine months because the controversial government contractor did not possess enough funds for the extravagant funeral he had wanted.
According to a family member who spoke to us on condition that his name would not be revealed in the media because he was not permitted to speak publicly on the issue, Ubah was quickly called to order by a number of friends and family members who wondered aloud: 
"Don't you know the person you are dealing with? Don't you know he will certainly use the press statement to justify refusal to pay you back? He will quote the statement to the whole world, claiming that he is not owing you".
According to the source, Ubah's press statement denying lending Offor N400m was a mere public relations stunt. 
"He didn't want to be seen as engaging in a kind of kiss-and-tell", explained the family member. "Ifeanyi didn't want the press to report that Offor is indebted to him heavily but the fact somehow got to the media".
It was gathered that when he was with the SSS, Ubah was confronted with allegations over certain transactions which he believes only Offor knew. 
"Ifeanyi", said a close friend, "confided in Offor without knowing that the latter would manipulate the facts before top government officials so as to be in the good books of the President Muhammadu Buhari   administration which blacklisted him on coming to power owing to a number of huge contracts which were not executed or were done haphazardly, in a very criminal way".  
The contracts include the 125,000 barrels Warri Refinery and Petrochemical Company turn-around (TAM) which resulted in the near death of the critical corporation.
Another family member who did not want his name in the media told our correspondent that "it is more than suspicious that throughout the one and a half months our brother was in detention, Offor did not visit him. Even weeks after he regained his freedom, Offor made no contacts with him".
All this led Ubah to resolve immediately to recover the N400m Offor has been owing him since last year. Our investigation, however, reveals that Ubah may not recover the debt anytime soon. 
Staff members of the following organizations belonging to Offor owed salaries for long periods: Offor's Global Scan System 28 months, Chrome Oil 24 months, Kaztek Engineering 20 months, Blaze Radio 12 months, Emeka Offor Foundation 12 months while his domestic workers at Oraifite have not been paid in the last 11months.
Both men share a history of twists and turns in their relationship. They had their first open confrontation at the launch of the new projects of the Nnewi Sports Club in December, 2008, and were separated by Orji Uzor kalu who had finished serving the previous year his tenure as two-term Abia State governor.
The bone of contention was the size of project each pledged at the fundraiser to build. While Offor undertook the construction of a hall, Ubah chose a gymnasium which was more expensive and thus infuriated the former. 
Offor, known for quick temper, wasted no time slapping Ubah.  An enraged Ubah, younger and bigger, threw Offor to the ground, and many commercial motorcyclists and others benefitting from Ubah's generosity joined him in beating Offor.
"If not for Orji kalu and his security men Offor would have been dead", a lawyer who watched the fight told our correspondent. "Orji's men put Offor in one of Kalu's security vans and ferried him to Oraifite that night".
Their frosty relationship began when the Destiny Group for Yar'Adua, a pressure group, published a full-page newspaper advert congratulatory message to Umaru Yar'Adua on winning the 2007 presidential election, naming Ubah among the greatest contributors to the electoral victory in the Southeast while ignoring Offor. 
The controversial government contractor called one of the leaders of the pressure group on the phone to find out why "Ifeanyi Ubah, a small boy who is just starting oil business, should be included in the list while my name is missing."
Following Ubah's failure in the race to become Anambra State governor in 2011 on the Labour Party ticket, Offor sent emissaries to the Capital Oil chairman to ask for reconciliation. They convinced Ubah that he would have won if he had been on good terms with Offor.
"Rapprochement was quickly achieved", said a mutual friend who requested that his name be hidden from the media because he did not want his role to be misunderstood by any of the warring parties. 
"They became so close that we began to call them twins and Offor, a very proud person, did not hesitate to ask Ubah for financial assistance in the wake of the business distress he has been going through in the last two years".
Meanwhile, Offor is likely to fall out openly with the immediate past Comptroller General of the customs Service, Abdullahi Dikko Inde, over the former's inability to return a huge amount he has been keeping for him for five years. The amount is N9b, according to sources close to both men.
"It was based on his belief that Offor would return the money soon that the former Customs boss pledged last year to return a total of N3 billion to the Nigerian government through the Economic and Financial Crimes Commission (EFCC) which he looted in office", said a reliable source who pleaded anonymity.  
"Dikko returned N1bn last year and 17 vehicles were seized from him, but he has not been able to fully redeem his pledge because Offor cannot give him the money".
Things have been so rough for Offor since Buhari became president that his Chrome office at 7 Tombia Street in Port Harcourt GRA Phase 11 has been turned into a warehouse by a tenant using it for expensive alcoholic drinks. 
He has also rented out part of his palatial home in Asokoro, Abuja. He has practically relocated to his village of Irefi, Oraifite in Ekwusigo Local Government Area of Anambra State.
It has been gathered that Offor was travelling to Atlanta, Georgia, last week to attend the annual Oraifite Community in the United States (OCUSA) convention which held between July 13 and 16 as a special guest of honour, but was stopped at Murtala Mohammed International Airport in Ikeja, Lagos, by security agents. 
However, two persons who were with him were allowed to continue with the trip. 
They are Dr Godson Okeke, a local dentist who is president of the Oraifite Improvement Union (OIU), and his wife, Nneka Okeke (nee Anaka from Ifite Oraifite), a pharmacist at Nnamdi Azikiwe Teaching Hospital, Nnewi. 
—
Would you like to be receiving ALL Elombah.com news links 'On The Go' on WhatsApp?  If yes, please provide us your WhatsApp number via publisher@elombah.com or sms/inbox +2349050382526 and you are ready to go!
© Copyright 2017 www.elombah.com; unless otherwise indicated, all images are courtesy of Twitter; send eyewitness accounts/reports/articles to publisher@elombah.com; follow us on twitter @Elombah; like our Facebook page: Elombah.com; join us on WhatsApp HERE
For adverts & inquiries, call +447460770987, +2349050382526