Bauchi south senatorial bye election final results
APC 119,487
PDP  50,456
GPN, 29,858
NNPP 22,896
APP, 4,828
SDP 3,447
APC won 6 out  of 7 Local Government Areas
See some collated results:
BOGORO Local Government
ADC 60
APC 3,992
APP 1,557
DA 24
GPN 817
KP 21
MMN 32
MPN 39
NNPP 1,924
PDC 152
PDP 6,646
SDP 610
Total valid votes 15,874
Rejected votes 718
Total votes cast 16,592
Registered Voters 45,599
Accredited voters 16,170
BAUCHI Local Government
ADC 725
APC 38,958
APP 1,342
DA 159
GPN 18,736
KP70
MMN 135
MPN 109
NNPP 6,323
PDC 360
PDP 13,053
SDP 653
KIRFI Local Government
APC 11,051
APP 1039
DA 18
GPN 339
KP 12
NMN 29
MPN 15
NNPP 814
PDC 47
PDP 3,336
SDP 263
Rejected Votes 774
DASS Local Government
ADC 132
APC 7432
APP 875
DA 52
GPN 2117
KP 28
MMN 53
MPN 25
NNPP 1595
PDC 106
PDP 4026
SDP 1009
TORO Local Government
APC 30658
ADC  4071
AP     472
DA      77
GPN   5624
KP      77
MMN  100
MPN    69
NNPP   8075
PDC      277
PDP      8420
SDP     353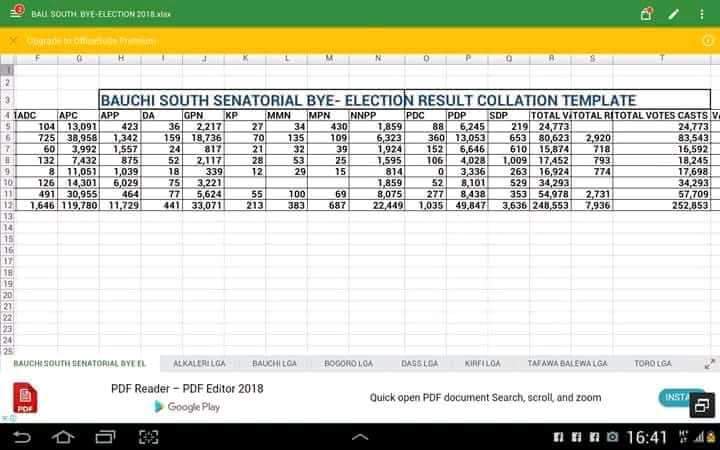 The All Progressives Congress [APC] candidate in the Bauchi South Senatorial District bye-election, Alhaji Lawal-Yahaya Gumau has won the election despite losing in Speaker Yakubu Dogara's Local Government.
Alhaji Gumau  had assured his supporters that he will work towards the amendment of the Constitution to make President Muhammadu Buhari life president if elected into the Senate.
He lost to the Peoples Democratic Party [PDP] candidate in the said Local Government, Ladan Salihu who got  6,646 votes, while the APC candidate got 3992.
Gumau came under fierce criticism on Thursday when, speaking at the closing of his campaign in Bauchi, he had said:
"I, Lawal-Yahaya Gumau, want you to know that the mandate that will be given to me on Saturday is to go and protect Buhari's interest in the Senate.
"This is the only mandate that I will be going to the Senate with, having fulfilled every other mandate to the best of my ability while in the House of Representatives for eight years.
"By God's grace, we will amend Nigeria's Constitution to allow Buhari to be President for the remaining years of his life.
"He will only cease to be President when God takes his life.
"Obasanjo tried all his best for the constitution to be amended to allow him go for a third term, but God didn't approve of it because of its lack of sincerity.
"What is now needed in Nigeria is to protect Buhari's interest and that is what we will do."
Gumau was, until his declaration of intent to contest Bauchi South Senatorial District bye-election, the member representing Toro Federal Constituency in the House of Representatives.
Reacting to Gumau's statement of intent to make Buhari a Life President, the International Society for Civil Liberties & the Rule of Law [Intersociety], a Civil Society Organisation [CSO], described him as the "newest member of the authors of tyranny and totalitarianism in Nigeria".
Intersociety Lamented that "his sole purpose of going to Senate is to represent and protect Buhari's interest especially to amend the Constitution to make him life president or president of Nigeria until he dies".
The Civil Society Organisation, therefore, urged "lovers of human rights, justice and democracy in Nigeria and beyond the shores of the country…not take the said statement by the said senatorial aspirant lightly just as they seemingly took and treated with kid gloves warnings of August 2015."
It concluded by saying that "Nigeria's authors of tyranny and totalitarianism must not be allowed to set the country and its hard-won democracy on fire."
---
DISCLAIMER

: Opinion articles are solely the responsibility of the author and does not necessarily reflect the views of the publishers of Elombah News
---
© Copyright 2018 www.elombah.com. Send eyewitness accounts/ reports/ articles  to publisher@elombah.com; follow us on twitter @ElombahNews; like our Facebook page: ElombahNews; join us on WhatsApp HERE
Would you like to be receiving ALL ElombahNews links 'On The Go' on WhatsApp Or Telegram?  If yes, kindly provide us your Telephone number via publisher@elombah.com or sms/inbox +2349050382526 and you are ready to go!
For adverts & inquiries, call +447460770987, +2349050382526