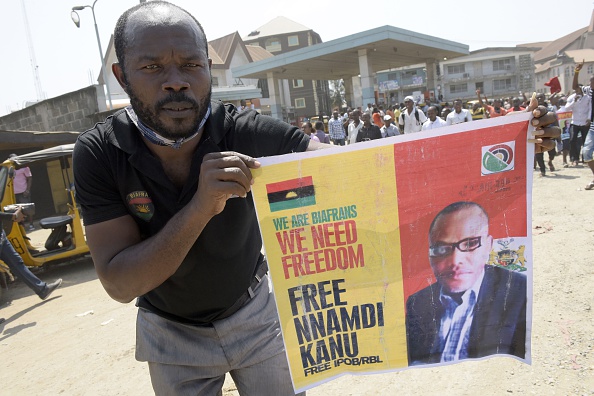 Photo: Biafran protester in Lagos holds up banner seeking for Nnamdi Kanu's release
Biafra activist – Yagozie Eze, will be appearing at: Westminster Magistrates' Court.
The Court is located at 181 Marylebone Road, London, NW1 5BR, Date: 24/08/2016 Time 9:30 am. 
He and few others were arrested and charged for protests against President Muhammadu Buhari's murderous actions against Biafra people during his visit to London in April/May. 
Invitations are already out to those who can make it to attend court to show him solidarity.
The people who protested Buhari and got arrested were alleged to have contravened the law by breaking public peace. 
However, skeptics argue that no protest within the frame work of the law can attract state intervention leading to criminal prosecution. 
Igbo chieftains in the United Kingdom have been urged to speak up as their line of reasoning must be adhered to. 
According to a Nigerian living in UK, 'President Buhari regime has been accused of oppression and tyranny against certain section of the country.
'The demonstrations, however, do not constitute excuse to violate the rule of public peace. 
'The Law is settled in England and there is need for all to abide by it," he noted.
© Copyright 2016 www.elombah.com. Send eyewitness accounts/reports/articles to publisher@elombah.com; follow us on twitter handle @Elombah; like our Facebook page: "Elombah.com".
Share your thoughts in the comment box below: