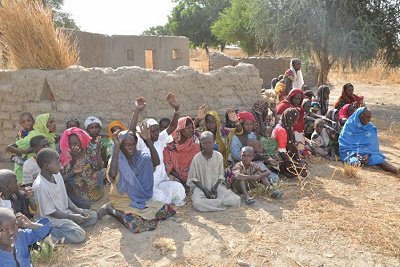 Photo shows 85 people rescued from Boko Haram at Chukungudu in northern parts of Borno State.
The Nigerian Army said on Monday that it had so far released about 1271 detainees after clearing them of any link with the Boko Haram terrorists group.
Brig.-Gen. Victor Ezugwu, the General Officer Commanding (GOC) 7 Division of the Nigerian Army, Maiduguri, disclosed this while speaking at a forum for the reintegration of children associated with armed forces or armed groups in Maiduguri.
Ezugwu, who was represented by Col. Yusuf Ali, said that most of those released were women and children.
"The Nigerian Army gives utmost priority to the rights of detainees especially women and children.
"We always try to fast track investigation to determine their fate, while those found innocent were released without delay," he said.
Ezugwu added:" Consequently, between February and October this year we have had five releases.
"In February 135 persons comprising mainly women and children were released, 204 were released in May, while the remaining three releases were carried out in September and October".
He said that the army had also improved on the provision of welfare for the detainees.
"As part of the military high command care for the vulnerable persons under our protective custody.
"We have identified areas needing attention including feeding, health care, decongestion of cells, respect for detainees rights, sanitation and personal hygiene, " Ezugwu said.
He said children and vulnerable persons were fed three times daily with balanced diet.
"We always provide meat or fish in every meal and drinks every Sunday for them.
"If fact, some of those released would have preferred to remain with us if they had the choice rather than move to IDPs camps," he said.
Ezugwu commended the organisers of the forum, saying the event was timely.
© Copyright 2016 NAN; Send eyewitness accounts/reports/articles to publisher@elombah.com; follow us on twitter handle @Elombah; like our Facebook page: "Elombah.com"