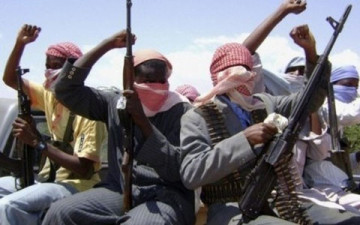 Boko Haram gunmen have torched almost an entire village near the northeast Nigerian town of Chibok from where over 200 schoolgirls were kidnapped, a resident who fled and a local elder said Tuesday. 
The raid in Takulashi village happened on Sunday and saw the Islamists loot food supplies, two days after fighters stole more than 200 cattle from the same location.
A group of insurgents on bicycles and on foot invaded the farming and herding community at about 6:00 am (0500 GMT) on Sunday, shooting indiscriminately and setting fire to homes. 
"They burnt more than 100 homes in the village. Only five houses were spared the inferno," said a resident who gave his name as David, after fleeing to the nearby town of Askira Uba.
The attackers loaded food supplies onto four vehicles they took from the village and burnt four more they were unable to take with them. 
The rest of the supplies were set on fire. 
"We will have to wait till everybody is back to know if there were any fatalities in the attack," Ayuba Chibok, a community leader in Chibok, told AFP.
—
© Copyright 2015 www.elombah.com
Send eyewitness accounts/reports/articles to publisher@elombah.com
Follow us on twitter handle @Elombah; like our Facebook page: "Elombah.com"