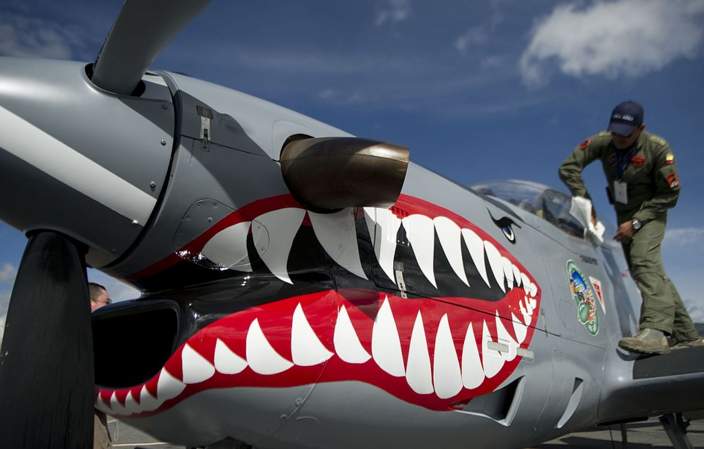 According to Reuters news agency, reports are rife that the United States government is seeking to sell Nigeria attack aircraft to help in the fight against Boko Haram.
Garba Shehu, a spokesman for Nigeria's president, told BBC colleagues in Abuja that he is aware of the discussions with the US over the Super Tucano planes.
In the past, human rights issues have prevented the US from selling heavy weapons to Nigeria.
A flight of Air Force EMB 314 Super Tucano military light attack & counter insurgency (COIN) aircrafts overfly a parade during the celebrations for the independence of Colombia
US 'seeks to sell' attack aircraft to Nigeria
The US government is hoping to sell up to 12 Super Tucano attack aircraft to Nigeria to help in the fight against Islamist militants Boko Haram, Reuters news agency reports.
An anonymous source within the administration is quoted as saying that the US also wants to provide more help with intelligence, surveillance and reconnaissance.
The sale of the aircraft would need to be approved by the US Congress.
The Super Tucano is described by Reuters as a propeller-driven plane that can carry a range of weapons and can be used for attack and surveillance.
Nigeria's army has retaken a lot of territory in north-east Nigeria from Boko Haram in the last year. But the fight against the militants continues.
The seven-year insurgency, which has mainly affected north-eastern Nigeria as well as its neighbours around Lake Chad, has left some 17,000 people dead.
© Copyright 2015 www.elombah.com. Send eyewitness accounts/reports/articles to publisher@elombah.com; follow us on twitter handle @Elombah; like our Facebook page: "Elombah.com"