Why has Obasanjo decided to bring Colombians to play a role in ending Boko Haram terrorism, when the two cases are poles apart and the two groups are also not the same in terms of notoriety?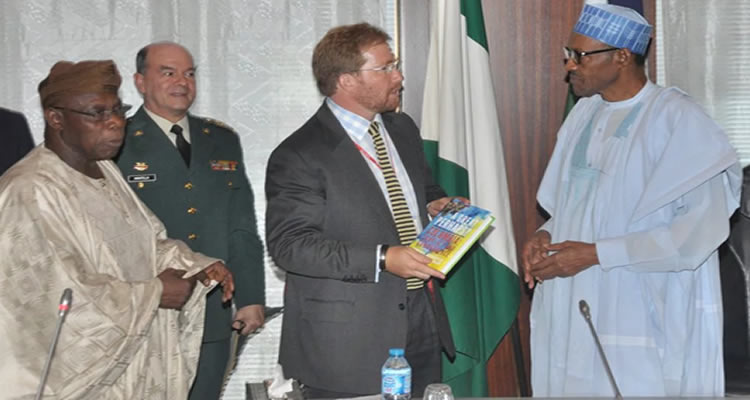 Boko Haram: Obasanjo Leads Colombian Terror Experts To Buhari
Olusegun Okikiola Mathew Obasanjo left the Nigerian Army as a full General. He is the only Nigerian alive or dead to have headed the country's government both as a military junta ruler and civilian for the longest period. 
I must quickly add that Nigeria's current President Muhammadu Buhari who retired from the Army as a two star General (Major General) has just entered the rare historical record as the second person after Obasanjo to become both a former military junta leader (1983-1985) and the civilian president (2015 to end his tenure in 2019).
Obasanjo left the presidential Mansion in Abuja after he served two four year tenures of office as civilian president between 1999 &2007.
 He has been out of office for some time now but he has remained politically active in such a way that he intermittently makes bold political interventions in the media and he has taken certain practical steps that has made him a constant talking point in the political affairs of Nigeria. 
Although he claimed the membership of the then ruling Peoples Democratic Party but he sabotaged his party by working against then President Goodluck Jonathan whom he brought into national political limelight when he made him the running mate of the then terminally ill President Alhaji Umaru Musa Yar'adua. 
Obasanjo stood with the then opposition party which presented retired General Muhammadu Buhari as its Presidential candidate. With the political victory of his new found political friends General Obasanjo has since continued to exert a lot of influences and throwing his weight around the corridors of political power in Abuja.
He (Obasanjo) recently brought some major military and political leaders of Colombia, the South American war ravaged country to meet with the current president of Nigeria and we have been told that it is an effort to borrow from the Colombians on how to stop the Boko Haram terrorism in Nigeria following the ability of the Colombians to negotiate to an end the fifty year old insurgency. 
The United States of America is said to have played some roles in the unfolding peace treaty which would be extensively discussed in this piece.
Boko Haram terrorism started fully in the year 2009 and has led to the gruesome killings of nearly 25,000 Nigerians and property including church buildings and Mosques worth several billions of Naira has been destroyed by these armed Islamists in the North East, North Central, North West and Abuja. 
Not much has however been done by successive administrations by way of prosecution of the high profile terrorism masterminds already arrested. The current Federal Attorney General and Minister of Justice Mr Abubakar Malami has yet to unfold a prosecution blueprint to initiate effective and professionally competent prosecution of all the arrested and indicted Boko Haram terrorists. 
Whereas this government has yet to commence broad -based criminal prosecution of these terrorists, it has begun experimenting with the idea of adopting the Colombian model.
The current Federal Government is yet to tell Nigerians why it's experimenting with the idea of adopting the Colombian model in resolving the Boko Haram terrorists' activities in Nigeria when it is clear that both cases have fundamental differences in terms of ideological origin and the underlying objectives. Pure and simple, Boko Haram terrorists are genocidal kingpins whilst the Colombian rebellion resulted from clear marginalisation of a huge part of that nation by the ruling elite. 
Boko Haram attacked the United Nations House in Abuja killing scores of visitors and international diplomats just as they attacked the Nigeria Police Force Headquarters and left deaths and destruction in its wake. Millions of Nigerians have become internally displaced even as hundreds of young girls have been kidnapped and sold into slavery across the borders by Boko Haram terrorists. 
The bloody consequences of Boko Haram terrorism are unspeakable just as the causes of this sad segment of our national history are as varied as there are historians of divergent schools of thoughts.
But unanimity of opinions is to the effect that Boko Haram terrorists are pure terrorists and not in any way known as freedom fighters. 
Although for few months Boko Haram terrorists took over a vast area of three North East States and hoisted their flags following after the bloody example of global terrorists known as Islamic States of Iraq and Syria (ISIS) but unlike the Colombian rebels who enjoyed widespread support of the civil populace in their former territory of influence, Boko Haram armed bandits are blood cuddling and blood tasty terrorists who kill both civilians and military persons along the way. 
In the North East the civilians rejected Boko Haram terrorists and have formed vigilante group known as Civilian joint task force or civilian JTF which has assisted the Nigerian military to seek to defeat these mass murderers.
Why has erstwhile President Obasanjo decided to bring Colombians to play a role in ending Boko Haram terrorism, when the two cases are poles apart and the two groups are also not the same in terms of notoriety?
 Is the Colombian model workable in Nigeria? It has no clear prospect of succeeding in Nigeria. 
The Chief of Army Staff Lieutenant General Tukur Buratai the whole of this week is said to have led a powerful military delegation to Colombian to understudy the ongoing peace negotiations which goes to show that the Nigerian Government is giving huge amount of thinking towards adopting the Colombian model. But this may be a huge tactical blunder.
Boko Haram started with the activities of a bunch of disgruntled Nigerian followers of a largely illiterate Islamic mentor known as Mohammed Yusuf who headed an illegal Sect of Islamic religion who did not recognize the sanctity of Nigerian Constitution.
Their attacks became frenetic when their spiritual leader Mohammed Yusuf was killed after he was detained by the Nigeria Police Force. Abubakar Shekau then took over and launched deadly terrorist attacks sporadically. 
Boko Haram terrorists are not fighting for any legally justifiable cause. In Colombia Political exclusion is seen as the immediate cause of this war. Last year, January a writer Mr Joel Gillin affirmed the aforementioned cause.
Hear him: "With Colombia's peace talks back on track, the country is looking at what has caused the 50 years of violence that according to the government has left almost a million dead. One of the recognized causes is a political exclusion that is older than the country itself".
According to Father Fernan Gonzalez, a well-known academic and conflict analyst, "Colombian society has not established a consensus on the nature and origins of the armed conflict."
Many believe that the conflict with the Revolutionary Armed Forces of Colombia (the FARC), along with the handful of other armed leftist insurgencies that have existed throughout the last 50 years, can be attributed to the individual choices and actions of these groups seeking wealth and power.
 Most historians and conflict analysts, however, would posit that there exist structural factors – for complex historical reasons – that have created an environment which is conducive to violence and armed conflict, the writer asserted.
 ACCEPTING the first theory requires little to no historical background or analysis in order to think of possible solutions for dealing with armed groups challenging the state. Seeing the groups as entirely illegitimate, the obvious course of action would be to confront the rebels militarily, the writer stated emphatically.
 The writer said that the current armed conflict is traced back to 1964 when the FARC was created, it is necessary to examine Colombia's political history which led to this moment. 
In summary, the following is the political landscape that underlined the fifty years old war in Colombia.
"Since the birth of the state in the first half of the 19th century, Colombian political life has been dominated by two political power houses: the Liberal Party and the Conservative Party. The parties and their ideologies began to crystallize back in the 1840s. While both were dominated by elites, each had its own characteristics". 
We will dwell a bit on these political contours that characterized the Colombian conundrum. 
 Joel Gillin wrote in www.colombianreports.com thus: "the Conservative party has always maintained a close relationship with the Catholic Church and believed it to be central to the social fabric of Colombian society. Its members came from the wealthy landowning class which favorited a centralized state, hierarchical in nature, in which different classes played their respective roles in society."
 He continued thus: "the Liberals tended to come from the merchant class, favoring a decentralized state, international trade, and the development of Colombia's competitive advantage in export-based agriculture. Through their contact with the outside world, particular the US, Britain, and France, the party's worldview was influenced by enlightenment values and liberal traditions about rational individuals. The party thus ended slavery and supported the separation of Church and State".
"It is worth noting that, after more than a century and a half, the ideologies of the two parties have to a large extent remained intact". 
So why is Nigeria under President Muhammadu Buhari investing her time and resources to pursue the Colombian model as a way of seeking an end to the attacks of Boko Haram terrorists and why is Nigeria playing around with the idea when it is clear that the Colombian scenario is diametrically opposed to the issue in Nigeria with regards to the dare devilry of Boko Haram terrorists who have killed, maimed and destroyed innocent people in their quest for an objective that is insanely ambiguous? 
Boko Haram terrorists started to wage war against institutions of the Nigerian State in 2009 when their founder was killed in an extra legal execution style by the Borno State command of the Nigeria Police Force. Nigeria police is notorious for extrajudicial killings of suspects in their custody so the killing of the then leader of the banned Islamic sectarian group Boko Haram (Western Education is evil) wasn't an isolated case.  
Later they ventured into massive attacks of Churches but eventually extended their activities to the Mosques attended by moderate Moslems.  When the global terrorism group known as Islamic States of Iraq and Syria (ISIS) emerged on the World's scene and captured a large part of Iraq and even Syria, Boko Haram terrorists got themselves affiliated with this foreign terrorists and capitalised on some internal sabotage within the Nigerian military institutions to capture large portions of the North East of Nigeria which made the then President Goodluck Jonathan's administration to declare partial state of emergency in those three States. The US government embargoed sale of sophisticated arms to Nigeria thus crippling the already exhausted Nigeria Military. 
Mixing up the circumstances of the emergence of Boko Haram terrorists and the case in Colombia is a fundamental error and a clear failure of strategic planning and thinking on the side of the political and military leaders in Nigeria. 
Boko Haram terrorists have made it known that they lack any visionary idea of what they are fighting for other than to create instability in Nigeria and uproot the Christian minority communities scattered around the North East of Nigeria surrounded by their Moslem neighbours both of whom have hitherto lived in peace.
 Colombian rebellion was rooted on concrete case of political exclusion but in Nigeria the North has had more than a fair share of political positions at the National level. Besides, the people of the North East have distanced themselves from the masterminds of these killings undertaken by Boko Haram terrorists who are largely of KANURI speaking language group.
Government of Nigeria should concentrate effort towards defeating these murderous terrorists and bring perpetrators and their sponsors to justice either locally or at the International Criminal Court in The Hague Netherlands for prosecution over crimes against humanity.  
Government should also implement policies that would discourage this terror group from getting prospective recruits. Deradicalisation programmes should be implemented to dissuade would -be recruits from embracing this death ideology that underscore Boko Haram terrorism. 
There's a huge amount of recommendations made by Presidential Committee on Dialogue and restoration of peace in Northern Nigeria which if implemented will check the escalation of attacks by Boko Haram terrorists. Nigerian Government must look inwards for solution rather than go fishing for imaginary solution.
* Emmanuel Onwubiko is Head of Human rights Writers association of Nigeria and blogs @www.huriwa.blogspot.com, www.rightsassociationngr.com, www.huriwa.org.
---
---
DISCLAIMER

: Opinion articles are solely the responsibility of the author and does not necessarily reflect the views of the publishers of ElombahNews!
---
Would you like to be receiving ALL ElombahNews links 'On The Go' on WhatsApp Or Telegram? If yes, join us here on WhatsApp or Telegram, or provide us your Telephone number via publisher@elombah.com or sms/inbox +2349050382526 and you are good to go!
---
DOWNLOAD ElombahNews mobile app here
---
Send eyewitness accounts/ reports/ articles  to publisher@elombah.com; follow us on twitter @ElombahNews; like our Facebook page ElombahNews 
---
For adverts & inquiries, call +447460770987, +2349050382526