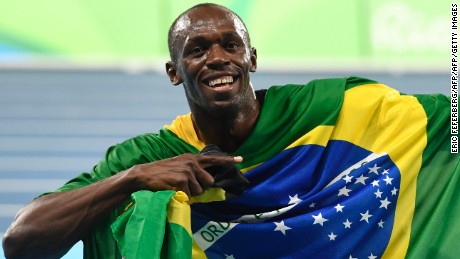 Usain Bolt has set unprecedented record after completing his triple-triple at the 2016 Olympics.
He turned a close 4×100 relay race against Japan and the United States into a never-a-doubt runaway, helping Jamaica cross the line in 37.27.
Bolt's record in Olympic finals is nine races, nine wins. Nobody's done that before, and nobody's on the horizon to do it again soon.
After his 4×100 win he said: "I am just relieved. It's happened. I am just happy, proud of myself. It's come true."
He anchored Jamaica 4×100-meter relay to victory in the final to ensure three gold medals at three consecutive Olympics.
More hilarious, however, was how he celebrated winning a ninth Olympic gold medal.
Bolt had gone into a darkened Olympic Stadium, surrounded by volunteers — and started throwing a javelin.
The Jamaican sprint superstar who says the Rio Games are his last Olympics came back onto the track with most of the lights in the stadium having already been turned off.
Bolt took a couple throws of the javelin, the last one going about 50 meters.
He posed for some pictures afterward while the javelin is still stuck in the Olympic Stadium turf.
Bolt's final throw, by the way, would have earned him a sixth-place finish at this year's Jamaican national championships.
After coasting across the finish in a winning time of 37.27 seconds for his ninth Olympic gold medal, Bolt waved the baton to the crowd to signal his departure.
Japan took silver in 37.60, with Aska Cambridge holding off American Trayvon Bromell by 0.02.
The U.S. team was later disqualified for exchanging illegally outside the zone at the first change.
Meanwhile, Canada was elevated to the bronze-medal position in a national record 37.64.
It was the ninth time since 1995 that the U.S. men have been disqualified or failed to get the baton around at an Olympics or world championships.
The Japanese team was technically flawless and had the lead going into the last baton change.
Bolt, however, came charging and pulled away, as he has done so often, in what is most likely to be his last run at the Olympics.
Usain Bolt completed his triple-triple, anchoring the Jamaica 4×100-meter relay to victory in the final to ensure three gold medals at three consecutive Olympics.
Japan set an Asian record to take the silver in 37.60, holding off the third-place Americans by 0.02.
© Copyright 2016 www.elombah.com. Send eyewitness accounts/reports/articles to publisher@elombah.com; follow us on twitter handle @Elombah; like our Facebook page: "Elombah.com".
Share your thoughts in the comment box below: