Boris Johnson is the new prime minister
He promises the UK will leave the EU by 31 October and sets out his first policy aims in a wide-ranging speech outside Number 10
Protesters were bundled aside after attempting to block his car's route along the Mall on his way to meet the Queen
Theresa May has spoken for the last time as PM outside No 10
Earlier, she took her last Prime Minister's Questions
Philip Hammond has quit as Chancellor, the most high profile in a slew of resignations
Later, Mr Johnson will announce his most senior cabinet appointments
He defeated Jeremy Hunt in the Tory leadership contest by 92,153 votes to 46,656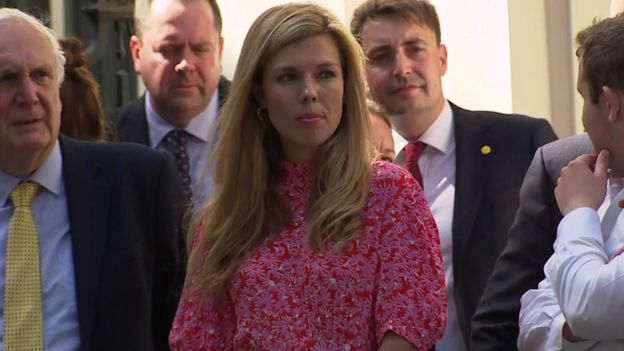 Boris Johnson has said he wants to "change the country for the better" after he became the UK's new prime minister.
Speaking outside Downing Street, he said the UK would leave the EU on 31 October "no ifs, no buts", adding: "The buck stops with me."
"The doubters, the doomsters, the gloomsters" who said it could not be done were "wrong", the new PM added.
He also vowed to sort out care for the elderly "once and for all".
Reforms to the social care sector have eluded previous governments because of their cost and complexity.
"We will fix it once and for all with a clear plan we have prepared to give every older person the dignity and security they deserve," he insisted.
Mr Johnson also listed a wide range of domestic ambitions, including increased investment in transport infrastructure and education, and reforms to ensure the £20bn in extra funding earmarked for the NHS "really gets to the front line".
He also pledged to boost the UK's biotech and space science sectors, change the tax rules to incentivise investment, and do more to promote the welfare of animals.
The new PM will shortly begin announcing some senior cabinet appointments.
Setting out his priorities for office, the former London mayor hit out at the "pessimists" who did not believe Brexit could be delivered and called for an end to three years of indecision.
"The people who bet against Britain are going to lose their shirts because we are going to restore trust in our democracy," he said.
"The time has come to act, to take decisions and change this country for the better."
He said he had "every confidence" that the UK would leave the EU in 99 days time with a deal, but preparations for the "remote possibility" of a no-deal Brexit would be accelerated.
Mr Johnson vowed to bring all four nations of the United Kingdom – or what he described as the "awesome foursome" – together in the task of strengthening a post-Brexit country.
"Though I am today building a great team of men and women, I will take personal responsibility for the change I want to see," he concluded.
"Never mind the backstop, the buck stops with me."
The BBC's Vicki Young said she was struck by the ambition of Mr Johnson's objectives beyond Brexit and the fact that he would take personal responsibility for his success or failure in achieving them.
Mr Johnson took over after Theresa May handed in her resignation to the Queen. A number of her senior ministers have also already resigned, saying they could not serve under her successor.
Earlier, as she relinquished power after three years, Mrs May said being prime minister had been "the greatest honour" and wished her successor well.
In a farewell speech outside No 10, she said his government's "successes will be our country's successes".
What promises did Johnson make in his first speech?
In a wide-ranging speech outside No.10, Mr Johnson made promises on a variety of subjects.
Those promises included:
To leave the EU by 31 October
To negotiate a new withdrawal agreement with the EU
To recruit 20,000 new police officers
To ensure the wait to see a GP is less than three weeks
To provide "20 new hospital upgrades"
To fix the social care "crisis"
To increase funding for primary and secondary schools
To unite the country
To deliver "higher wages, a higher living wage, higher productivity"
To tackle climate change and create green jobs
To boost the UK's biotech and space science sectors
To change tax rules to incentivise investment
To do more to promote the welfare of animals
To ensure EU citizens have the right to remain in the UK after Brexit