Boris Johnson resigns as UK foreign secretary
Another major blow to PM Theresa May... Brexit Secretary David Davis had resigned
Boris Johnson has resigned as UK foreign secretary in another major blow to Prime Minister Theresa May.
His resignation following the earlier resignation has thrown Brexit into disarray.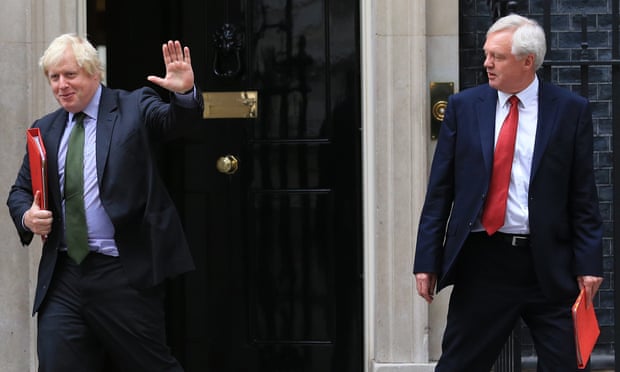 Downing Street put out this statement:
This afternoon, the prime minister accepted the resignation of Boris Johnson as foreign secretary. His replacement will be announced shortly. The prime minister thanks Boris for his work.
Meanwhile Dominic Raab has been appointed Brexit secretary by Theresa May after David Davis resigned from the government.
Mr Raab, who is currently housing minister, was a prominent Leave campaigner during the 2016 referendum.
Mr Davis quit late on Sunday night, saying Theresa May had "given away too much too easily".
The 44-year old Mr Raab, a lawyer before becoming an MP in 2010, will now take over day-to-day negotiations with the EU's Michel Barnier.
The UK is due to leave the European Union on 29 March 2019, but the two sides have yet to agree how trade will work between the UK and the EU afterwards.
There have been differences within the Conservative Party over how far the UK should prioritise the economy by compromising on issues such as leaving the remit of the European Court of Justice and ending free movement of people.
Theresa May is losing the support of Conservative supporters who voted leave, which is more than half of them, YouGov reports.
Our new survey of Conservative members finds that Theresa May is starting to lose support among Leave-voting members…
Think May is doing well: Sep 2017 / July 2018
Leave-voting members: 73% / 52%
Remain-voting members: 70% / 78%https://t.co/UCngzUeSzG pic.twitter.com/MAVCrtwhNA

— YouGov (@YouGov) July 9, 2018
Boris Johnson has just resigned as foreign secretary. Our new Conservative members survey indicates he would lose in a head to head contest for party leader against…
Rees Mogg: 56% vs 44% for Boris
Javid: 55% vs 45%
Gove: 55% vs 45%
Davidson: 54% vs 46%https://t.co/UCngzUeSzG pic.twitter.com/lw88RxtIqN

— YouGov (@YouGov) July 9, 2018