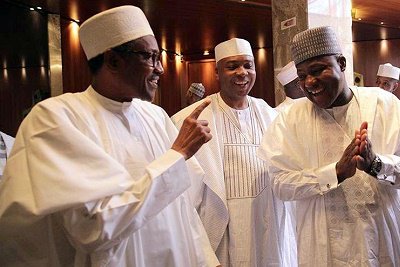 The Speaker of the Nigerian House of Representatives, Hon. Yakubu Dogara has confirmed that President Muhammadu Buhari is hale and hearty in his vacation spot in the United Kingdom.
Hon. Dogara made this known via his twitter handle @YakubDogara on Thursday.
He tweeted that President Buhari called him on Wednesday evening and exchanged pleasantries with him.
In the words of Dogara: 
"He said he was pained by the suffering endured by most Nigerians last year and he's resolved not to let events of 2016 repeat themselves"
"He also asked me to extend his best wishes to all Hon Members".
With this development, Dogara has joined the list of eminent Nigerians who have either spoken to Buhari, or confirmed his well-being.
One of them was Hajiya Rakiya, the only surviving elder sister of President Buhari, who said that she speaks with him every day.
She said this in an interview with a correspondent of the News agency of Nigeria [NAN] in Daura, Katsina state.
The 84-year-old said the president needed the prayers of every Nigerian for him to succeed in the task of addressing the problems facing the nation.
She said President Buhari being a mortal is bound to fall ill or even die "at any time his Creator wishes''.
She said she speaks with the president every day since his departure to London on his annual leave and that he is in high spirit.
Another eminent Nigerian who attested to Buhari's stability was Senate President, Dr. Abubakar Bukola Saraki.
Saraki also confirmed that President Buhari is alive and healthy via a tweet on his tweeter handle @bukolasaraki.
He said that he spoke with the President on Wednesday night and that he (President Buhari) was in high spirit.
The text reads: 
"Happy to have spoken with @NGRPresident @MBuhari tonight.
"He was in good spirits and joked about my working late into the night, as usual."
© Copyright 2017 www.elombah.com; send eyewitness accounts/reports/articles to publisher@elombah.com; follow us on twitter handle @Elombah; like our Facebook page: "Elombah.com"; call us on +447460770987, +2349050382526