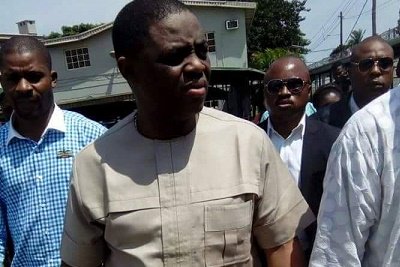 The Economic and Financial Crimes Commission (EFCC) has re-arrested the former Minister of Aviation, Mr. Femi Fani-Kayode, just as he stepped out of court this afternoon.
In a statement sent to elombah.com yesterday, Mr. Femi Fani Kayode had raised alarm concerning a "clandestine plot by the President Muhammadu Buhari administration to re-arrest him using the Economic and Financial Crimes Commission (EFCC) as the instrument."
READ ALSO FANI KAYODE: EFCC IS PLANNING TO RE-ARREST AND DETAIN ME 
Mr. Fani-Kayode was arrested on Friday by operatives of the anti-graft agency, as he left the Federal High Court premises in Lagos.
His arrest is connected to the latest 17-count charge of money laundering to the tune of N4.9 billion filed by the EFCC in Abuja against him.
The Federal High Court in Lagos on Wednesday fixed a new date for the trial of Mr. Fani-Kayode and Nenadi Usman, who were accused of money laundering by the EFCC.
EFCC Invites Fani-Kayode
On May 9, 2016, the former Aviation Minister, Mr Femi Fani-Kayode honoured the invitation of the Economic and Financial Crimes Commission (EFCC).
He arrived at the headquarters of the anti-graft agency in Abuja in a police convoy.
The EFCC operatives had laid a siege to Mr Fani-Kayode's residence but later withdrew after almost six hours.
Officers of the EFCC had visited his Maitama home inviting him for questioning on May 9, only to return at midday with armed men, seeking his arrest.
Mr Fani-Kayode said he was surprised at the turn of events after he had promised to show up with his lawyer.
He was the Director of Publicity for former President Goodluck Jonathan and PDP's campaign Organisation before the general election of 2015.
Mr Fani-Kayode Released
On July 15, 2016, Mr Fani-Kayode was released from EFCC custody after meeting his bail conditions.
He was released after over two months in detention.
The former Aviation Minister, shortly after his release told Channels Television, "I give thanks to God that I am free after 67 days in detention.
"This was the worst experience of my life but God was with me all the way. I suffered immeasurably but I count it all as joy.
"I am innocent of all charges and I look forward to defending myself vigorously in court. These charges are politically motivated and I have been severely punished for my political views and criticisms of the government."
Mr Fani-Kayode was arrested by the anti-graft agency over alleged 1.5 billion Naira fraud and has been charged alongside a former Minister of Finance, Nenadi Usman; a firm, Joint Trust Dimensions Limited; and one Jimoh Yusuf.
The Federal High Court in Lagos granted bail in the sum of 250 million Naira each, to Mr Fani-Kayode, Nenadi Usman and Danjuma Yusuf who are being tried by the EFCC for allegedly stealing and laundering about 4.9 billion Naira.