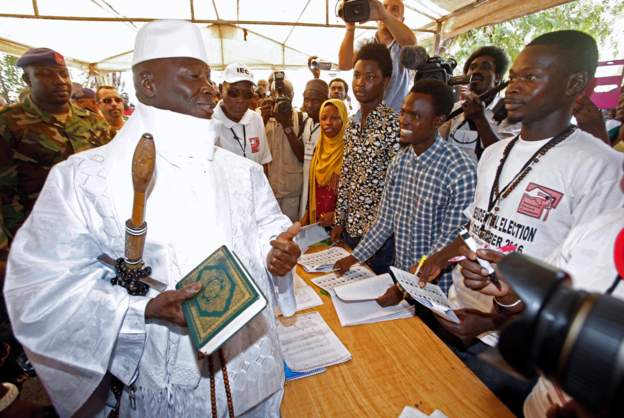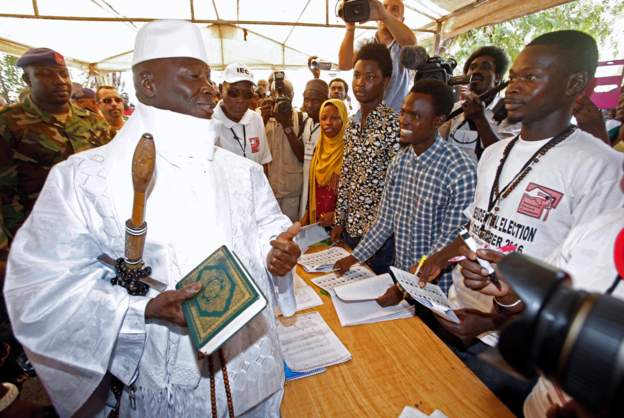 Gambia's electoral commission declares Adama Barrow winner of the presidential election
Former estate agent Mr Barrow won 263,515 votes, 50,000 more than President Yahya Jammeh
Jubilation in the country and among diaspora Gambians on social media
Emotional Gambians have taken to Twitter to describe their joy at Yahya Jammeh's surprise election defeat, said a BBC Africa report. 
Online daily Freedom Newspaper says Mr Jammeh, who was seeking a fifth term in office, "grossly under-performed" in key regions.
For those in the diaspora, many of whom fled repressive policies under Mr Jammeh, the result represents a long-hoped for opportunity finally to visit their families back home.
Elombah.com has reported that the head of The Gambia's electoral commission has declared opposition candidate Adama Barrow as the winner of the 2016 presidential election.
The results were:
Adama Barrow – 263,515 votes
Yahya Jammeh – 212,099 votes
President Yahya Jammeh is reportedly conceding defeat after ruling The Gambia for 22 years.
The chairman of the electoral commission, Alieu Momar Njie, had this to say:
It's really unique that someone who has been ruling this country for so long has accepted defeat."
A reporter with the UK's Guardian newspaper in The Gambia is tweeting details about the breaking news that President Jammeh is to concede to opposition leader Adama Barrow.
She says that a video of his concession speech is being prepared: 
Meanwhile Some Gambians are lauding President Yahya Jammeh for accepting defeat in the presidential election.
In some other countries in Africa chaos has followed elections where the incumbent has lost – or where the results are disputed.
But as the initial surprise and shock of the Gambia election result dissipates, people have begun mocking President Yahya Jammeh's 2011 declaration that he would rule the country for a billion years. 
Even though he did add a caveat "if God wills", it has not stopped some people from doing the math and mocking the defeated preseident.
His Excellency Sheikh Professor Alhaji Dr Yahya AJJ Jammeh Babili Mansa'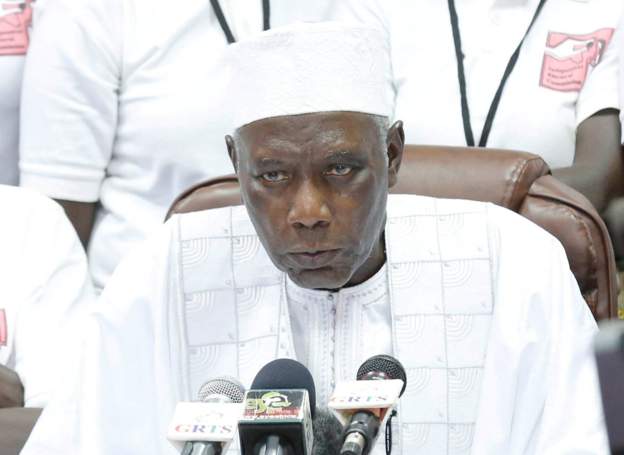 PHOTO: president of Gambia"s Independent Electoral Commission; Reuters
Electoral commission head Alieu Momar Njie had a tough job on his hands
Many leaders have what appear to outsiders to be unusual titles – but for sheer length, outgoing Gambian President Yahya Jammeh's effort was hard to beat.
Last June, just for good measure, he added the title of Babili Mansa to his already substantial list of honorifics.
The Mandinka-language phrase can be translated as "chief bridge builder" or "conqueror of rivers".  
It meant the full title was His Excellency Sheikh Professor Alhaji Dr Yahya AJJ Jammeh Babili Mansa.
Pity poor head of the electoral commission Alieu Momar Njie, who had to read it out in full 53 times as he announced results from all of the Gambia's electoral districts.