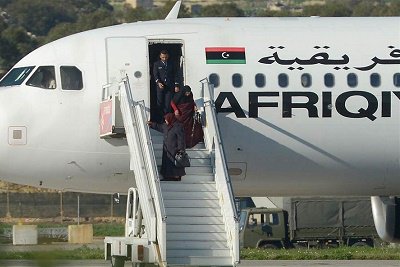 A plane on an internal flight in Libya has been hijacked and forced to land in Malta with 118 people on board.
UPDATE
Hijackers of Libyan plane belonging to  Afriqiyah Airways  have begun allowing passengers disembark in Malta.
The Afriqiyah Airways A320 flight was carrying 111 passengers, including a baby, and seven crew members when it was hijacked and diverted to Malta.
There are two hijackers on board the plane who are thought to be affiliated with Al Fatah Al Gadida, a pro-Gadhafi group, according to Maltese foreign ministry spokesman Etienne St. John.
Kurt Farrugia, a spokesman for Malta's prime minister, Joseph Muscat, told ABC News that all passengers and crew on board the hijacked plane are to be released soon. He said all of them are Libyan nationals.
A team at the airport in Malta — led by an army commander and consists of armed forces, police and security services — are talking directly to the hijackers through the air traffic control system, the spokesman said.
Farrugia said Maltese Prime Minister Joseph Muscat has been in contact with Libyan Prime Minister Faez al Serraj regarding the incident.
The hijacking occurred earlier today with the Malta airport authority confirming that emergency teams were sent to the site of what it called an "unlawful interference" on the airport tarmac.
"Informed of potential hijack situation of a #Libya internal flight diverted to #Malta," Muscat tweeted earlier Friday. "Security and emergency operations standing by."
Flight data from the website flightradar24.com showed the Afriqiyah Airways flight taking off from Sebha in the interior of Libya with a destination of Tripoli, but with a flight path that ends in Malta.
*Update by ABC News
© Copyright 2016 www.elombah.com; send eyewitness accounts/reports/articles to publisher@elombah.com; follow us on twitter handle @Elombah; like our Facebook page: "Elombah.com"