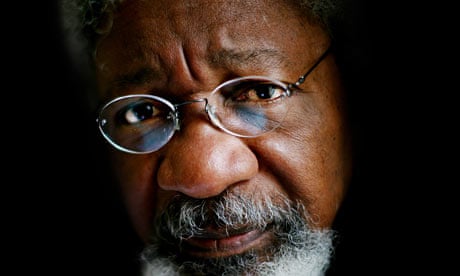 Nobel Literature, Prof. Wole Soyinka has gotten rid of the Green Card issued him by the United States government, Elombah.com has gathered.
Soyinka destroyed the Green Card in keeping to his words that he will destroy it in the event of Donald Trump winning the United States' presidential election.
He made the threat in protest against the Republican billionaire's campaign promises to get tough on immigration.
To his chagrin and the shock the world over, Trump emerged victorious on November 9.
Elombah.com had reported about Soyinka's threat to rid himself of the cherished Card.
AFP reported that Soyinka revealed his action, which he had called 'Wolexit' on the sidelines of an education conference at the University of Johannesburg.
He was quoted as saying that he has fulfilled his pledge to throw away his US residency green card and leave the country.
"I have already done it; I have disengaged (from the United States). I have done what I said I would do," the 82-year-old Nigerian said.
"I had a horror of what is to come with Trump.
"I threw away the (green) card, and I have relocated, and I'm back to where I have always been" — meaning his homeland Nigeria.
The prolific playwright, novelist and poet won the Nobel Prize for Literature in 1986 and has been a regular teacher at US universities including Harvard, Cornell and Yale.
At the same time he said he would not discourage others from applying for a green card.
"It's useful in many ways. I wouldn't for one single moment discourage any Nigerians or anybody from acquiring a green card.
"But I have had enough of it," he said.
Soyinka, one of Africa's most famous writers and rights activists, was jailed in 1967 for 22 months during Nigeria's civil war.
He was reported to have recently completed a term as scholar-in-residence at New York University's Institute of African American Affairs.
It will not be the first time that Soyinka would act this way.
In 1993, Soyinka threw away the national honour, Commander of the Federal Republic, bestowed on him by the Babangida administration, following the annulment of the June 12 election, won clearly by businessman Moshood Abiola.
© Copyright 2016 www.elombah.com; Send eyewitness accounts/reports/articles to publisher@elombah.com; follow us on twitter handle @Elombah; like our Facebook page: "Elombah.com"