Six months after coming to power, President Muhammadu Buhari has on Wednesday, finally assigned portfolios to his ministers-designates
Former banker Kemi Adeosun has been appointed Nigeria's new finance minister by Buhari. She faces an uphill struggle to shore up Africa's largest economy, which has been battered by a 40% fall in the price of oil.
Babatunde Fashola, the former governor of Lagos State, has been put in charge of the power, works and housing portfolio, overseeing infrastructure. Buhari appointed himself oil minister in September.
GDP growth has slowed to 4% this year, and the government may have to push through more unpopular cuts to subsidies and infrastructure investments to plug the holes in its finances. Oil makes up around 60% of the government's budget.
Adeosun, who has been the finance commissioner for Ogun state since 2011, is a former managing director at Chapel Hill Denham, a Lagos-based investment bank, according to her LinkedIn LNKD +0.39% profile.
Fashola: Baba this portfolio is quite loaded o…PMB: Please spare me that. Just get the job done 
Okechukwu Enelamah, head of the private equity company African Capital Alliance who had also been tipped to become finance minister, has been sworn in as minister of trade and investment. First on his to-do list will be rehabilitating Nigeria's reputation as a destination for foreign direct investment, which has been dented by the huge and high-profile fine handed to South African telecommunications operator MTN.
Buhari, who won elections in March on a populist, reformist, anti-corruption platform, took nearly five months to name his cabinet, and only announced which of his nominees would hold which portfolios on November 11, when they were sworn in.
Some analysts said that the vacuum in political leadership has hampered policy making during difficult period for the Nigerian economy and exacerbated the downturn.
Without clarity in economic policy making, the Central Bank of Nigeria has attempted to use monetary policy tools to limit the damage to the economy, imposing limited capital controls and spending the country's foreign currency reserves to prop up the naira.
"While losing precious time, the new government was unable not only to unveil much-needed economic and political reform… but it was also unable to present the budget for next year nor push forward urgent infrastructure programs," Ricard Torné, FocusEconomics' senior economist for Sub-Saharan Africa, said last month.
While the the former governor of Lagos state has been widely congratulated for his appointment of to the very powerful works, housing and power ministry  and noted with interest, some Nigerians have  mocked some of the appointees, particularly on the emergence  of the ex-Governor of Rivers state, Rotimi Amaechi as the minister of transport.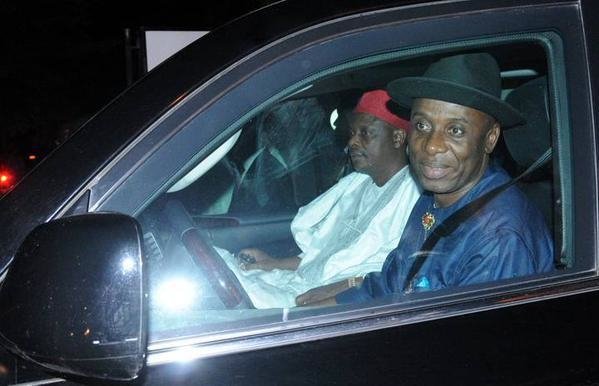 "APC official driver now promoted as national driver…..transport minister ", wrote a Nigerian on twitter.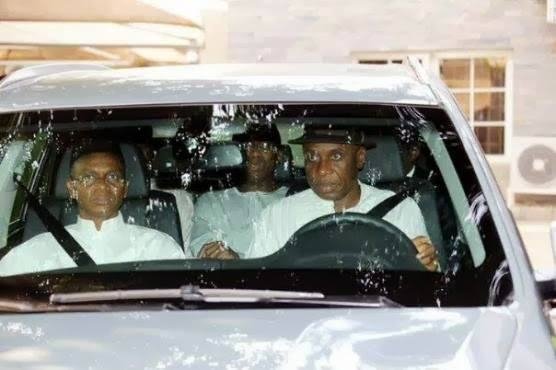 Another less fancied appointee is former Anambra governor, Senator Chris Ngige, appointed minister of Labour and Productivity and Ogbonnaya Onu, Science and technology.
Ngige will be saddled with negotiating with Trade Unions while a professor and former vice-chancellor, Onwukah will deputize for a writer and former editorm Mallam Adamu Adamu in the education ministry.
The full list include : 
1. Chris Ngige – (Anambra) Minister of Labour & Employment 
2. Kayode Fayemi- (Ekiti) Minister of Solid Minerals
3. Rotimi Amaechi – (Rivers) Minister of Transportation
4. Babatunde Fashola -(Lagos) Minister of Power, Works and Housing
5. Abdulrahman Dambazau- (Kano) Minister of Interior 
6. Aisha Alhassan – (Taraba) Minister of Women Affairs
7. Ogbonaya Onu- (Ebonyi) Minister of Science and Technology
8. Kemi Adeosun – (Ogun) Minister of Finance 
9. Abubakar Malami – (Kebbi) Minister of Justice & Attorney-General
10. Sen Hadi Sirika – (Katsina) Minister of State, Aviation
11. Barr. Adebayo Shittu – (Oyo) Minister of Communication
12. Suleiman Adamu – (Jigawa) Minister of Water Resources 
13. Solomon Dalong – (Plateau) Minister for Youth and Sports
14. Ibe Kachikwu – (Delta) Minister of State, Petroleum
15. Osagie Ehanire – (Edo) Minister of State, Health
16. Audu Ogbeh – (Benue) Minister of Agriculture 
17. Udo Udo Udoma – (Akwa Ibom)  Minister of Budget & National Planning 
18. Lai Mohammed – (Kwara) Minister of Information 
19. Amina Mohammed – (Gombe) Minister of Environment 
20. Ibrahim Usman Jibril – (Nasarawa) Minister of State, Environment 
21. Hajia Khadija Bukar Ibrahim- (Yobe) Minister of State, Foreign Affairs 
22. Cladius Omoleye Daramola (Ondo) Minister of State, Niger Delta 
23. Prof Anthony Onwuka (Imo) Minister of State,  Education 
24. Geoffrey Onyema (Enugu) Minister of Foreign Affairs 
25. Dan Ali (Zamfara) Minister of Defence 
26. Barr James Ocholi (Kogi)  Minister of State, Labour & Employment 
27. Zainab Ahmed (Kaduna) Minister of State Budget and National Planning 
28. Okechukwu Enelamah (Abia) Minister of Trade, Investment & Industry 
29. Muhammadu Bello (Adamawa) Minister of Federal Capital Territory 
30. Mustapha Baba Shehuri (Bornu) Minister of State, Power 
31. Aisha Abubakar (Sokoto) Minister of State, Trade & Investment 
32. Heineken Lokpobiri (Bayelsa) Minister of State, Agriculture 
33. Adamu Adamu (Bauchi) Minister of Education 
34. Isaac Adewole (Osun)  Minister of Health 
35. Abubakar Bawa Bwari (Niger) Minister of State, Solid Minerals 
36. Pastor Usani Uguru (Cross River) Minister of Niger Delta 
* President Muhammadu Buhari- Minister of Petroleum
=====
Cabinet of Lawyers
At least ten out of the thirty six ministers (36%) appointed by President Buhari are lawyers. 
Below are the Learned Gentlemen of the Bar appointed as ministers:
1. James Ocholi, SAN.
2. SAN, Babatunde Fashola, SAN.
3. Abubakar Malami, SAN.
4. Aisha Alhassan, Esq.
5. Lai Mohammed, Esq.
6. Alhaji Adebayo Shittu, Esq.
7. Dr. Ibe Kachikwu.
8. Mr. Godfrey Onyeama.
9. Sen. Udo Udoma.
10. Comrade Solomon Dalong.
11. Sen. Heineken Lokpobiri.
Vice President Yemi Osinbajo, SAN and the Chief of Staff to the president, Mallam Abba Kyari are also lawyers.
A good number of the president's aides are said to be lawyers, marking the first time in the history of Nigeria that the Federal Executive Council will be markedly populated by a large number of professionals from a particular sector.