President Muhammadu Buhari has written the Senate requesting it to approve the release of $496,374,470 to purchase 12 Super Tucano aircraft from the United States.
The President of the Senate, Dr. Abubakar Bukola Saraki read an Executive Communication from President Muhammadu Buhari informing the Senate about his 'anticipatory approval' for the said fund.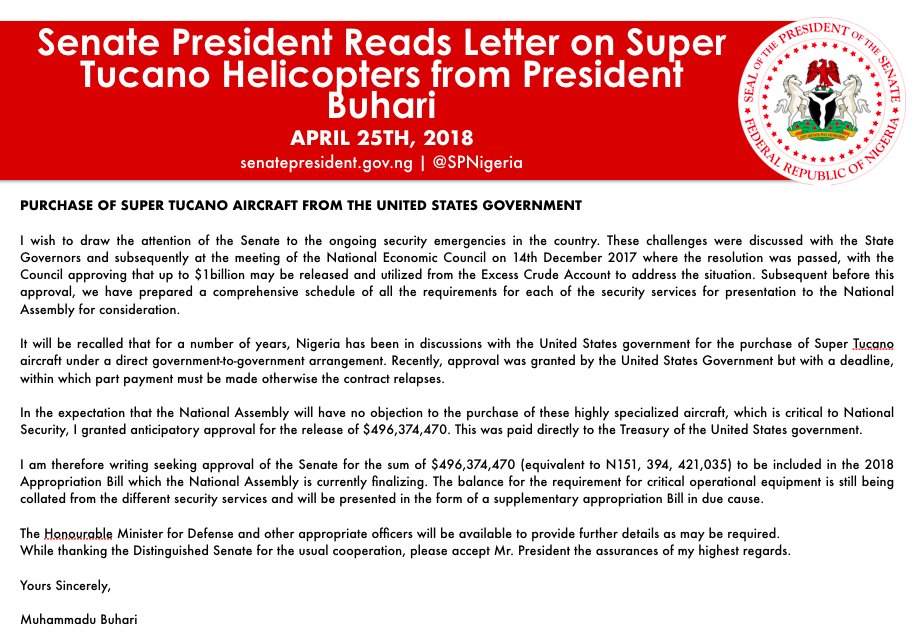 ElombahNews had, on April 24, 2018, reported that President Buhari has approved the withdrawal $462 million from the Excess Crude Account (ECA) for the procurement of 12 Super Tucano aircraft, without approval of the National Assembly.
President Buhari said, in the letter to the National Assembly, that the U.S. government had given a payment deadline for the aircraft purchase, hence, the need for the hasty approval and payment.
The letter shows that Mr Buhari had already given anticipatory approval for the withdrawal of $496,374,470 (N151 394, 421, 355) from the ECA for the purchase of the aircraft.
It was indicated that he was only seeking the inclusion of same in the 2018 Appropriation Bill that the National Assembly is currently finalising.
The date on the letter indicated that the President had given approval for the withdrawal of the cash and paid before a public announcement of the approval.
In reaction, Members of the House of Representatives categorically told him that he committed an "impeachable offence" when he authorised the release of $462 million without appropriation by the National Assembly.
The lawmakers became angry as soon as the Speaker, Mr. Yakubu Dogara, read a letter from Buhari, informing the House that the expenditure was done in "anticipation of approval" by the National Assembly.
They noted that the letter was a "mere afterthought", as the expenditure had been done already.
The anger caused a brief rowdiness on the floor, forcing Dogara to intervene in a bid to calm down the lawmakers.
The Chairman, House Committee on Public Accounts, Mr. Kingsley Chinda raised a point of order to draw the attention of members to the alleged "constitutional breach" by Buhari.
He said both the 1999 Constitution and other laws in the country did not recognise spending by the President in "anticipation of approval" by the legislature.
Chinda stated, "This matter ($462m) came up last week. Today, Mr. President has admitted that the expenditure has already been incurred.
"We are supposed to be a watchdog, but as it is, we cannot bite. This is an impeachable offence and there is no misconduct that is more serious than this.
"I propose that we commence the impeachment of Mr. President, based on this infraction."