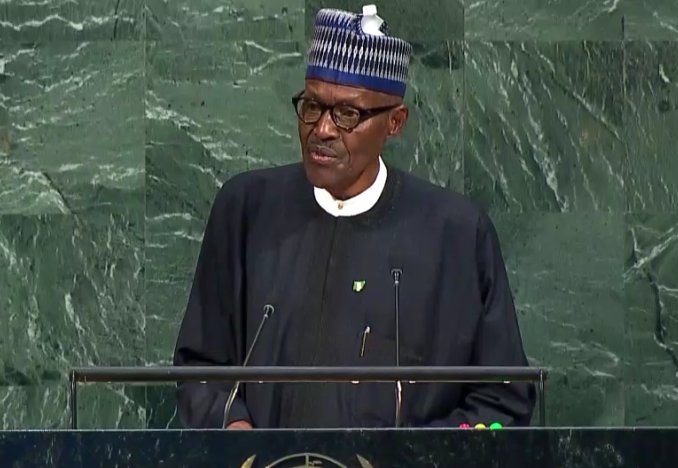 Buhari At 72nd Session Of United Nations General Assembly, In New York, Tuesday, Sept 19
President Muhammadu Buhari has on Tuesday condemned in strong terms the mass killing of Rohingya people in Myanmar state of Rakhine.
Buhari condemns Rohingya killings but sanctions Biafra massacre
President Buhari mad e the condemnation in a statement delivered at the general debate of 72nd session of United Nations General Assembly in New York on Tuesday.
In the full text of Buhari's speech at United Nations General Assembly as published by Elombah.com, Buhari said:
"We are now confronted by the desperate human rights and humanitarian situations in Yemen and most tragically in the Rakhine State of Myanmar. 
"The Myanmar crisis is very reminiscent of what happened in Bosnia in 1995 and in Rwanda in 1994.
"The international community cannot remain silent and not condemn the horrendous suffering caused by what, from all indications is a state-backed programme of brutal depopulation of the Rohingya inhabited areas in Myanmar on the bases of ethnicity and religion. 
"We fully endorse the call by the Secretary-General on the Government of Myanmar to order a halt to the ongoing ethnic cleansing and ensure the safe return of the displaced Rohingya to their homes in safety and dignity.
"In all these crises, the primary victims are the people, the most vulnerable being women and children. 
"That is why the theme of this session: Focusing on People: Striving for Peace and Decent Life for All on a Sustainable Planet" is most apposite.
He also cited evident "inequalities within societies" as the root cause of conflicts, saying: 
"While the international community grapples to resolve these conflicts, we must be mindful and focus on the widening inequalities within societies, and the gap between the rich and the poor nations. 
"These inequalities and gaps are part of the underlining root causes of competition for resources, frustration and anger leading to spiralling instability."
Some analysts have faulted Buhari's condemnation as the highest showmanship of hypocrisy as hundreds of pro-Biafrans have been killed by his authorization.
An observer noted:
"What moral ground does Buhari have to criticize what is happening in Myanmar when juxtaposed with recent killings of IPOB members?
"Is he telling the world that the killing of pro-Biafrans is of less consequence to that of Myanmar?
Another simply inferred: 
"When will Buhari stop living a life of hypocrisy? He is the least person to condemn Myanmar killings."
It is on record that Nigerian soldiers, under the guise of Operation Python Dance, are killing unarmed, civilian members of the Indigenous People of Biafra [IPOB].
Their leader, Mr Nnamdi Kanu has been declared missing by IPOB, while his father, a traditional ruler, is being held in secret detention facility by the army.
In a recent video, soldier were seen to massacre dozens of Biafrans after forcing them to drink mud. 
They alter went to Nnamdi Kanu's country home and murdered at least 26 persons.
On the issue of "inequalities within societies", the President Buhari administration has been accused of brewing inequalities through his nepotistic policies.
—
Would you like to be receiving ALL Elombah.com news links 'On The Go' on WhatsApp?  If yes, please provide us your WhatsApp number via publisher@elombah.com or sms/inbox +2349050382526 and you are ready to go!
© Copyright 2017 www.elombah.com; unless otherwise indicated, all images are courtesy of Twitter; send eyewitness accounts/reports/articles to publisher@elombah.com; follow us on twitter @Elombah; like our Facebook page: Elombah.com; join us on WhatsApp HERE
For adverts & inquiries, call +447460770987, +2349050382526