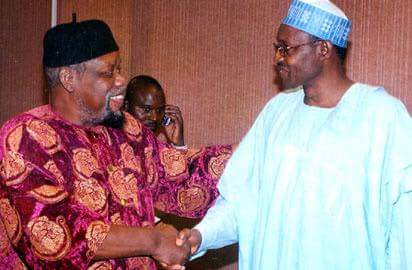 The eldest son of the late Igbo leader -Dim Chukwuemeka Odumegwu Ojukwu, Emeka Ojukwu Jr. has vindicated President Muhammadu Buhari on his celebrated discussions with his late father on the unity and indivisibility of the Nigerian nation.
The scion of the Ojukwu dynasty who spoke to reporters in Awka, Anambra State, noted that he never granted any media interview or posted any massage on social media that Buhari was wrong about his discussions with his late father.
His reaction was coming on the heels of stories making the rounds in the social media that he; Ojukwu Jr. replied and controverted Buhari's statement as untrue. Members of the Indigenous People of Biafra (IPOB) had doubted Mr President's comments, demanding further proof of the meeting and such discussion. 
Ojukwu Jr. had noted that his father actually held the said meeting with Buhari as stated in his nationwide broadcast.
According to him, "It has been brought to my attention that there is an article making the rounds on social media attributed to me refuting the remarks of Mr. President concerning his relationship and discussions with my late father. 
"Let me state the following categorically; firstly, that I made no such comments to anybody, and secondly that I am aware that His Excellency's comments were indeed factual.
"I have noticed a disturbing trend recently of fake news being attributed to me on social media. 
"I don't know who is behind it or what their motivation might be but let me assure you that any time I feel the need to comment publicly on any matter, I will not do so via some anonymous email or anything of the like, rather rest assured that there will be no ambiguity whatsoever as to whether the comments came from me.
"Let me lend my voice to those of the rest of my fellow countrymen and welcome Mr. President back home", he noted.
Ojukwu Jr. urged members of the public to discountenance the stories in the social media or any media platform whatsoever credited to him that he accused Buhari of telling lies.
He warned that such malicious and damaging publications would not be taken lightly from whomsoever, should it be repeated.
He also urge the President not to take such comments serious as it smacks of gutter journalism apparently aimed at overheating the polity.
—
Daura Declaration made available by AIF Media Group
This is the agreement Ojukwu reached with President Buhari in 2003. Both Ojukwu and President Buhari were presidential candidates in APGA and ANPP respectively.
Chief Okorie Onwuchekwa Orji who was the Director of Media, 2003 Ojukwu Presidential Campaign Organisation, released this signed document, against the controversy generated by the statement made by Mr President on his nationwide broadcast on August 21st.
According to the document, late Dr Chuba Okadigbo and Tim Menakaya were in attendance.
Here is the Daura Declaration, signed by Ojukwu and Buhari.
DAURA COMMUNIQUE: GENERAL MUHAMMADU BUHARI, DIM CHUKWUEMEKA ODUMEGWU-OJUKWU & DR CHUBA OKADIGBO
General Muhammadu Buhari, Presidential Candidate of ANPP, today 19-5-2003 received in audience Dim Chukwuemeka Odumegwu-Ojukwu, Presidential Candidate of APGA, in Daura. Dim Chukwuemeka Odumegwu-Ojukwu's visit was to reciprocate an earlier visit by General Buhari and his running mate, Dr. Okadigbo to Enugu.
Dr. Chuba Okadigbo and Dr. Tim Menakaya were in attendance at the meeting.
The meeting reviewed extensively the current political situation in Nigeria in the aftermath of the just-concluded elections.
Both reiterated their strong conviction about the unity, oneness and indivisibility of Nigeria and maintained their stand for a democratic country based on free and fair election. 
General Buhari and Dim Odumegwu-Ojukwu reaffirmed their total support for the positions taken collectively by the Conference of registered Nigerian Political Parties, the ANPP, the Communique issued by ANPP South East Zone in Enugu, the APGA NEC and the Igbo Leaders of Thought meeting in Enugu that the just concluded elections were characterized by wholesale fraud, outrageously unlawful practices such as ballot box stuffing, harassment, intimidation by law enforcement agencies and outright non-voting in collusion with PDP and INEC and blatant killings.
They therefore reiterated their total rejection of the results in the states where no elections were held and in the states where the abuse of the electoral process was of such monumental scale as noted by the local and international monitors/observers. 
They both have noted the rejection and call for the cancellation of the elections by the House of Representatives.
They both have noted a motion on the Senate floor rejecting the elections and calling for their cancellation.
They further noted that the Nigerian public is sad, sullen and deeply hurt by the brazen act of denying them their constitutional rights.
Both leaders have maintained their faith in the judicial system and have asked all aggrieved persons, including General Buhari and Dim Odumegwu-Ojukwu, to take their cases to the appropriate tribunals or courts in places where elections were held.
Both Leaders have reiterated their views that elections have not been held and should be conducted afresh in the South East and South South states. 
Elections held in Ogun, Oyo, Kwara, Kogi, Nasarawa, Plateau, Benue, Taraba, Adamawa, Bauchi, Gombe, Katsina and Kaduna were marred by serious and widespread irregularities and are subject to legal action. 
New elections should be held under a new arrangement since INEC has thus been hopelessly discredited.
Both leaders reiterated their belief in pursuing legal and constitutional means of redress but will not accept or recognize a government taking office as a result of these flawed elections.
General Muhammadu Buhari and Dim Odumegwu-Ojukwu called on all Nigerians to work together to find an amicable settlement to the crisis which has been precipitated by the government's willful and massive rigging of the elections. 
They also assured each other that they will collaborate closely on basis of equity and mutual respect to find an acceptable solution to the crisis which threatens the very foundation of our nation.
Finally, both Leaders called on the international community to avoid double standards and stand for justice, equity, free and fair elections and minimum standard of conduct of government in Nigeria.
General M. Buhari; Dim C. Odumegwu-Ojukwu

—
Would you like to be receiving ALL Elombah.com news links 'On The Go' on WhatsApp?  If yes, please provide us your WhatsApp number via publisher@elombah.com or inbox +2349050382526 and you are ready to go!
© Copyright 2017 www.elombah.com; unless otherwise indicated, all images are courtesy of Twitter; send eyewitness accounts/reports/articles to publisher@elombah.com; follow us on twitter @Elombah; like our Facebook page: Elombah.com; join us on WhatsApp HERE
For advert placement call us on +447460770987, +2349050382526