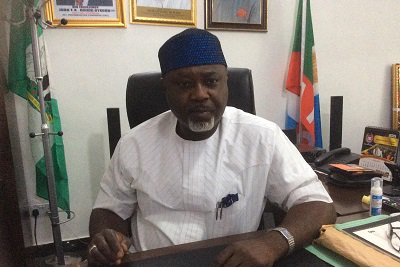 Chief George Moghalu is the National Auditor of the ruling All Progressives Congress (APC). When he says the party is going to deliver on the promises to South East irrespective of insinuations of some voices of opposition, he sounds very confident.
Why not? He was a founding national officer of the former All Peoples Party (APP), All Nigerian People's Party (ANPP) and now the APC. He has clearly seen it all, hence knows what he was saying.
The Peoples Democratic Party (PDP) was in the saddle for sixteen years within which period it played with the emotions of people of the South East.
No project of note was commenced and commissioned- Zik's Mausoleum, Enugu/Onitsha highway, Enugu/Port Harcourt highway, 2nd Niger Bridge, Onitsha seaport, Oba/Nnewi/Okigwe highway or the 9th Mile/Opi/Nsukka highway, but Moghalu says they would be delivered by President Buhari.
He spoke to Chuks Collins in Awka. Excerpts:
[Delayed]
Q: We learnt President Muhammadu Buhari is coming for a Townhall meeting in Enugu. It sounds unique because reports have it he had never done that before.
Then that means we are lucky. It's something worth celebrating. So for me as a person and am sure it's same with most of us in All Progressives Congress (APC), it's a welcome development.
Q: Oftentimes South East reason that they were not being carried along by Mr President especially in terms of projects, appointments and principally the recent $30billion loan he has been making, as no project specified in the loan plan would be cited in South East. More so when the burden of its repayment would be borne by all citizens.
I get surprised whenever people make such claims. It's unfair to Mr President. The question I often ask was whether they have been able to take close look at the budget to be able to ascertain the number of projects in the budget and packages towards their actualization. Have they forgotten so fast that the previous government had repeatedly told us about the second Niger Bridge, Zik's mausoleum, Onitsha seaport and the Enugu-Onitsha highway and ended up doing nothing for sixteen years they were in power. Now the second Niger Bridge is not only in the budget, it is being funded and it is on course now. Are we not aware that Enugu-Onitsha and Enugu-Port Harcourt highways are now in the budget and are being funded and are all on course as we speak? How else can a government show its commitment to the people or show that South East is very much part of this country.
It is not fair for us to continue with this line of reasoning. To the best of my knowledge this federal government is committed to all promises made to the South East. We, the South East are sure part of this government.
Q: Zik's final resting place happens to be one such federal project that has lingered for years. Any assurance of its completion this time?
Are we not embarrassed that for complete sixteen years we are still talking about the mausoleum. Every year once election comes they would come to either to flag it off again or to partly commission it to start work on it again and again. To me it's a massive and collective embarrassment and scandalous. But I want to assure everyone that this government is going to deliver it. Am speaking from the point of authority that this federal government will deliver it. One thing you can take for granted is that this administration cannot say what it cannot do or fulfill.
Q: Can we say same for the extension of rail lines to Onitsha as the commercial nerve centre of the nation and the seaport?
Why not? Every project due the South East and is in the budget, I bet you would be actualized.
Q: APC prides itself as party of the progressives. With the multiple deep squabbles, infighting, verbal attacks, negative body language to one another and all hat plaguing the party of late, can we still say so of the party?
I don't understand when people say quarrels and in-fighting within the party. APC is a human organization interests would clash. But it's a matter of how you resolve these clashes. And we have a resolution mechanism within the party that takes care of everyone's interest. It is a progressive party and we are committed to progressive ideals; and we are living up to it. Interests would clash, but interests would be resolved. At any given time, majority would have its way but minority will have their say. But in all there would be unity and harmony. That is the kernel of democracy.
Q: Recently the APC has witnessed and perhaps would expect more influx of persons from other parties, especially those who have governorship ambition, as in Anambra where the guber election comes up next year. As one who are interested in the governorship seat too, are you feeling threatened in anyway at all?
No. Not at all. In fact I welcome all of them. But the question I keep asking is, if President Buhari did not win election would they come? And we all know that the answer is no. These are the same people who called us names when we were in opposition. There was no conceivable name they didn't call us. Today everyone wants to join APC because they want to contest election in APC. The reason is very simple- we are the beautiful bride now and the horizon appears to be clear for APC to win. Buhari is now the bestselling brand. So they are all welcome. But the right thing to do is that when you come into a new institution, you simply join the queue. You don't come into a new institution as a new comer and want to be the head; it's morally wrong and morally unacceptable. But for me as an individual, am not in any way threatened because I have what it takes successfully go through the process, win the election and run the state well. The only thing anyone can say is that I don't have money after all I have not been in government. I have equally not stolen any money. So I am not a money bag. But when the chips are down we all know that APC is not for sale.
Q: That response actually brings us to my next question. What new thing do you intend to bring to the table different from what we have seen from past or present governors, past or incumbent aspirants?