Busted! Martin Luther King Center Denies Giving Buhari Award
The Martin Luther King Center has openly denied the award given to President Muhammadu Buhari by some miscreants that claimed they represented the late and renowned activist.
The Center openly made the denial on its Twitter handle @TheKingCenter.
It wrote:
The award given to President Buhari of Nigeria was not given by The King Center, at the request of The King Center or by the children of #MLK and #CorettaScottKing. @MrFixNigeria

— The King Center (@TheKingCenter) March 28, 2018
Recall that both local and international media were awash with reports about how Buhari won black history award.
The award was presented to him in Abuja by persons claiming to come from the family of Martin Luther king Led by an impersonator of Luther's wife.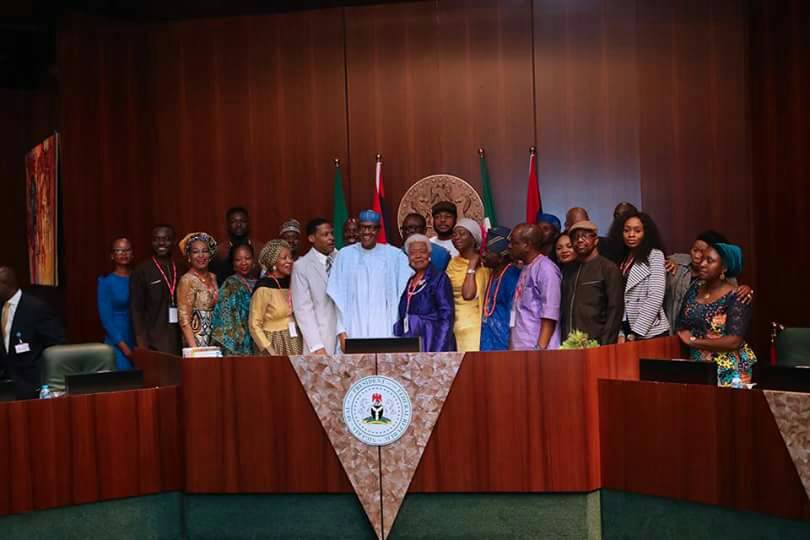 The impersonator said Buhari won the award because of America's recognition of his anti-corruption war and urge him not to be distracted.
In reaction, some Nigerians are asking Buhari to leave the stage and save Nigeria from further embarrassment.
Reacting to the fraudulent Martin Luther King award Buhari fell for, a concerned Nigerian, Mr Farooq Kperogi wrote:
After Bill Gates' in-your-face dissing of the Buhari government, Nigerian scam artists led by Abike Dabiri got some Black American hustlers from Atlanta to pose as close relatives of the late Dr. Martin Luther King Jr and present a fraudulent "Black History Award" to Buhari.
The photos of the "award" circulated on social media a few days ago with the following cutline: "Buhari wins Black History Award".
The Award was presented to him in Abuja by the Family of Martin Luther King led by Luther's Wife.
Martin Luther King's Wife said PMB won this award because of America's recognition of his anti-corruption war, urging him not to be deterred."
Hahahaha!!!
First, Coretta King, Martin Luther King's wife, died on January 30, 2006.
I know Buhari gives appointments to dead people, but in America dead people don't give awards.
Second, Black History is celebrated in February, not March, in America and Canada.
Finally, the King family has dissociated itself from the award (see the tweet from the King Center).
The extent the Buhari government is prepared to go to court embarrassment and ridicule Nigeria in its bid to lie in order to conceal its crying incompetence is simply astounding.
Another concerned Nigerian, Mr Simon Utsu, in reaction wrote:
The only thing worse than being a Buhari supporter right now is being Buhari himself! Honestly, it sucks to be Buhari!
How can you allow any Tom Dick and Harry walk into the villa and give you an award because he claimed he was a grandson of Martin Luther King?
Just because someone has an MLK-like haircut and pumps his fist into the air every now and then screaming "The black race shall be free one day" doesn't make him an MLK descendant Ok?
PMB please take note! Some may say I'm too hard on Buhari but truth is, PMB only learns the hard way!
This harsh attack is so that next month, when one Xhosa speaking South African breaks out of Soweto maximum prison smokes a big splif, hops into an Abuja bound plane and on getting there, claims to be Mandela's grandson, Buhari's camp will be more alert and do the proper checks.
Meanwhile, what leadership award did Buhari bow his head to receive? By accepting any award on good leadership, President Buhari is only being insincere to himself.
Finally, my heartfelt sympathy to Lagosians. I understand Mr President's visit has meted you guys with the mother of all traffic situations.
Imagine 25 million people being unable to earn their daily bread because a leader without a sense of initiative or direction is in town.
This too shall pass ok.