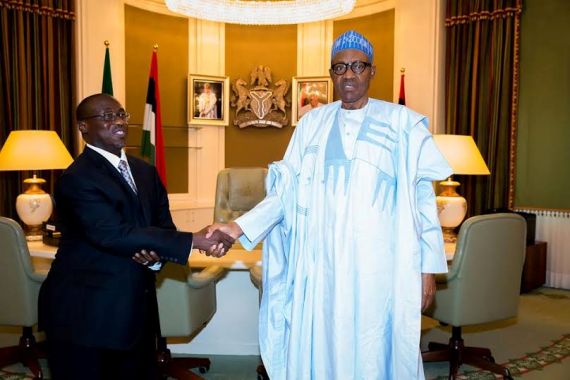 A new twist has been added to the Nigerian National Petroleum Corporation (NNPC) shakeup/reshuffle saga as a source has authoritatively informed Elombah.com that the list provided by the Corporation is in fact fake and antiquated.
This medium had earlier today published a report that NNPC management denied reports that the recent shakeup within the corporation was designed to favour the northern zones of the country.
NNPC denied that only 15 people were appointed into key offices of NNPC, while the South-East region is not represented among those promoted within the organisation.
NNPC, thence, released the names of the 65 recently appointed officials on its website to defuse the brewing tension.
READ ALSO NNPC Denies Pro-North Shakeup Report, Releases Officials' Names
According to NNPC, the said shakeup was recently approved by the President of the Federal Republic of Nigeria, Muhammadu Buhari.
The NNPC list indicated that while 15 people were retired, every region are among the retired. 
However, a well informed source within NNPC senior staff uncovered the fraud and blew the whistle on NNPC.
Finding fault with the 65-man list, he said:
"In fact the NNPC list an ancient list. It lists Dr Baru as GGM NAPIMS. Baru is currently Group MD of NNPC. Many people on this list have retired from NNPC since about 2 years ago. This list is fake."
Continuing the source added:
"Goddy Jedy Agba retired in 2014 to contest for Governorship in Cross River under PDP, but stepped down before the primaries. Although he later decamped to APC and is a frontline aspirant for the parties ticket come 2019."
Recall that Elombah.com had on Friday exposed the recent appointment by President Muhammadu Buhari upon resuming duty after over 100 day absence.
The report stated:
President Muhammadu Buhari has again rocked the boat of Nigeria's fledgling unity through the recent appointment of new managers the Nigeria National Petroleum Corporation [NNPC].
The appointment has, as its 15 new managers for the NNPC, two from South South zone, three from South West zone, ten from the three Northern zones, and ZERO from the South East zone.
Full Names Of the NNPC new managers appointed yesterday are as follows:
NORTH
1. Malami Shehu, – MD Port Harcourt Refining Company
2. Muhammed Abah, – MD Warri Refinery
3. Umar Ajiya, –  MD of NPMC
4. Bala Wunti, – GGM CP&S
5. Usman Yusuf, – GMD STA. (Tech)
6. Ahmadu-Katagum – GGM Shipping (Downstream)
7. Kallamu Abdullahi – GGM  Renewable Energy Division
8. Shaibu Musa – MD NNPC Medical Services Limited
9. Ibrahim Birma – GGM Governance, Risk & Compliance Division
10. Farouk Ahmed – MD Product Mkg – Retiring
SOUTH WEST 
1. Adewale Ladenegan, – MD Kaduna Refinery
2. Adeyemi Adetunji, – MD NNPC Retail
3. Bola Afolabi, – GGM Research & Development
SOUTH SOUTH 
1. Roland Ewubare – Group General Manager
2. Diepriye Tariah – MD of IDSL
SOUTH EAST 
0
Read the full report here: Buhari Returns To Brazen Nepotism! Latest NNPC Appointments
See the screen grab of the NNPC report below: 
Expressing his disappointment with NNPC, a commentator wrote: 
"NNPC and the APC government has no integrity at all. They are the ones that pushed the trash out hoping we will buy that nonsense."
—
Would you like to be receiving ALL Elombah.com news links 'On The Go' on WhatsApp?  If yes, please provide us your WhatsApp number via publisher@elombah.com or sms/inbox +2349050382526 and you are ready to go!
© Copyright 2017 www.elombah.com; unless otherwise indicated, all images are courtesy of Twitter; send eyewitness accounts/reports/articles to publisher@elombah.com; follow us on twitter @Elombah; like our Facebook page: Elombah.com; join us on WhatsApp HERE
For adverts call us on +447460770987, +2349050382526